Mauro Diaz Shines as Dallas Wins 2016 Open Cup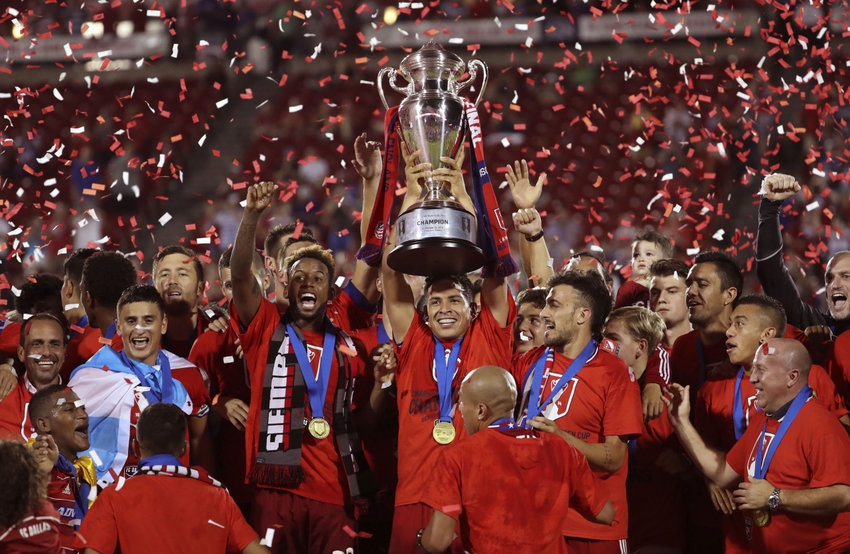 Dallas has claimed the 2016 Lamar Hunt US Open Cup trophy thanks to the brilliance of their number 10, Mauro Diaz.
There you have it! FC Dallas is now the 2016 Lamar Hunt US Open Cup Champion! Dallas, though going behind 1-0 in the 6th minute to a very much in form Juan Agudelo, controlled much of the game to pull out a 4-2 win over the Revolution to claim their first piece of silverware since the 1997 US Open Cup.
The question now is, how was FC Dallas so dominant over a renewed New England team? Your answer is solely one person, Mauro Diaz.
Captaining the side, Mauro Diaz took the weight of the final upon his shoulders and forced his team forward. The Argentine playmaker opened the the Revolution defense multiple times and was vital in each of the 4 goals that Dallas scored. He set up both of Urruti's goals and he sent in the perfect cross to Matt Hedges to score off a diving header. Diaz also calmly converted a penalty kick he also helped create with a cross towards Hedges.
Head Coach Oscar Pareja is well aware of how well Diaz played Tuesday night.
Mauro showed the heart of this club and he showed the heart (his teammates have) tonight. These boys wanted to win, and Mauro led them. I'm very happy with him, very happy for him because that's the standard he can leave here at this club as a legacy.
Tuesday night's performance shows exactly why Dallas is capable of completing the first MLS treble (winning the Open Cup, Supporters' Shield, and the MLS Cup). Many were worried about how the team would perform after Castillo left for Trabzonspor in Turkey but seeing how the side can play without the young Colombian winger, FC Dallas fans should be excited.
The new US Open Cup champions look to add the second part of the MLS treble by winning the MLS Supporters' Shield. Currently in first, Dallas will look to keep their lead as they travel to take on New York City FC on Saturday.
This article originally appeared on