Manchester United: 5 mistakes Jose Mourinho has made already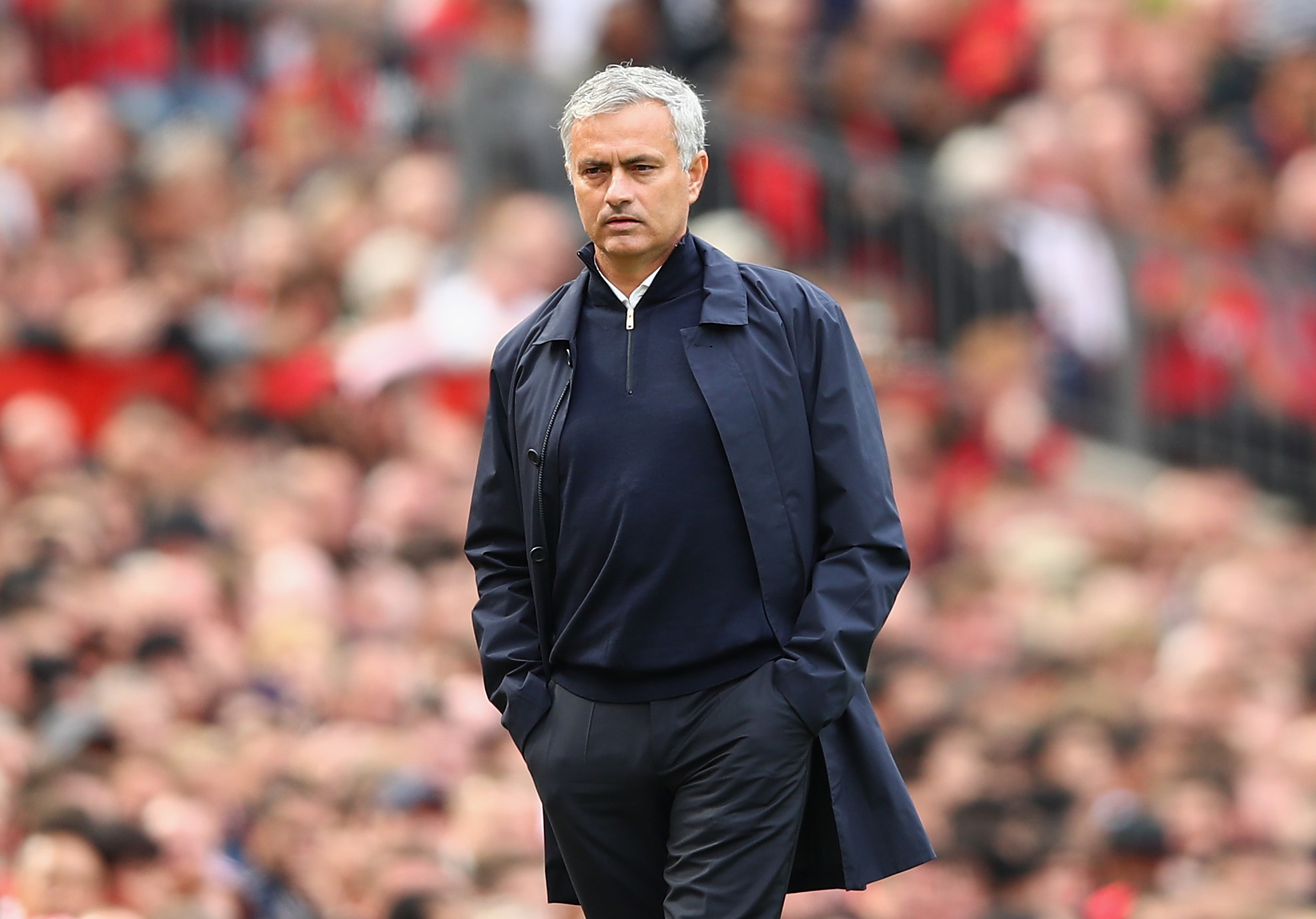 Things sure changed quickly for Jose Mourinho at Manchester United. Mourinho looked to have turned United around as the season kicked off, but now the United boss finds himself under fire from pundits and fans alike.
Manchester United needed a saviour after a disastrous three seasons since Sir Alex Ferguson stepped away from the club. Jose Mourinho arrived as the newest potential saviour in the summer, after Louis van Gaal was the latest to disappoint at Old Trafford.
The one thing Mourinho always seems to bring with him is self-belief. That self-belief soon rubbed off on everybody associated with the Red Devils. Suddenly, after Mourinho's arrival, coupled with a summer spending spree, Mourinho had everybody believing again.
Everybody was on board. The ship was, finally, heading in the right direction. And it still is. Just not as fast as everybody thought it was. After starting the season with three wins in the Premier League, United crashed to defeat at home to local rivals Manchester City in the Manchester derby.
Want your voice heard? Join the We Are Hooligans team!
That was the real test of Mourinho's work. That was the real test of whether United had really been revived or whether it was all more perception than reality. That game was a reality check.
It also highlighted some problems which were already boiling under the surface. Problems you get away with against Bournemouth, Southampton and Hull City – although even that was nip and tuck. The first warning, perhaps.
Get the FanSided App
The reality, even this early in the season, is that the job of rebuilding United is much bigger than signing a few players and a bold, bullish, confident manager. Mourinho boldly declared the team's title intentions very early on. He was virtually the only Premier League manager to do so.
That showed belief in the players, but what is belief if it is misplaced? It also applied pressure to a team still to find themselves. No other top manager came out and declared their intentions so boldly. It was unnecessary.
Mourinho fired the first warning shots but now finds himself in retreat. That was just one mistake. One of many the Portuguese has already made in his short time at United.
1. Formation
The formation Manchester United are currently playing does not suit the team. It definitely does not suit, in particular, new signings Paul Pogba and Henrikh Mkihitaryan. The arrival of both players brought excitement to United fans, but on their showings so far, you would be forgiven for wondering what all the fuss is about.
Primarily, Mkhitaryan is a number 10. A playmaker who likes to get on the ball often, and then score and create goals for his team. So far the Armenian has either been played as a right winger by Mourinho or left on the bench.
This is one of the best players in the Bundesliga last season we're talking about. A player who contributed 11 goals and 15 assists to Borussia Dortmund from a central area. Why would you play him on the right flank? Why even buy him?
Want your voice heard? Join the We Are Hooligans team!
And then there's Pogba. You know him, right? The guy who plays high up the field, making runs beyond the opposition's back line, aiding the link-up play around the penalty box and just generally being a constant attacking threat in the final third?
No? Not seen him? No, nor Mourinho, apparently. Pogba plays in a two-man midfield these days. France tried him there in Euro 2016, too, and it didn't work. All it did was stifle his attacking talent. In fact, it stifled him so much that Mourinho decided to do the same in the Premier League.
Now Pogba looks similarly subdued with more defensive work occupying him than anything else. Pogba needs to play in a forward position as a number 10 or in a three-man midfield with license to roam.
Passing, tackling and defending are not the Frenchman's best qualities, so why have him do those things? Release him to burst forward and be the player you bought in the first place. The current setup doesn't suit Pogba or Mkhitaryan.
And when they cost a combined £116 million, you would probably be wise to set the team up to get the best out of them.
2. Keeping Wayne Rooney as captain
Mourinho making Wayne Rooney his captain has had one knock-on effect after another. The first thing it did was invite questioning about the wisdom of such a move, given the level Rooney is now playing at. Although, Mourinho stoutly backed his man.
Maybe Mourinho thought publicly backing Rooney would serve as a confidence boost for the 30-year-old? All it really did was put Mourinho's back against the wall. Now the United boss fields questions on Rooney's form and selection after every game.
And still, Mourinho continues to back his guy. He won't budge. Which is a problem because United have a better player for the role in Henrikh Mkhitaryan. However, the Armenian, instead, gets shunted onto the right wing. If he's lucky to get a game, that is.
Pogba, too, would be massively helped by playing as a number 10 with two midfielders behind him doing the defensive work. But nope. We have to get Rooney in the team. We need them eight Premier League goals he scored last season. Or those six assists.
United don't have a huge choice when it comes to appointing a captain, but you need your best starting XI out there first. Then you worry about a captain. Is Rooney really in United's best starting lineup now?
Rooney's passion is one thing his teammates could learn from, however. Against Manchester City, Rooney played angrily and that was because he's a winner. He genuinely cared about winning against the club's closest rivals. He understood the situation.
But that aside, in terms of playing as a dangerous, creative number 10, United have better options now. Is Mourinho willing to drop his captain? Or is that a perch he now does not want to back down from?
3. Not signing another centre-back
Eric Bailly has been one of the biggest plus points of United's season in the opening games. Sure, the Ivorian looks raw at times. But he's still developing and he's done fantastically well for where he currently is in his development. The biggest thing Bailly is missing is a partner.
Chris Smalling has been shelved by Mourinho, whilst the United boss seems to be almost as unconvinced by Daley Blind. So if that is the case then why didn't Mourinho swoop to sign another centre-back during the transfer window?
Rumors of Jose Fonte from Southampton were perfect. A player familiar with the Premier League, wouldn't cost too much money and is experienced enough to help Bailly along the way. Instead, Mourinho decided to stick with what he has and now, coincidentally, he's stuck with what he has.
Bailly looked shaky for the first time in the derby. Blind also had a poor game and showed he's really not a centre-back at the highest level. So now Mourino may well have to turn to a player he's obviously not very keen on in Smalling.
Mourinho is clearly not happy with his centre-back options but, once again, he's backed himself into a corner. He's got what he's got now and he'll have to find a way to make it work. Maybe he does that. But it could have been so much simpler.
4. Setting the tone – badly
As the manager of your club, it's up to you to set the tone for everybody else to follow. You are the leader. As goes you, so, too, does everybody else. So when Mourinho humiliated Juan Mata by bringing him on as a substitute in the Community Shield win over Leicester City, before then dragging him back off again, he set a bad precedent.
Players don't like that. To fans, it's neither here nor there. Do whatever you need to. But players find it, pretty much, the ultimate humiliation. Something a manager should never do unless extreme circumstances. This was certainly not that.
Mourinho needs the players on side. Player power is very real in 2016 and managers live and die by their charges actions. Just look at Mourinho at Chelsea last season. You have to maintain control without upsetting the squad, and this move with Mata was not the best way to do that.
Of course you don't hear anything of it at the time – the team won. But you lose a few games and, all of sudden, players start showing their displeasure at your methods.
Another example came just this week. Mourinho said before United's Europa League game with Feyenoord that United needed to "find the motivation," because the Europa League is not the "big dream of every player."
That went down well, didn't it? United labored to a 1-0 defeat the following night. Another example of how not, as the leader of the club, to set the tone for everybody else to follow. Everybody is following, alright. That's the problem.
5. Disastrous derby tactics
The acid test. The team perceived as United's biggest rivals for the Premier League. The Red Devils' biggest local rivals. Mourinho's biggest managerial rival. This was the one game Mourinho had to get right, especially at home.
Despite United's wins prior, the derby against Manchester City was the one that would really show just how far United had come. Or, as it turned out, how far behind City they have fallen. Mourinho's old rival got one over him again, but the United boss didn't help himself.
More from We Are Hooligans
Mourinho knew a Guardiola team would be obsessed with possession and, subsequently, would flood midfield to get it. So why did Mourinho play just a two-man midfield? And on top of that, Paul Pogba as one of those two?
It was doomed to fail. United were ambushed. Nowhere near enough work rate, energy, discipline or defensive organization to compete in that area of the pitch. Not against a Guardiola team. Marouane Fellaini and Pogba were just chasing shadows in the center of the park.
When United did occasionally get the ball, they obviously had to counter-attack to try and expose City on the break. Good job Mourinho loaded up on pace then with 34-year-old Zlatan Ibrahimovich and Wayne Rooney up front, isn't it?
Henrikh Mkhitaryan and Jesse Lingard played in the wide areas. Lingard has pace but is inexperienced in such a big game, whilst speed is not really Mkhitaryan's best asset. Meanwhile, Marcus Rashford sat on the bench.
United were dominated until City started sabotaging themselves around half time. Mourinho made some intelligent changes at the break bringing on Ander Herrera and Rashford, but it was too late. Damage done. Mourinho had made his mistake.
One of many he's already made in just a few short months at Old Trafford.
This article originally appeared on