Manchester City: Why Iheanacho SHOULD NOT start in Manchester derby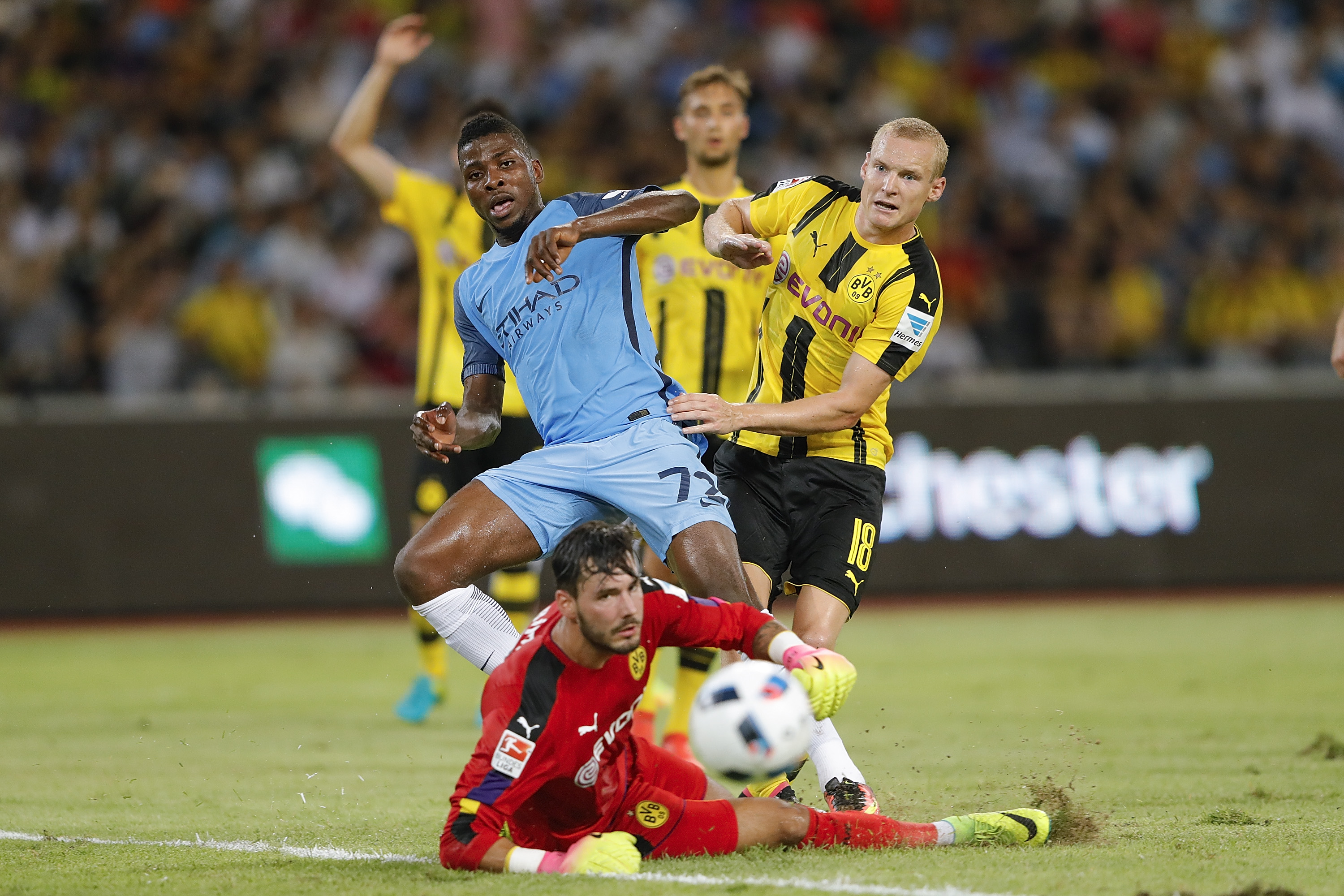 Replacing Sergio Agüero with Kelechi Iheanacho up top for Manchester City is not the answer to the question of how to extract three points from Saturday's upcoming Manchester derby.
Forgive the platitude, but football matches are won and lost in the midfield. Pep Guardiola, being Pep Guardiola, has certainly not lost sight of that truism — he's based his tactics on it; neither should Manchester City fans, with the most anticipated Manchester derby in recent memory looming on the horizon.
So, it is to my dismay to see articles and rumors pushing Kelechi Iheanacho to start in the suspended Sergio Agüero's stead in the biggest test of season for the Blues thus far. I understand why people might think Agüero's absence is best solved by starting the aggressive and active Iheanacho. After all, the spark plug Nigerian just did this over the weekend:
And as our colleagues at We Are Hooligans note, "The best option is to not overthink this. You have a like-for-like switch and a hungry, passionate young striker ready to go. Don't dilly with the false nine or dally with Nolito up front. There is no need to be cute."
On the contrary, I think worst option is to not think this selection through and just plug in the next striker available on the depth chart. Doing so is not to "overthink this" or "be cute." It's footballing tactics. This is being smart. Plus, in what world is Iheanacho for Agüero a "like-for-like switch"? Not taking anything away from Iheanacho, who looks promising, he's nowhere in the league of the Argentine.
The first fallacy is to contend that Agüero, in his greatness, can just be replaced. The second, and more to the point at hand, is thinking he will need to be replaced to get a positive result against Manchester United. In the past, City's done better than okay sans Agüero. The point, however, is starting Iheanacho does little to address what's truly at stake. As stated earlier, the midfield battle is where football matches are won and lost, and this latest bout between City and United, Guardiola and Jose Mourinho, will prove the rule rather than be an exception.
Looking at the Reds, Mourinho will field Paul Pogba likely with Marouane Fellaini. Fernandinho will need help to compete with the duo. Help should come in the forms of David Silva dropping even further in the middle and Ilkay Gundogan, who's seem fit, making his debut. The key is to outnumber and outmaneuver United centrally in the aim to dominate possession — make the lumbering Fellaini and towering Pogba chase the ball being played by quicker, more agile players for the entire match. By strangulating midfield, Wayne Rooney and Zlatan Ibrahimovic would suffocate, neutering United's attack.
With three in middle of the park, it leaves three up front for City to cause havoc for United's backline. Indeed, a false nine shouldn't be toyed with but fully deployed, with Nolito being the central threat with Kevin De Bruyne and Raheem Sterling on the left and right flanks. Nolito possesses the best finishing of the three, coupled with the quickness to exploit space between Daley Blind and Eric Bailly. Sterling's pace is a nice contrast to De Bruyne barreling down the other side. It's a tough task, but they're capable to terrorize a largely untested defense from the Reds.
What City and Guardiola cannot do is have the full backs drifting into the middle with Fernandinho as seen earlier this season. I believe Mourinho is content with playing for the counterattack against Guardiola. Although not worth all the treasure spent on him, Pogba is still one of elite midfielders in the world, one of the reasons being his vision and ability to spring players open with those incisive, long diagonal balls in the air. If City should turnover the ball in midfield, having the full backs sucked up centrally leaves acres of space for the speedy Anthony Martial, Marcus Rashford or Henrikh Mkhitaryan, should the Armenian play after suffering an injury this weekend. Either one of City center backs — probably Stones or Kolarov given Nicolas Otamendi is returning Thursday from national team duty — would be forced out of the middle to confront them, isolating Ibrahimovic on the other.
This is a scenario City can't afford, within which the likelihood of Zlatan doing something transcendent drastically increasing if a cross comes his way. It's much better for Guardiola to have his full backs play strictly as full backs instead of risking them in the middle of the field, leaving either some pairing of Gael Clichy, Bacary Sagna and Pablo Zabaleta to determine with Fernandinho on the fly who should cover the vacated middle, if they would be able to recover at all. This way, defensively, City is much less vulnerable on the counter attack with this proposed 4-3-3, featuring an additional central midfielder instead of true No. 9. This suits Guardiola's tendencies — he's done similar moves at Bayern Munich when Robert Lewandowski was unavailable — and makes sense.
FOLLOW MAN CITY SQUARE ON TWITTER AND FACEBOOK.
Now, none of this is to suggest Iheanacho has no part to play in the derby. I think he could be pivotal, especially should City finds itself in need of a goal or some attacking flair in the second half. What he is a trump card. To start him, however, is to lay all of Guardiola's cards on the table in the beginning of the contest with little ability to correct later to correspond with match developments. Keeping him in reserve grants much greater tactical flexibility and plays to the teenager's strength — coming into the game and scoring.
More from Man City Square
This article originally appeared on