Manchester City: EPL Stat Leaders Update – Week 6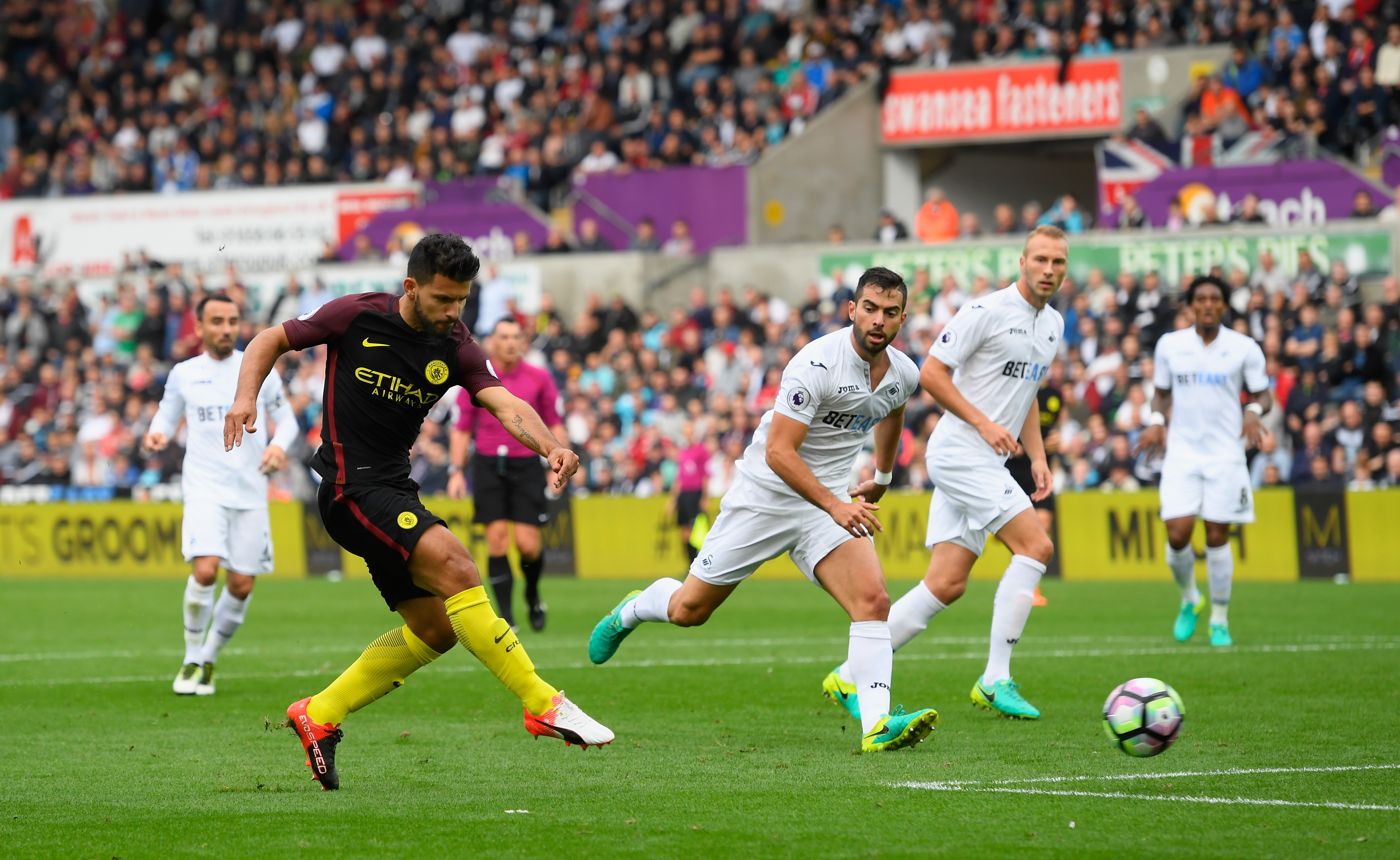 The EPL is 6 matches in, with Manchester City staying perfect at the top. Who leads the league in goals, assists, passes, clean sheets, and fair play?
While the second place teams has been different each of the last three weekends after league play, Manchester City remain in first after six wins in six. The EPL takes a back sit for mid-week European action. While we wait for the league action to resume, here is an update on who leads the key categories and where Manchester City players rank.
MANCHESTER CITY: TOP 13 GOAL SCORERS OF ALL-TIME
Goals
– Sergio Aguero joined Michail Antonio (West Ham), & Diego Costa (Chelsea) at the top of the goals race with 5 a piece.
– 4th place is now a seven way tie including two picked up by Raheem Sterling, as well as Zlatan Ibrahimovic (Manchester United), Etienne Capoue (Watford), Romelu Lukaku (Everton), Jermaine Defoe (Sunderland), Alexis Sanchez (Arsenal) and Son Heung-Min (Tottenham).
Assists
– After a few weeks of ties Kevin De Bruyne sits alone as the leagues best assist man with four.
– Kelechi Iheanacho already has three assists himself, in a five way tie with Asenal's Alex Iwobi, West Ham's Dimitri Payet, Liverpool's Adam Lallana, and Steven Defour from Burnley.
Passes
– Jordan Henderson isn't slowing down and not leads the league with 499 passes, and he has increased his lead over second place by 96 passes.
– Fernandinho continues to lead Manchester City at 396 passes, good enough for fifth place.  Kolarov moved up into 10th place on 351 passes.
Saves
– Burnley's Tom Heaton continues to save his side at a leading pace, now at 26 saves in six matches weeks.
– A list you want your keeper to be low on for the right reasons, Bravo has 7 saves already this season, surpassing Willy Caballero.
Minutes Played
– 50 players are still on for a perfect record this season, having played the full 540 minutes of their teams' matches.
– For City, Fernandinho is the only player with the chance to keep up this continuous playing streak.
Tackles
– Idrissa Gueye tops the league in tackles with 34 for Everton who finally slowed there pace this year with a loss in the weekend.
– If you never lose the ball you don't need to tackle often. That is where Manchester City find themselves. Nicolas Otamendi remains as City's highest player on this chart in 18th place on 17 tackles.
Clean Sheets
– Another week without clean sheets sees the top of the chart move into a 8-way tie.
– Claudio Bravo has one clean sheet so far this year, which places him tied in 9th with nine other keepers.
Fair Play Table
– There is now a four-way tie for the best behaved club this year – Arsenal, Everton, Leicester City and Burnley. At the other end of the charts Watford have racked up 20 yellow cards and one red card in just six matches.
– Manchester City are now in 3rd (on the bad side) with 13 yellow cards and one red card.
FOLLOW MAN CITY SQUARE ON TWITTER AND FACEBOOK.
No In-Editor Preview for SI Videos
Video Details
ID: 5144080131001
Source: SI
More from Man City Square
This article originally appeared on