Leroy Sane is quietly becoming one of the best players in the Premier League
Leroy Sane was the best player on the pitch as Manchester City fought to a tumultuous 2-2 draw away to Arsenal on Sunday. He scored one, created several chances, and tormented the Gunners for 90 minutes. It would be surprising, if Sane hadn't spent the past few months lighting up England.
The 21-year-old German has been on fire since the New Year, and his goal on Sunday was his fifth in the last eight matches to go along with two assists. Sane hasn't just grown into one of City's best players this season, he's become one of the best players in the league.
Against Arsenal, Sane was an absolute menace from the start. He got City off to a flier after just five minutes, racing past Hector Bellerin as if the fastest player in the Premier League had pulled on lead-filled boots before the match.
Just a reminder that Leroy Sane is really accurate #MCFC pic.twitter.com/LLZrexVPBF

— NBC Sports Soccer (@NBCSportsSoccer) April 2, 2017
It didn't stop there, and Sane continued to cause Arsenal problems with his dribbling and pace, which he has always had an abundance of, but now he's added some sublimely intelligent movement. He pulled the Gunners' defense apart again and again with his skill with the ball at his feet and his runs off it. Seeing Bellerin beat for pace is a little bit like seeing a unicorn on the freeway, but Sane did it, and he made it look easy to boot.
It's taken a while for Sane to settle in, but performances like his against Arsenal aren't an anomaly now. Sane arrived for £37 million in August as one of the very first signings of the Guardiola era. Despite the early hype over his signature, it was Claudio Bravo, John Stones, and Ilkay Gundogan who were under the microscope as Sane was largely limited to cameo appearances and glimpses of his ability in cup play. Even Gabriel Jesus' arrival in January, and the miracles he performed (however briefly), overshadowed Sane. The youngster was a player for the future, it looked.
Pep Guardiola took his time in working Sane into the team, handling him with kid gloves after his injury, and giving him just four starts in the league before the calendar changed. His first goal for the club didn't even come until the latter half of December, coincidentally, in the home fixture against Arsenal. But despite his slow start in a Manchester City shirt, Sane has slowly but surely become one of Guardiola's most important players. He's combined with Sergio Aguero to make for one of the country's most dangerous duos, who have now combined to score 13 goals in City's last eight matches. Moreover, City have now lost just one of the 12 Premier League fixtures he's started.
Sane isn't a player for the future anymore. That future is now.
Reminiscent of a young Cristiano Ronaldo, Sane combines incredible physicality with fantastic technical ability and a calmness and maturity that belie his age. He's not only got the pace to outrun the Bellerins of the world, he combines it with impeccable timing, a pillow-soft first touch, and a piledriver of a shot to cap it all off. In a relatively short period of time, he's formed a strong understanding with fellow attackers Kevin De Bruyne, David Silva, Raheem Sterling, and Aguero, and their constant interchange and interplay has leapt to the next level with Sane's inclusion.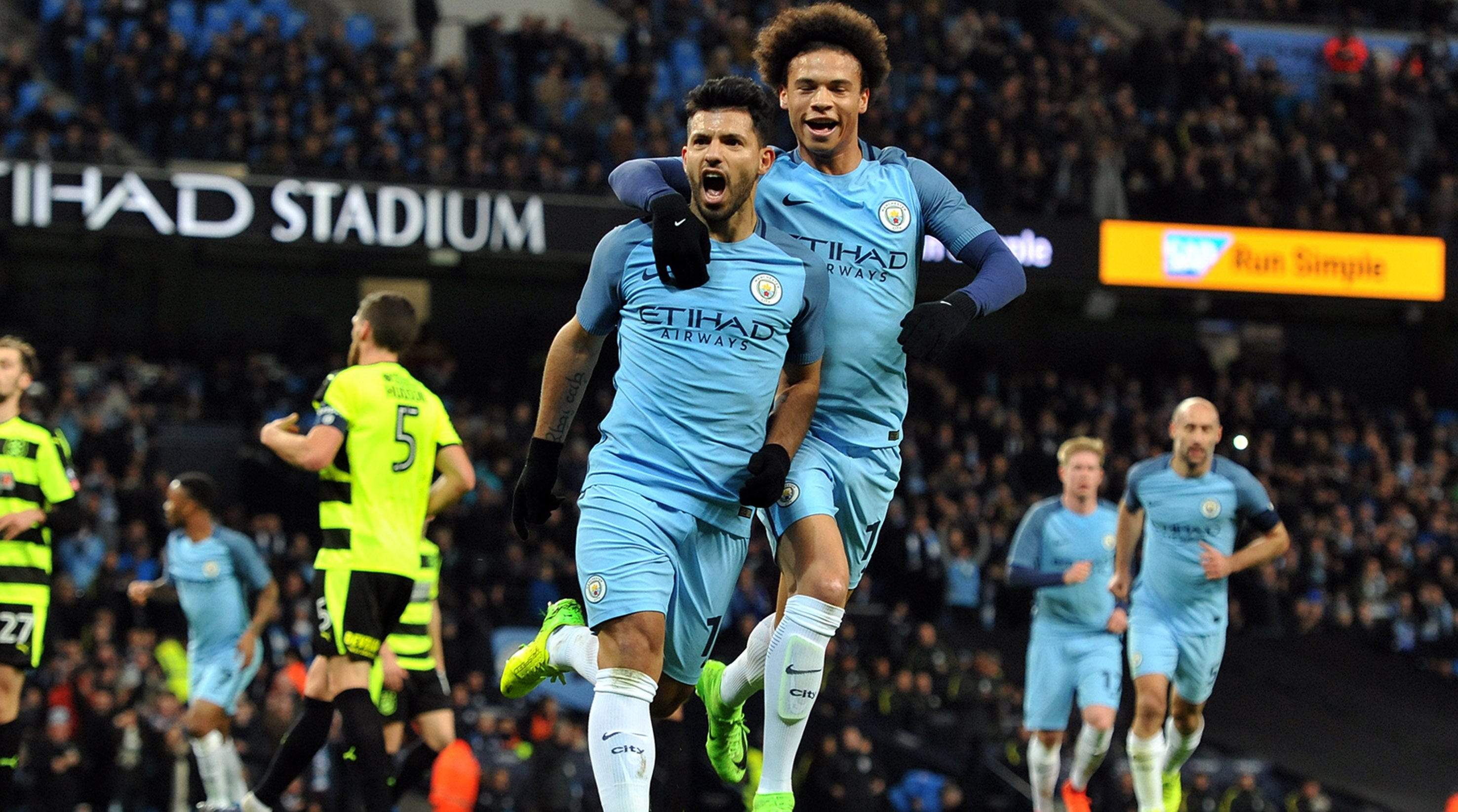 Sane's only behind Sterling and Aguero in City's goal scoring charts, and the way he's playing recently, it looks like more goals are in his immediate future. Equally capable of operating on the right, left or even through the center, his ability to seamlessly switch positions in the middle of a match fits the fluid ever-shifting Guardiola ideal perfectly.
Sane's been handed the opportunity to play more regularly, and he's shown exactly why he deserves it. Some of his best performances this year have come in big-game situations and, he's shown a real maturity when it comes to crunch time for City. He was one of the few players to come out of the Champions League knockout round loss against Monaco having improved his reputation, and, since his introduction, he's brought out some of his best performances against the likes of Arsenal and Tottenham in the league.
While players like Eden Hazard, Sadio Mane, and Alexis Sanchez still clearly sit atop the Premier League pile, Sane's not far off that level, and he's rapidly improving. He's just turned 21 years old, and doesn't even have 20 matches under his belt in the league. He's a baby in experience and age, but despite that, he's already become one of the EPL's most dangerous players.
He showed that ability in spades against Arsenal, just as he has throughout pretty much all of 2017. Some might say that Sane needs to prove it over a longer period before he be bestowed as one of the Premier League's best, but there's no denying that he has been for several months now. Considering how talented he is, the way he's improved and the levels he's done it on to this point, there's no reason to think Sane isn't going to make this form his norm, and this form is as good as anyone in the Premier League.