Leicester City and the best underdog stories in sports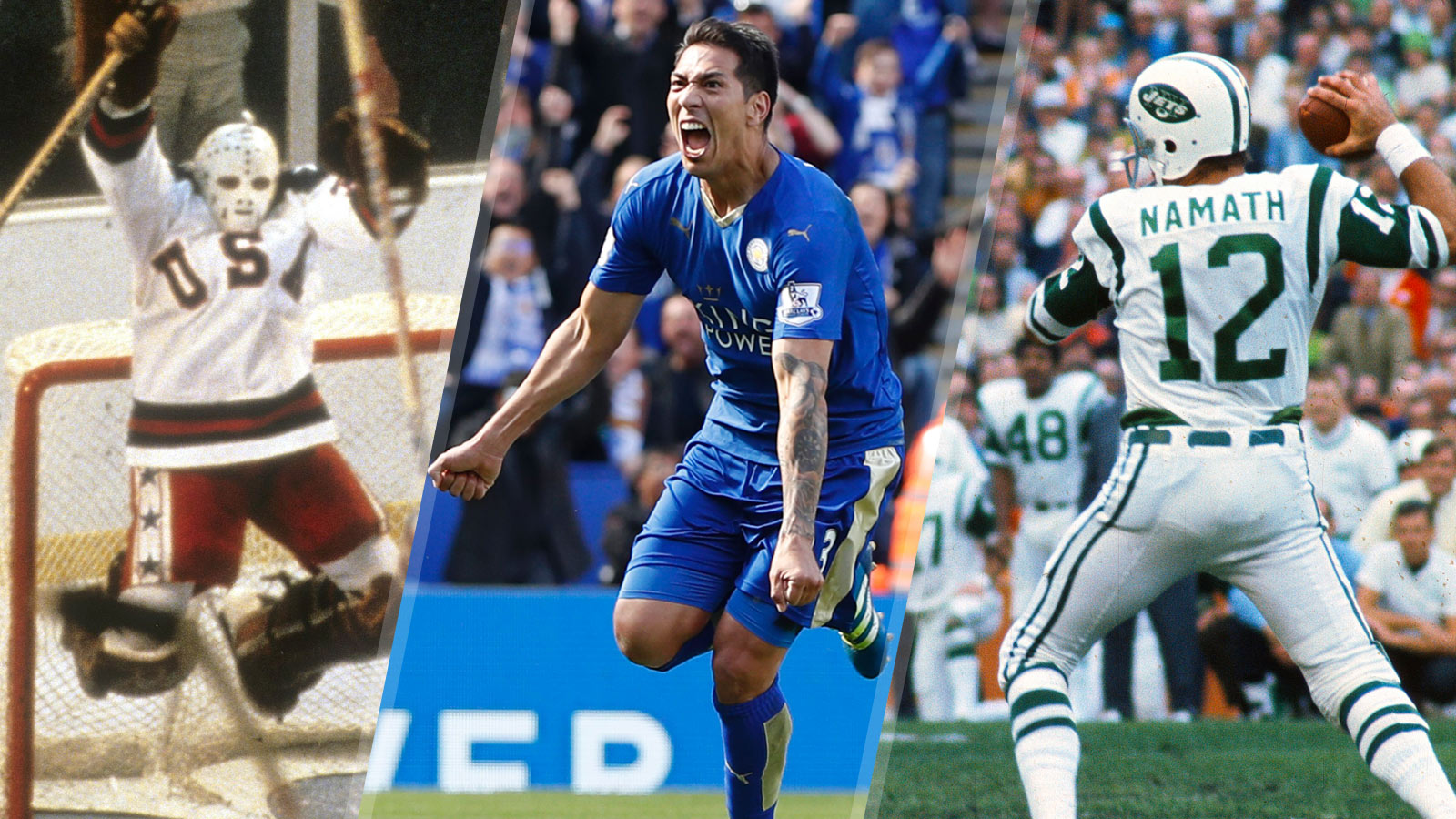 Leicester City's miracle is complete. One of the Premier League's smallest clubs, a 5000:1 preseason long shot and betting favorites to be relegated to the second tier of English soccer, instead celebrated the first championship in their club's 132-year history on Monday.
With a wage bill that's a fraction of England's fat cats Chelsea, Arsenal, Manchester City and Manchester United — the four teams who have combined to win the league the previous 20 times — and without any international stars (or so we thought), tiny Leicester produced the best Cinderella story in soccer history; one Walt Disney would appreciate.
The team forever secured its place on the list of unlikeliest champions of all time. Here are the teams they've joined:
Joe Namath's guarantee in Super Bowl III
Go back and look at Joe Namath's career quarterbacking numbers. They're barely pedestrian. No matter; when you've pulled the most famous upset in football history and guaranteed it to boot, you're a legend, even if you threw 47 more career interceptions than touchdowns.
Broadway Joe and the Jets were 18-point underdogs to the Baltimore Colts less because of the reasons a team would be 18-point dogs today, but because they were from the AFL, a "Mickey Mouse" league (as Jets linebacker Larry Grantham derisively said of how the AFL was perceived) that would never stand a chance against the mighty NFL. An easy 16-7 win later, the Jets had backed up Namath's guarantee and the sport would never be the same. – Chris Chase
The 1969 Miracle Mets
In only their eighth year of existence, the New York Mets announced their legitimacy with victories in 38 of their final 49 regular season games en route to a 100-win season (100-62). This came after losing 100 or more games in five of their inaugural seven campaigns, serving as the National League doormat.
Powered by stellar starting pitching (Tom Seaver, Jerry Koosman, Gary Gentry and a young Nolan Ryan), a solid bullpen, and just enough hitting, the Mets were able to slay the American League's juggernaut, the Baltimore Orioles, to win the World Series. After losing Game 1, the Mets reeled off four straight wins, thanks largely to Koosman and Seaver and great defense. Hardly anyone could believe they pulled it off, hence their other nickname: the Amazin' Mets. – Brett Smiley
The Miracle on Ice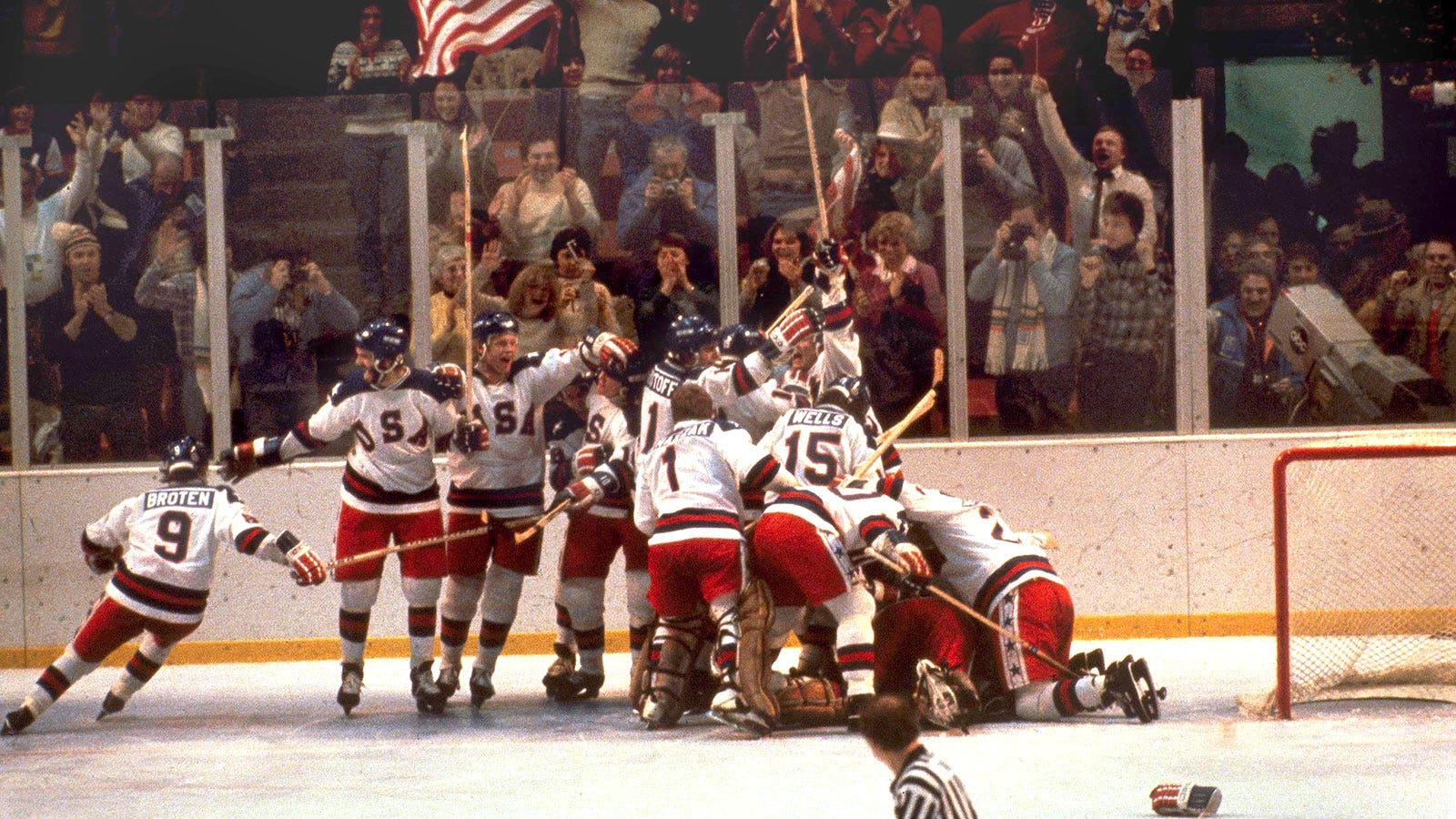 The Russian hockey team was a world-class machine heading into the 1980 Olympics in Lake Placid. They had thrashed Team USA, 10-3, during an exhibition just a week before the opening ceremony. There was no reason to think the Americans had a chance to capture gold at the Winter Games.
But Herb Brooks' team began to click and on Friday, February 22, in the upstate New York village, a miracle happened. Team USA stunned the Russians, 4-3, behind two third-period goals and went on to down Finland two days later to capture gold. "Do you believe in miracles?" Al Michaels famously asked. And the Miracle On Ice had taken flight. – Barry Werner
NC State wins 1983 NCAA title, on the dunk
Before Ryan Arcidiacono and Kris Jenkins there was Dereck Whittenburg and Lorenzo Charles, the N.C. State teammates who (accidentally, depending on who you're talking to) air-balled/passed the ball in the waning seconds of the 1983 NCAA championship and dunked it on the final play to upset Hakeem Olajuwon, Clyde Drexler and Houston's Phi Slamma Jamma, a group that'd go down as one of the best teams to never win the NCAA title. With the ball through the ring (er, hoop), N.C. State won one of the most improbable titles ever and sent Jim Valvano running into sports history. – Chris Chase
Villanova upsets Georgetown to win 1985 NCAA title
Last month, en route to their second NCAA title ever, Villanova shot 71.6% from the floor in one of the biggest Final Four routs in history. It was a sublime performance in one of the most pressure-packed situations in sports and the second-greatest shooting night in Final Four history. But the 2016 team will forever be No. 2 to its 1985 brethren, which shot an unfathomable 78.6% en route to a title-game upset of reigning champs Patrick Ewing and Georgetown.
Villanova was seeded No. 8 that year. No team, before or after, has ever won the tournament with such a high seed and no one, except maybe that Villanova team 31 years later, has ever come close to playing "the perfect game." – Chris Chase
Kirk Gibson's limp-off home run powers LA Dodgers to 1988 World Series
Hobbled and barely able to walk due to injuries to his knees and hamstring, the NL MVP wasn't even expected to appear in the 1988 World Series against the heavily-favored Oakland Athletics. "First item of business: Kirk Gibson will not play tonight," Bob Costas announced on NBC's broadcast of Game 1. Well, Gibson did.
Infuriated by hearing announcer Vin Scully mention his absence, Gibson ordered a bat boy to get him his uniform. With the Dodgers down 4-3 in the bottom of the ninth inning with a man on base, a stunned Dodgers crowd saw Gibson walk to the plate where he dug into a wobbly stance. He worked the count full when the A's Dennis Eckersley threw a backdoor slider that Gibson used both arms and one leg to smack over the right field wall for a stunning game-winning two-run homer." I never thought about pumping my fists," he later recalled. "I don't know why I did it. It was an act of emotion." – Brett Smiley
Buster Douglas KO's Iron Mike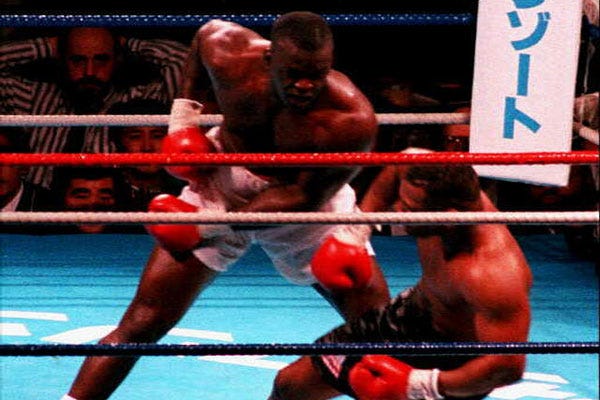 Mike Tyson was such a heavy favorite for his February 1990 title fight with Buster Douglas that most Las Vegas casinos didn't bother to take bets. Only the Mirage offered a line on the fight, famously giving Douglas a 42-to-1 shot to knock off the champ. Tyson was sure he couldn't lose. By his own admission, refused to train for the fight or study Douglas' previous bouts, instead cavorting and partying in Tokyo, the site of the fight.
He almost won despite of this. In the eighth round, Tyson launched a massive uppercut that sent Douglas to the mat. Yet a prolonged nine-count gave Douglas time to rise to his feet, and two rounds later, Douglas returned the favor, rocking Tyson with an uppercut followed by a flurry of punches to the head. When the punches subsided, Tyson was sprawled out on the ground, left searching for his mouthpiece as the ref counted to 10. Goliath had fallen. Douglas was champion. – Andrew Lynch
Rulon Gardner snaps Alexander Karelin's 13-year wrestling winning streak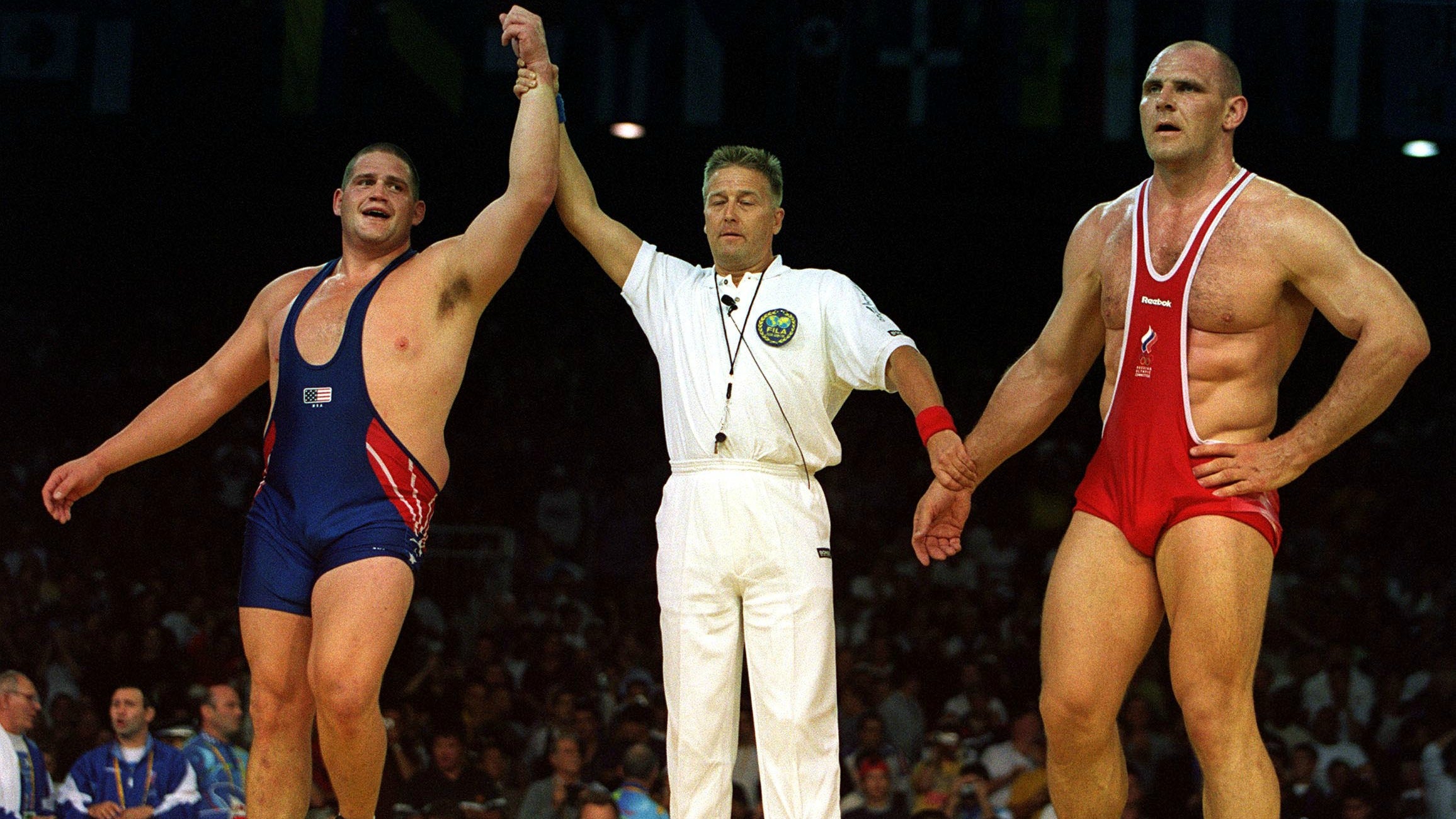 Alexander Karelin was the most dominant athlete you've never heard of. He went 13 years without being defeated in Greco-Roman wrestling's 130-kg (286 pound) weight class. It was a stretch that began with Karelin as a Soviet athlete and ended with him wrestling as a sports ambassador who held a parliamentary seat in Russia's Duma, in a world in which the Berlin Wall was a relic of the past.
But in the 2000 Olympic final in Sydney, Rulon Gardner, a little known wrestler from Wyoming, took the legendary Karelin to overtime, and exploited one mistake from the man going for his fourth-straight gold medal to win 1-0 and cartwheel into Olympic lore. – Chris Chase
A big fat Greek miracle at the 2004 European Championships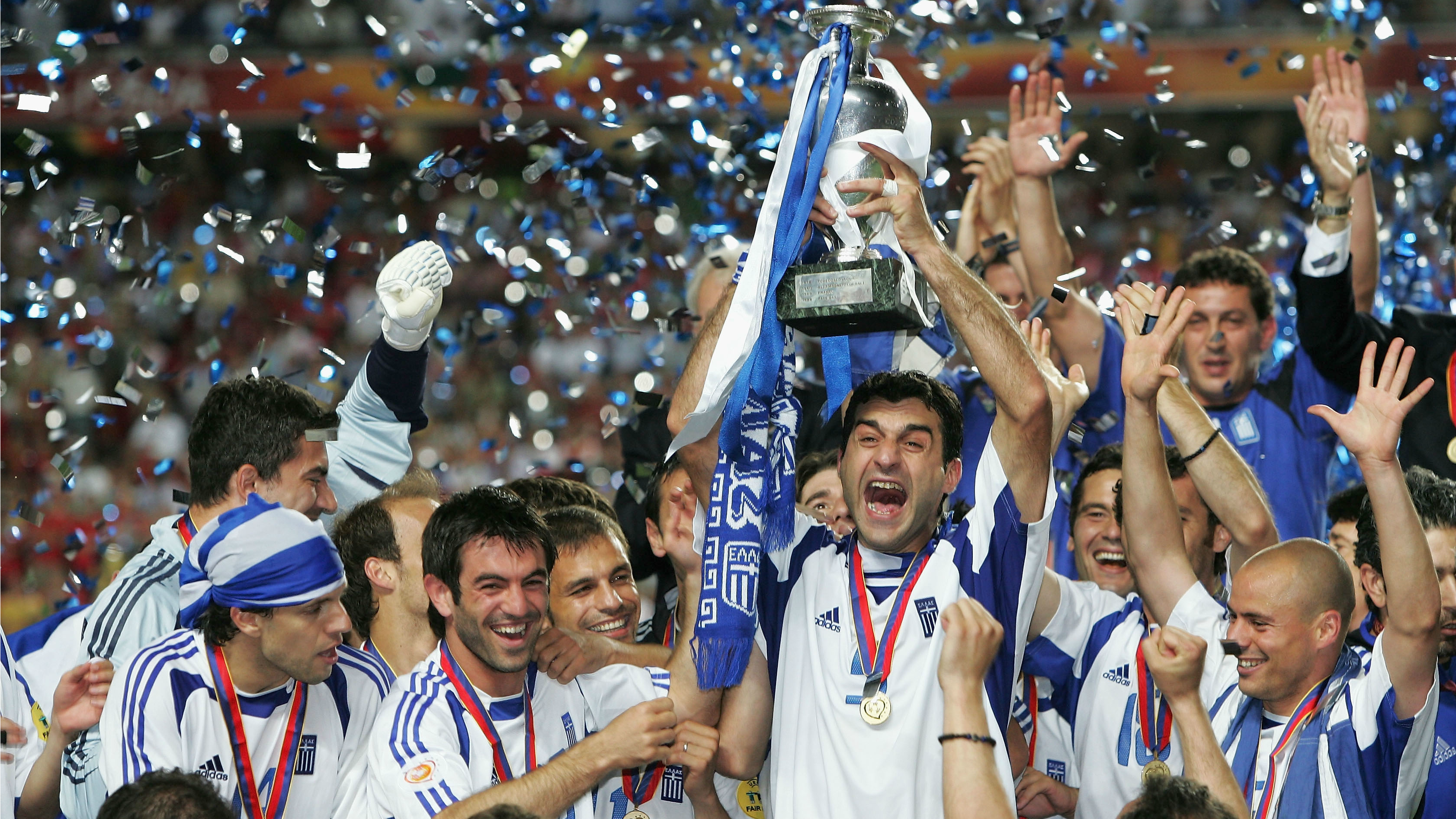 Ten years after losing every game without scoring a goal at the 1994 World Cup, Greece qualified for only its third ever major tournament. This time it was the Euros. Obvious underdogs in their group next to hosts Portugal, Spain and Russia, fans back home simply hoped their national team wouldn't get embarrassed again. Far from it.
Without a single international star, Greece rode extraordinary discipline, fitness and stout defense all the way to the final. They knocked out Zinedine Zidane's defending champions France and the Czech Republic along the way. Then in the final, just as it had done in the tournament's opening match, Greece upset heavy favorites Portugal and denied the the Portuguese their first ever trophy. Cristiano Ronaldo hasn't come as close since. €– Thomas Hautmann
Leicester City become the longest shots to win the 2015/16 Premier League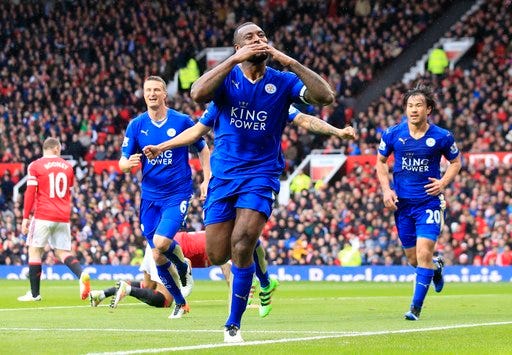 5000:1. Those were the odds bookmakers in England gave Leicester City to win the title in August. They were fair odds, too, given that Leicester needed a miraculous finish just to stave off relegation a season earlier.
New manager Claudio Ranieiri, who hadn't won a league title in his 28-year-coaching career, took a team of undervalued no-names like Jamie Vardy, Riyad Mahrez and N'Golo Kante, turned them into superstars. The Foxes didn't just beat the Premier League's powers; they dominated them. Top of the league since early January, the Foxes were no fluke. They won with two games to spare. They were just better than everyone, and the latest reminder that sometimes, even the impossible dreams come true. – Thomas Hautmann
MORE FROM FOX SOCCER