LA Galaxy: Who Will Step Up With Gyasi Zardes Out?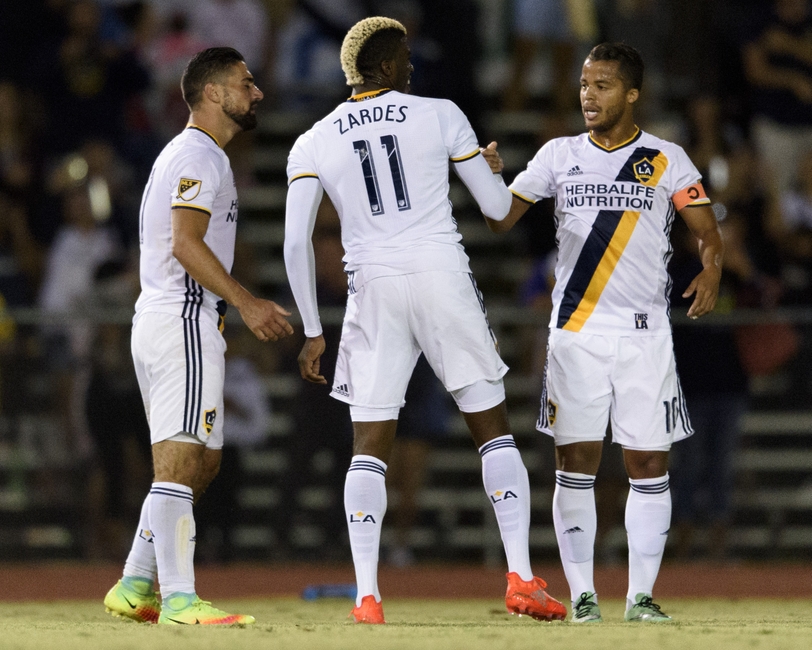 With Gyasi Zardes set to miss the rest of the season with a serious foot injury, who will step up in his place for the LA Galaxy?
In a disappointing turn of events, Gyasi Zardes will now miss the rest of the season for the LA Galaxy due to a broken foot. The MLS season still goes on and Los Angeles' needs players to step up in Zardes' place. The speedy United States' international will be a major loss for the squad but with plenty of talent on the roster, the club should have some viable replacements.
Gyasi suffered the foot injury in a match against the Vancouver Whitecaps on August 27th. Many questioned manager, Bruce Arena, bringing him on as a substitute for Steven Gerrard in the 31′ minute. Zardes was coming off of a knock but the foot injury wasn't related to the previous ailment. Kendall Waston made the controversial tackle on Gyasi that ended up breaking his foot.
With only a few games left until the MLS playoffs begin, the LA Galaxy are still fighting for a top seed in the Western Conference. Zardes was an integral part of the team's success so far in 2016. He had played in 19 games and recored six goals and five assists on the year.
Losing Gyasi is a major blow but Los Angeles has a talent ladened roster with players who may be able to replace his production. It's easy to point to the big names like Giovani dos Santos and Robbie Keane as players who will replace Zardes' scoring ability but they will not be able to replace his speed on the outside. LA will need a team effort to make up for their injured star. It will be up to players like Emmanuel Boateng, Raul Mendiola, and Sebastian Lletget to replace the creativity down the wings.
Lletget is one of the most creative players with eh Galaxy's first team but he does not possess the world class speed that Zardes does. Although he does play out wide at times, he is better suited in the middle of the field as an attacking midfielder. Sebastian has recorded one goal and five assists in 24 games this season.
Mendiola got his first start of 2016 in LA's last match against the Columbus Crew. While that could be a trend that continues, I don't think he is the player that will fill in for Gyasi. Although, he may help as a substitute and provide some offensive firepower from the bench.
Want your voice heard? Join the MLS Multiplex team!
I think that Ema Boateng is the best bet to replace the skill and pace of Zardes. He has outstanding speed and what he lacks in size (5'6), he makes up for will his pace. The 22-year old has showcased his acceleration multiple times this year as he has single handedly made runs past multiple defenders. He has only scored one goal and recorded three assists this season but those numbers are sure to go up if he continues to make approaches in the Starting XI.
With only seven games left before postseason play begins, Boateng will be able to prove to Bruce Arena that he can start and produce on a consistent basis while Zardes is out. Ema won't be able to full replace Gyasi's world class production but he may be able to help bridge the gap. After all, Arena did say that Zardes has a shot at returning in the MLS Cup playoffs.
This article originally appeared on