Don't sleep on Juventus, who are a Champions League darkhorse
Juventus are eight points clear at the top of Serie A, and they're poised to win the league for a record sixth time in a row, but they're 20 years removed from their last European title. That could change this season, though. For all the talk about Barcelona, Bayern Munich, Real Madrid and the rest, Juventus are right there with just as good a chance to take home the Champions League title.
It's Juventus' domestic form and ease with which they've handled every test in Europe that has them looking like they could win it all. They've got the best defense on the continent, two of the best strikers in the world in Gonzalo Higuain and Paulo Dybala, and manager Massimiliano Allegri has re-made the midfield into one that has dictated play to opponents for months now.
The Old Lady's results have been downright dominant. Juve floated through their Champions League group with no losses and just one draw, and they've kept the most clean sheets (six) in the "Big 5" European leagues since the start of the new year. In the last month and a half they've taken on and beaten three of their biggest rivals.
A large reason for Juve's success — and a big piece of the danger they pose in Champions League — comes from their incredible home form, where they're currently unbeaten at home in 46 games across all competitions. Their last loss at home came against Udinese in the opening game of the 2015/16 Serie A season, but before that they'd gone another full 47 matches without a home defeat. Teams just don't tend to walk into Turin and come out with a victory, giving Juve a near-guaranteed advantage no matter who comes up against them.
This is the best form that The Old Lady have been in over that 46-game stretch too. Their switch to an attacker-laden 4-2-3-1 formation has rejuvenated the Bianconeri and attack, making it nearly impossible for teams to track the slew of players flying forward.
Now, the Bianconeri not only regularly line up with Higuain and Dybala in attack, defenses have to account for the very different dangers Juan Cuadrado and Mario Mandzukic pose out wide. Add in an engine room of Miralem Pjanic and Sami Khedira in midfield, and the increasingly world class performances of Alex Sandro, and it's a recipe that's seen great success so far this season.
Higuain himself already has 23 goals for Juventus, but 15 different players have scored for the Bianconeri in Serie A this year; more than any other team in the league.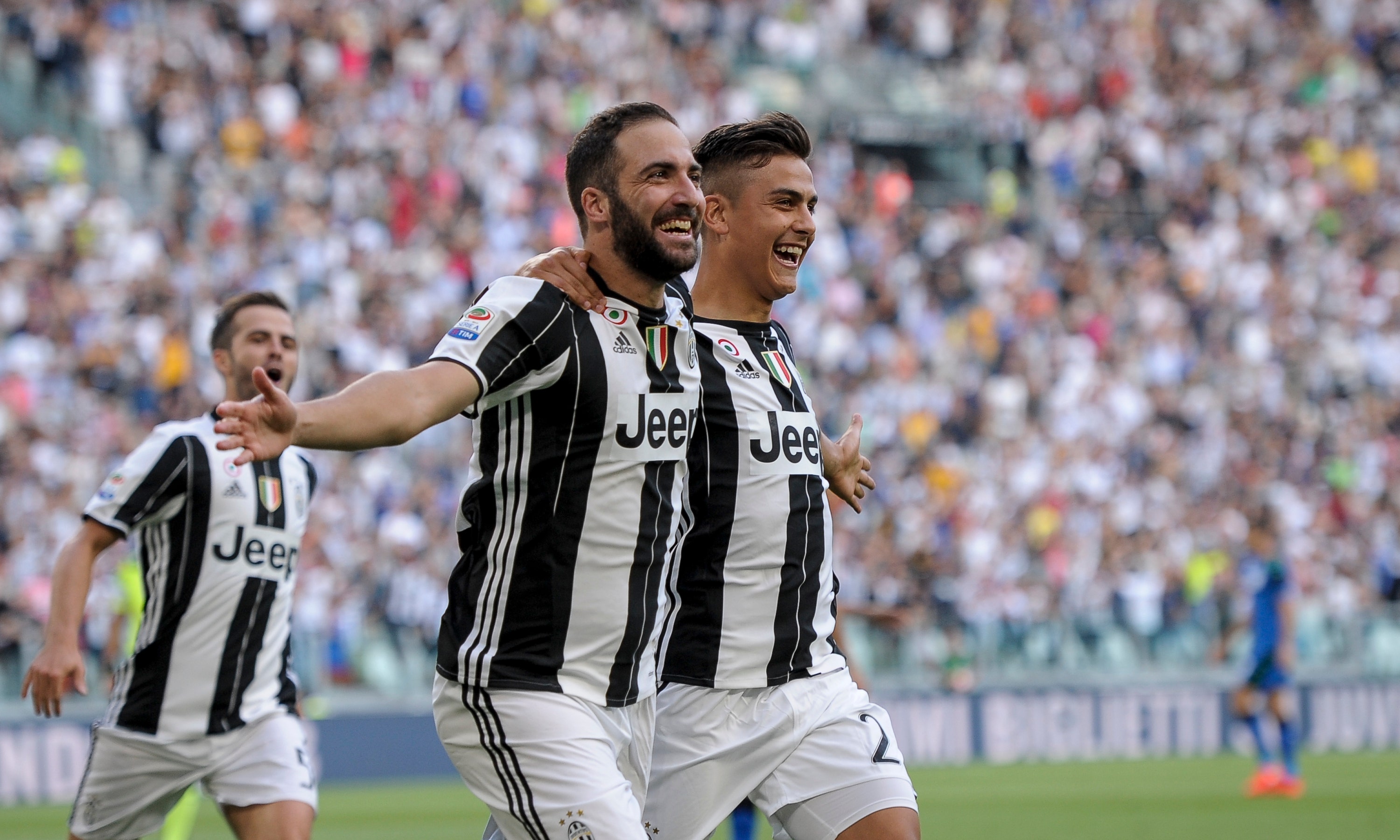 With that constant threat from their attack, the pressure is off their midfield and defense, making it more a matter of properly reading the game for those players and they do that as well as anyone. Against Juve, they dictate the match, and no one has been able to counter that. Not in Serie A and not in Europe.
Even fixture congestion and the inevitable rotation necessary late in the season isn't really a problem. Players like Mehdi Benatia, Daniele Rugani, Tomas Rincon, Marko Pjaca and even Claudio Marchisio are hanging around, getting time to impress and providing the depth that teams need. Allegri has happily gone to these players all year long and will continue to do so, churning out wins like they've been doing for months. Plus, with the Serie A title nearly wrapped up, Juve can rotate on the weekend and send their first team out for the Champions League.
Juventus still have to get past Porto in the round of 16, but they went out and got a 2-0 away win in the first leg so they have a foot in the quarterfinals. From there, the semifinals and final could beckon. Barcelona, Bayern Munich, Real Madrid and the rest are all excellent teams, but it's hard to make an argument that Juventus aren't right there with them right now. The Old Lady could very well take home the Champions League title.
MORE FROM FOX SOCCER