How Patrick Mullins Turned Around DC United's Season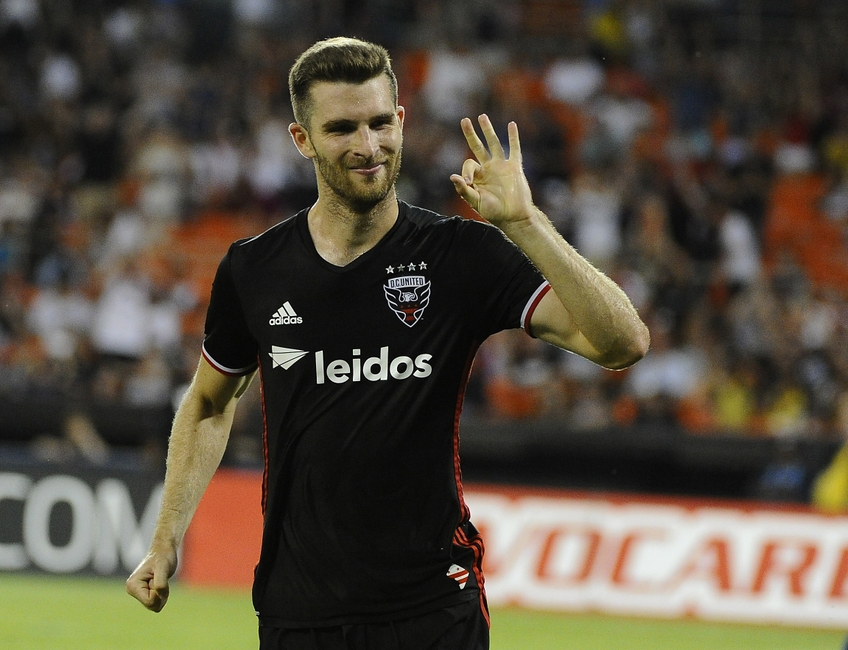 DC United were one of the lowest scoring teams in MLS before acquiring Patrick Mullins. The striker has helped turned the team's season around.
In the earlier stages of the 2016 Major League Soccer season, DC United were in a bad spot. They were had a 5W-7L-7D record and even though they were just below the final playoff spot in the Eastern Conference, they were the second lowest scoring team in the league with only 18 goals scored. They needed to make a move before losing a grip on the season and after acquiring Patrick Mullins, the striker has turned the team around with his outstanding play.
On July 20th, DC United made a couple of trades that would change the shape of their squad, their franchise, and their season. First, the team traded forward, Fabian Espindola, to the Vancouver Whitecaps in exchange for General Allocation Money. They then flipped the GAM and packaged it with Targeted Allocation Money and an international roster spot in order to obtain Patrick Mullins from New York City FC.
The club from the nation's capital were hoping for something big from Mullins and they got more than they expected. The 24-year old striker had largely been restricted during his first two and a half years in MLS. After appearing in over 20 games during his time with the New England Revolution in 2014 and NYCFC in 2015, he rode the bench for Patrick Vierra's side in 2016.
DC United's Improvement With Mullins
The black-and-red were only 5W-7L-7D before acquiring Mullins but since arriving, the team has gone 3W-2L-6D. That record may not seem great but if we rule out Patrick's first game, where he was subbed on in the 58′, DC United have only lost one game since his first start.
After that first loss on July 23rd against Toronto FC, the team went on a six game unbeaten streak against some stiff competition. United are now in the thick of things for a playoff spot in the Eastern Conference this season. They have a 8W-9L-13D record with 37 total points this year which is one point ahead of New England for the final playoff spot.
They may be close to falling out of postseason contention but DC are also only one point behind the Montreal Impact for the fifth seed. It will be a tight race over the final few weeks but DCU are in prime position to hold off challengers and keep their spot in the playoffs. The team also improved their scoring with Mullins addition to the Starting XI as they are now the tied for 11th in MLS in goals scored.
Making the Most of an Opportunity
The former University of Maryland player was not in a good place with New York. He wasn't getting playing time and when he was, he wasn't producing. In 52 games (27 starts) during his first two and half seasons in the league, Mulling had only scored 10 goals. After arriving in DC, he became the main man upfront and he produced by scoring seven goals in 11 games (nine starts).  He has also recorded one assist in his 809 minutes with the club.
Since making his debut for DC United in Week 20 of Major League Soccer play, Patrick Mullins is tied for the second most goals only behind league leader Bradley Wright-Phillips. Since 7/24, United's frontman has scored more goals than David Villa, Sebastian Giovinco, Dom Dwyer, Ola Kamara, and Fanendo Adi.
Here is a look at the top scorers in MLS since Week 20:
BWP – 9 goals
Patrick Mullins – 7 goals
Frank Lampard – 7 goals
Giovani dos Santos – 7 goals
Villa – 6 goals
Giovinco – 6 goals
Mullins is taking full advantage of the opportunity that DC United gifted him. After showcasing his skill in college by winning two player of the year awards, it looked as though the once promising prospect would sputter in his professional career. Now he has a new start in the nation's capital and has revived his career.
Want your voice heard? Join the MLS Multiplex team!
Watching Patrick Mullins development with DC United has been great for not only him as a player but for the team and the league. It will be interesting to see how the remainder of the season goes as they will be looking to make a strong finish. One thing is for sure, DCU have found their striker for years to come.
This article originally appeared on