FIFA Interactive World Cup comes down to an action-packed finish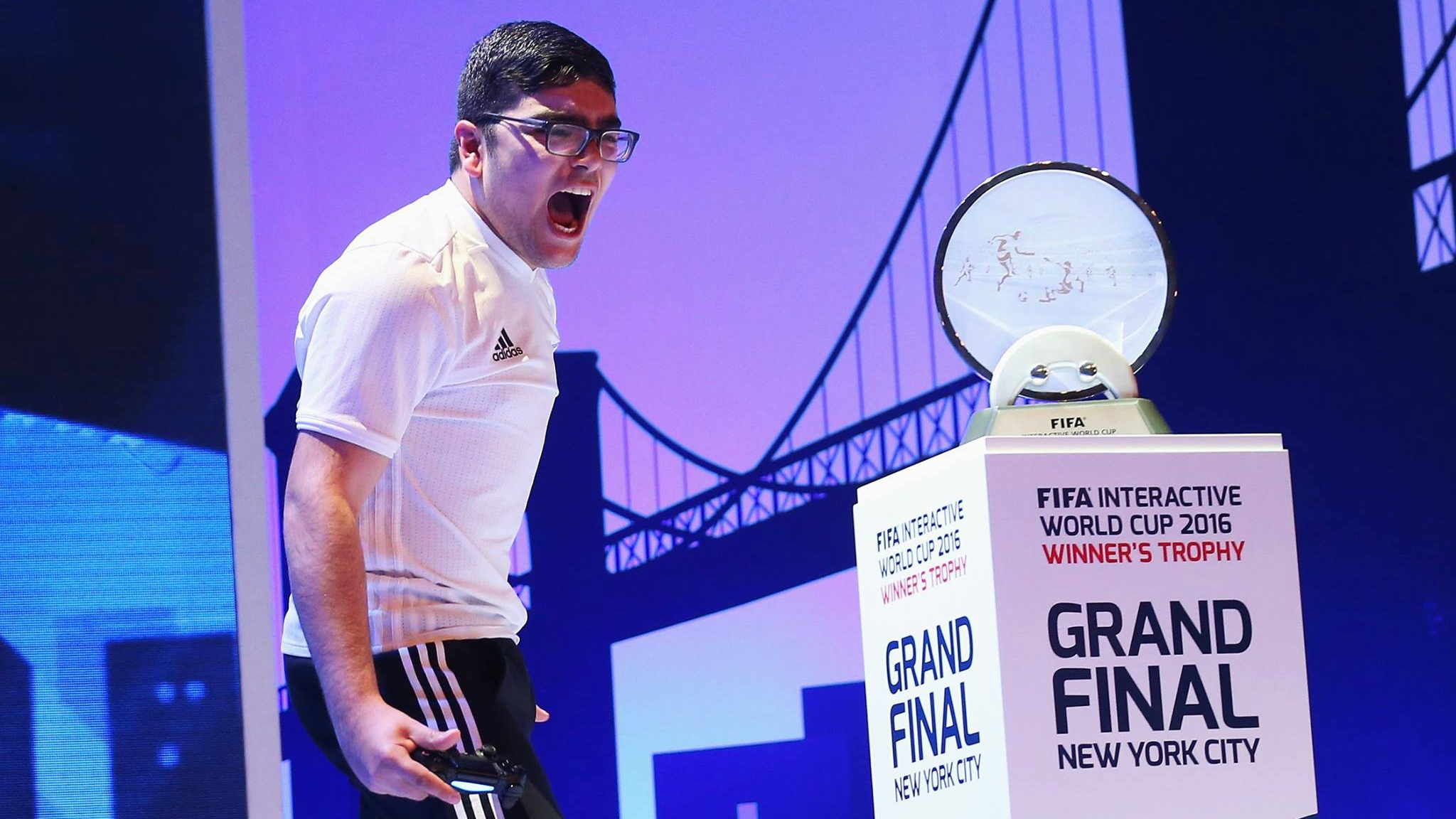 It was a wild finish in the 2016 FIFA Interactive World Cup on Tuesday in New York City.
France faced a one-goal deficit against Brazil with 2 minutes of stoppage time left, and its manager ordered a full offensive. Christophe Jallet tapped a pass to Antoine Griezmann, and Griezmann gave it one touch before firing top left for the equalizer — and, in this two-game final, the tournament winner.
Yes, this is a no-holds-barred battle in FIFA 16 that we're talking about.
The crowd erupted in shock. Griezmann took off for the corner of the field, diving head first just in front of the flag and waiting for teammates to dogpile on top.
And 10 feet below the screen where Griezmann had scored, Mohamad Al-Bacha ran in circles, jumped and screamed.
WOW! This insane finish to the FIFA Interactive World Cup final was so peak FIFA.Congratulations to the winner, Mohamad Al-Bacha!

Posted by FOX Soccer on Tuesday, March 22, 2016
But it was a 2-2 draw, where are the penalties you ask? Turns out 'away goals,' or shall we say, 'away console' is the determining factor. Each leg of the final was played on a different console, first a Playstation 4, followed by Xbox One. The two legs finished 5-5 but Al-Bacha had scored more goals on his opponent, Englishman Sean Allen's, preferred gaming system.
Complicated, right? You can dive in to more about how the tournament works here.
After the taking a celebratory lap, Al-Bacha stage-dived into a pack of supporters — his first act as a world champion, before accepting his $20,000 prize money (in giant check form) and free trip to the FIFA Ballon d'Or presentation.
"To win the competition is beyond words for me," the 17-year-old from Denmark said.
Over the course of this week, the 32 top FIFA 16 players from around the world gathered in New York for the FIFA Interactive World Cup. The pitch was digital, but the stage was very real, with the four semifinalists settling things at the historic Apollo Theater in front hundreds of fans.
The semifinal and final matchups were broadcast live on FS1, with Alexi Lalas and John Strong leading the television commentary. Two real-life game-callers who were getting their first taste of the interactive sport.
Well that was different. #FIWC16NYC

— Alexi Lalas (@AlexiLalas) March 23, 2016
A pleasure working alongside legendary #FIFA gamer @SpencerOwen tonight for #FIWC16NYC. He is a very patient man.

— Alexi Lalas (@AlexiLalas) March 23, 2016

Even NYCFC star David Villa was impressed with the event:
"It's been a real eye opener for me to see the level of competition here. The professionalism and mental strength in the final was just like in a real World Cup Final. I played a few of the competitors myself but I'm nowhere near their level. Congratulates to Mohamad Al-Bacha. He played a great match this evening and showed a real passion for football."
Tuesday's thrilling finale showcased the best of the more than 2.3 million players from around the world that took part in online qualification for what Guinness World Records recognizes as the biggest video game tournament in the world.
Plus, we know you want to watch the final goals again. Try it this time en español.
¡EL GOL DEL TÍTULO! Así fue el 3-3 de #FIWCALBACHA. @FIWC #FIWC16NYC #FIFAhttps://t.co/wM2PFC7dmh

— FOX Deportes (@FOXDeportes) March 23, 2016
The Associated Press contributed to this report.