Christian Eriksen has reacted brilliantly to Tottenham benching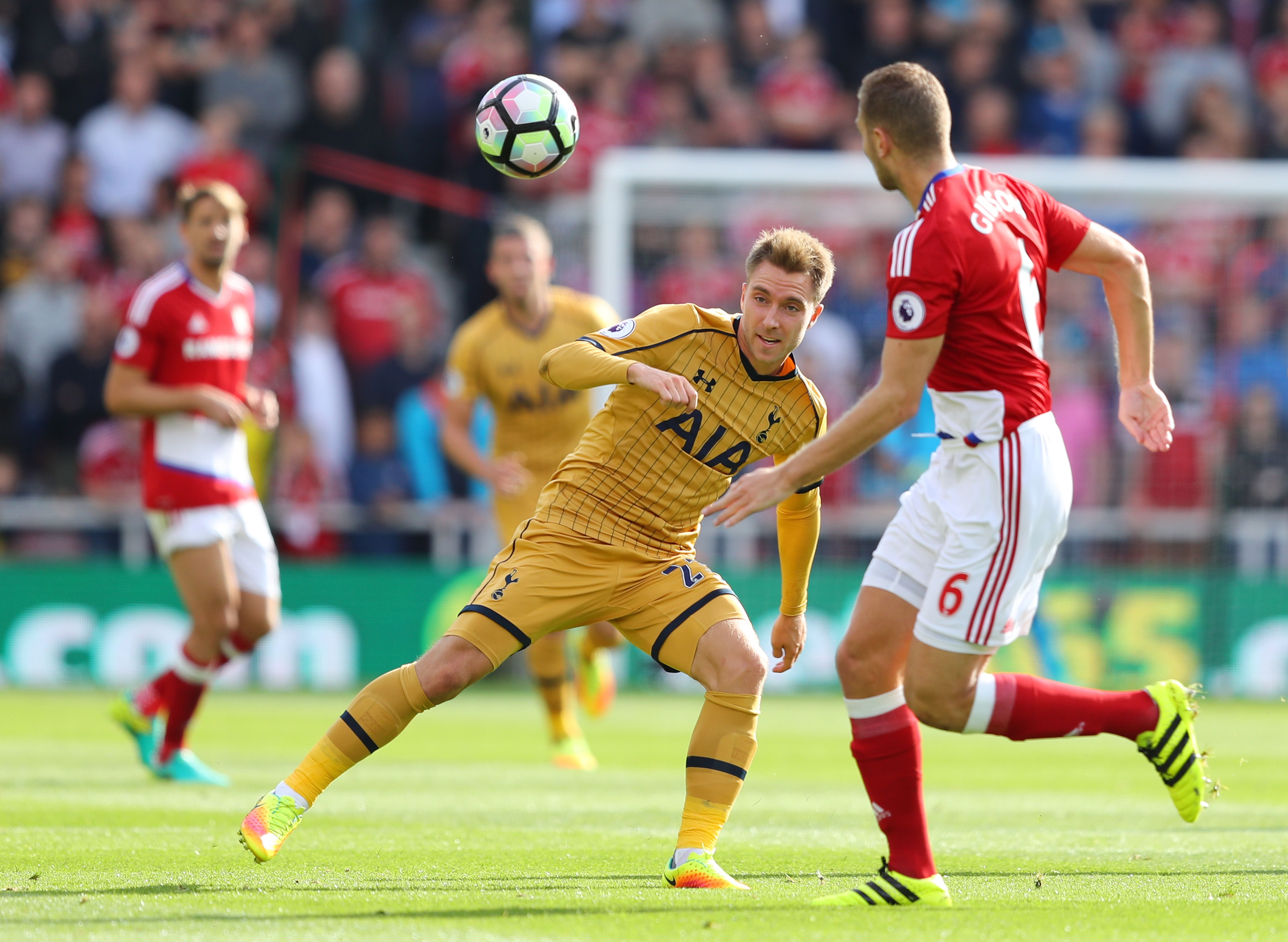 After being benched at Sunderland, Christian Eriksen has been excellent
In the aftermath of Tottenham's 2-1 Champions League loss to Monaco it was very clear that Mauricio Pochettino wasn't happy with his side's passion. He responded to that defeat with a multitude of lineup changes in the following match against Sunderland. Those changes included dropping Danish midfielder Christian Eriksen.
When a high-profile player gets dropped by his manager, it can go in one of two directions. The star in question either quits on his club and becomes a cancer, or he responds by playing inspired football. Fortunately for Tottenham, Eriksen has responded in the more positive manner.
The Danish attacker has played two excellent matches since Pochettino left him out of the starting XI at Sunderland. First, he scorched Gillingham for two goals in the EFL Cup, and today, he put in sublime performance against Middlesbrough.
Some Spurs fans weren't overly impressed by the EFL Cup performance given the level of competition, but his first goal was world-class. It proved to be a harbinger of things to come.
Today, all of the headlines will go to Son Heung-Min, but Eriksen deserves significant praise too. He gave Pochettino just the kind of performance the Argentine manager has craved from his stylish number ten.
Get the FanSided App
No, he didn't dominate the game with a goal or an assist. He didn't even post an amazing statistical rating per Whoscored.com (only 7.07). What he did, was control the match with an incredible balance of physicality and skill in the midfield.
Skill, we're used to seeing out of Eriksen. The physicality he showed against Middlesbrough was what really caught my eye. He flew around the field like a man possessed. He didn't even consider ducking out of any 50/50 challenges.
It was the closest thing Tottenham fans have seen to Luka Modric since the Croatian star left for Real Madrid. Eriksen wasn't on that level, but he played that style of match.
That's a very encouraging sign for Spurs moving forward. Eriksen's always had the skill and guile to be a Premier League star, but sometimes it's appeared that he lacks the heart. That wasn't the case today.
It gives me hope that Eriksen has finally turned the corner. If he can bring just a mild amount of physicality to his game, he could become a world-class midfielder. If he takes that leap, it could lead Spurs to a Premier League title.
This article originally appeared on