Chika: Salvation in Soccer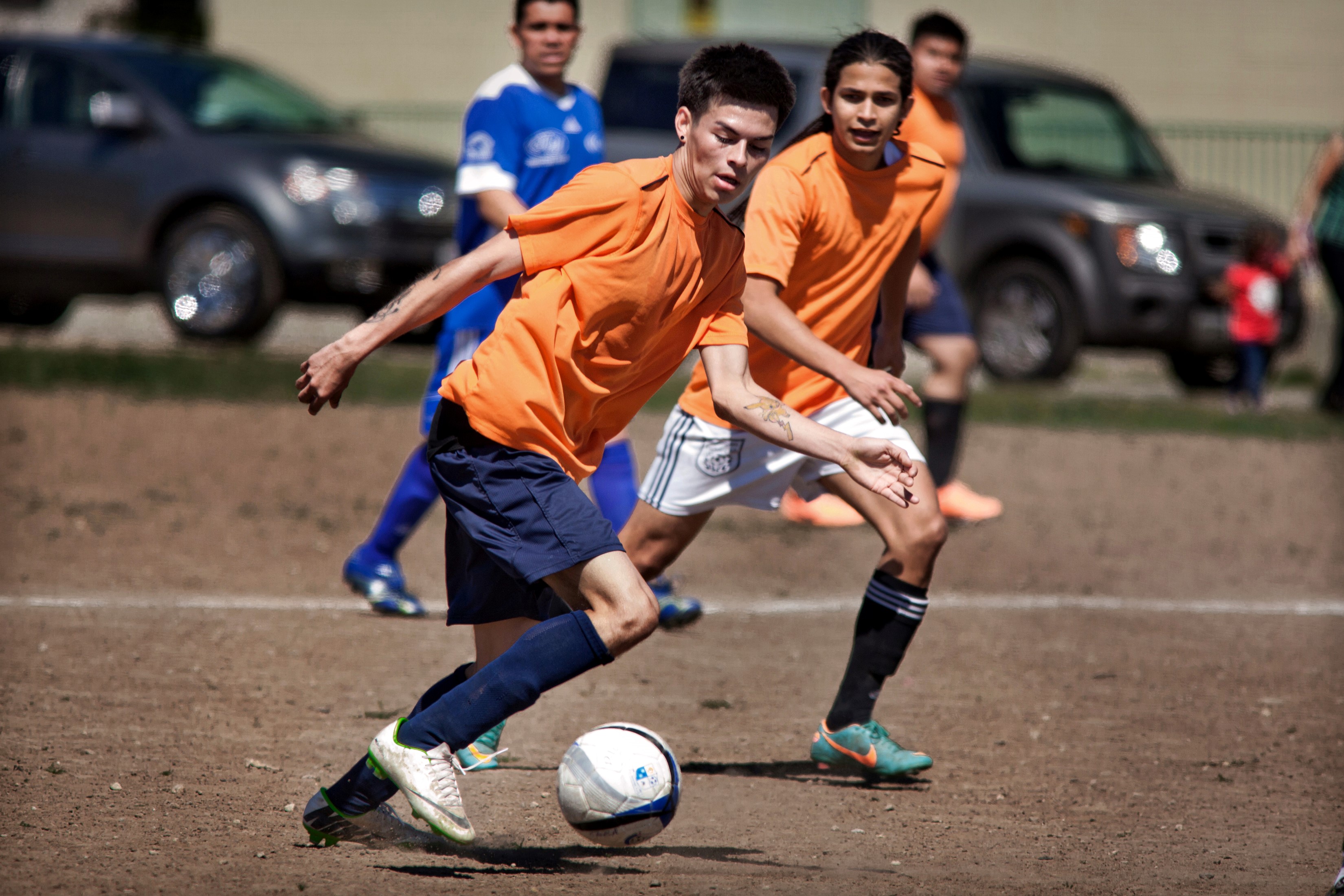 "When I play, I feel like I'm in the jungle or the desert, where I can do anything I want and nobody can tell me anything," says 22-year-old Jose Perez, better known in street soccer circles as Chikawala Bang Bang. YouTube videos showcasing his soccer wizardry alongside members of his Concrete Royalty Street Soccer crew have brought him notoriety far beyond his stomping grounds in and around Long Beach, Calif. He's performed tricks on TV during a Major League Soccer halftime show, participated in a Pepsi-sponsored street soccer tour of Philadelphia and was even made a playable character in EA Sports FIFA Street, which bills itself as "the most authentic street football video game ever created."
But Perez, whose friends call him Chika, has not yet found a way to parlay that talent into a steady income, so he works seven days a week at a car rim manufacturing plant and shares a two-bedroom apartment with four other family members – all to provide for his baby daughter, Delilah, whose mother keeps him at arm's length. For the soft-spoken and boyishly handsome athlete, soccer is a sole salvation.
He was five when he first touched a soccer ball, trying to emulate his older cousins, but lost touch with the game in his early teens. He picked it up again when he was 16 at the encouragement of Ramon, his construction-worker stepfather. (His biological father, Ernesto, left the family when Chika was just four, and rarely contacts his son, "unless he needs money or something.") Looking to improve his game, Chika heard good things were happening at a soccer field behind Los Angeles Adventist Academy in El Segundo, a working-class L.A. suburb.
It was there that he caught the eye of Hector Polo Jr., the school's soccer coach and founder of an inner-city development league that aimed to steer kids like Chika away from gangs and towards athletics. Quick with a quip and some tough-love advice ("Don't get too bulky," he recently warned a player who'd boasted about hitting the weight room. "It'll slow you down on the field!"), Polo instantly filled a father-figure void in Chika's life. "He was playing goalie," Polo recalls of their first encounter. "A good-looking kid, but he didn't have no ball-control skills. He's been around ever since. He's progressed in this kind of game. He really likes street soccer."
Indeed, he does. Ask Chika what his greatest soccer strengths are, and this left-wing midfielder is quick to reply it's his speed (he crisscrosses the field in seconds, barely breaking a sweat) and dazzling footwork. He's very familiar with the highly efficient style played by MLS teams like LA Galaxy, who he's seen twice, but says it doesn't inspire him all that much. "We call it the 'Barcelona Tika Taka,'" he explains of the team's mechanical passing technique, favoring instead the street-inspired showmanship of international soccer virtuosos like Lionel Messi, Cristiano Ronaldo and Brazil's Ronaldinho. Ronaldinho's signature move is called the "Elastico," an impressive display of foot magic that confuses defensive players by switching the direction of the ball. Perez has learned how to do that one, and is even close to mastering the "Akka 3000" – an aerial version of the Elastico invented by Dutch street soccer superstar Issy "Hitman" Hamdaoui, another of his heroes.
Chika frequently stuns his opponents with his always-growing arsenal of tricks, as he did during one recent Sunday match at Adventist Academy. "People will stop and say, 'What was that? You gotta teach me!' " Chika says, a proud smile briefly cracking his stony veneer. He also fails to contain his giddiness when the subject of the World Cup comes up, and the prospect of how its epic stakes push the best players on the planet to even greater heights. Ask him which country he's rooting for and his patriotism shines through: Team USA all the way, Chika says, citing Landon Donovan as his favorite American player.
Most of his spare time is devoted to soccer, in one form or another. Sundays are spent with the Ratchets FC, a team in Hector's welcoming amateur league, which is open to players of all ages, sexes and skill-levels. After work he gears up for Tijuana, a team comprised of co-workers. (He prefers the Sunday league, where he feels the players better understand his style and there's "a trust bond going on." By contrast, his Tijuana teammates treat him like an MVP and tend to lean on him too heavily during games. "They practically bribe me," he laughs. "They're like, 'What do you want? Gatorade? A hamburger? They know I love food.") Then there's always a pickup game of futsal–a fast-paced, high-scoring variant of soccer that's played indoors and features teams of five-on-five. Failing that, literally any flat surface–be it in an alleyway, basketball court, waiting room or even his own, tiny living room–can provide the perfect stage to perform tricks for a smartphonecamera, which later can be uploaded online.
Would he like to play professionally? Of course he would. "I like when people support you and you get a good vibe about yourself," Chika says of playing in front of big crowds. "And you play better when you feel good." But he's realistic about his chances of entering the MLS soccer ranks, which at age 22 are slim-to-none (the draft cutoff is 23). He was once approached by a scout for Chivas USA, an MLS team based out of Carson, Calif. "He told me, 'You're pretty good. You have talent. But you slowed down in the second half,'" Chika recalls. He attributes his poor performance that day to a ball that struck him in the eye, temporarily blinding him. "You gotta know when you gotta give something up," he reasons.
He hopes to find other avenues by which he can make a living through his sport, for instance by signing on for more demo tours like the one he did in Philadelphia(he had to miss one in Hawaii because his job wouldn't let him take the time off) or by following in the steps of his mentor, Hector. "I'd like to coach older kids, 16 or 17," Chika says. "But I don't really have a lot of patience with younger kids. Unless it's my daughter."