Chicago Fire: David Accam "Unlikely" to be Moved After Interest From FC Nantes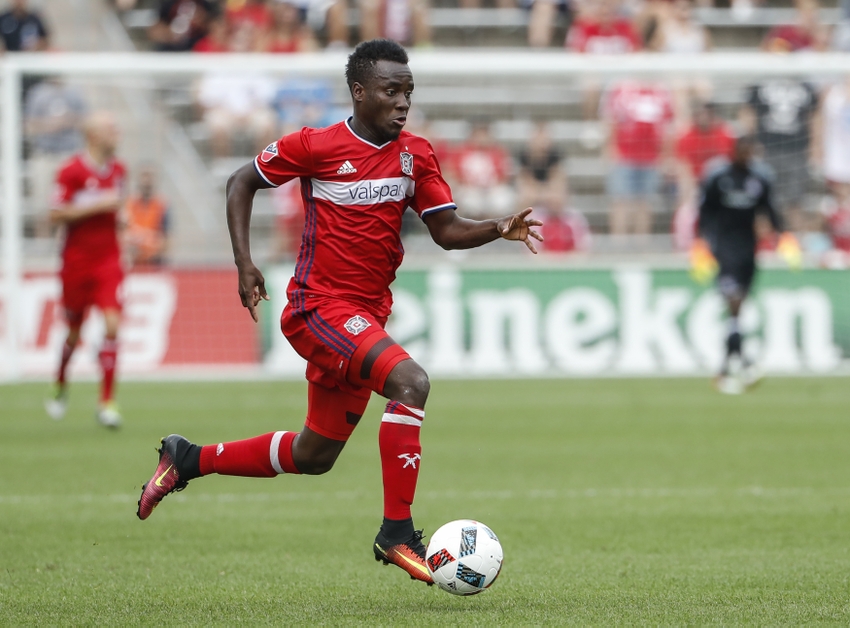 Multiple reports have linked French club, FC Nantes, to Chicago Fire forward David Accam but the Ghanaian international is "unlikely" to be moved.
Just before the international summer transfer window closes, French side, FC Nantes, tried to make a transfer for David Accam on Deadline Day. The Chicago Fire forward is "unlikely" to be moved. (MLSsoccer.com) FC Nantes reportedly offered a $3 million transfer fee for the Ghanaian international.
While Accam is still under contract with the Chicago Fire until 2017 (with a team option for 2018), the team has been working on a long-term deal with their lone designated player. Chicago haven't been great in recent seasons but David has been one of the long bright spots for the team. FC Nantes would have needed to up their offer if they were going to pry him away from the Fire.
Chicago's currently in last place in both the Eastern Conference and the entire league. They only have 23 points on the season with a 5-12-8 record. While they are a struggling club, they have made recent moves that will help benefit their future. They have acquired allocation money and draft picks going forward.
Accam burst onto the scene in MLS last year when he scored 10 goals in 24 games during his first season with the Fire. The 25-year old striker has recorded seven goals and four assists in 17 games this season. As the team's lone designated player at the moment, they couldn't risk losing him.
The 5'9 forward has appeared in a handful of games for the Ghanaian national team since making his international debut in 2015. He has scored one international goal in his career.
FC Nantes recently did business that indirectly involved the Fire this season. Alejandro Bedoya transferred to MLS from the French club this summer and the Philadelphia Union made a deal with Chicago to acquire the top spot in the allocation ranking order. The Fire essentially helped MLS and the Union complete the move for Bedoya from FC Nantes.
Chicago will look to retain the services of Accam going forward as they try to sing him to a long-term deal. David has been one of the Fire's best players since signing for them in 2014. FC Nantes and other European clubs will likely be looking to grab him during the Winter Transfer Window.
This article originally appeared on