Chelsea midfield breakdown: Nemanja Matic can be replaced by youth, Oscar and Kante are perfect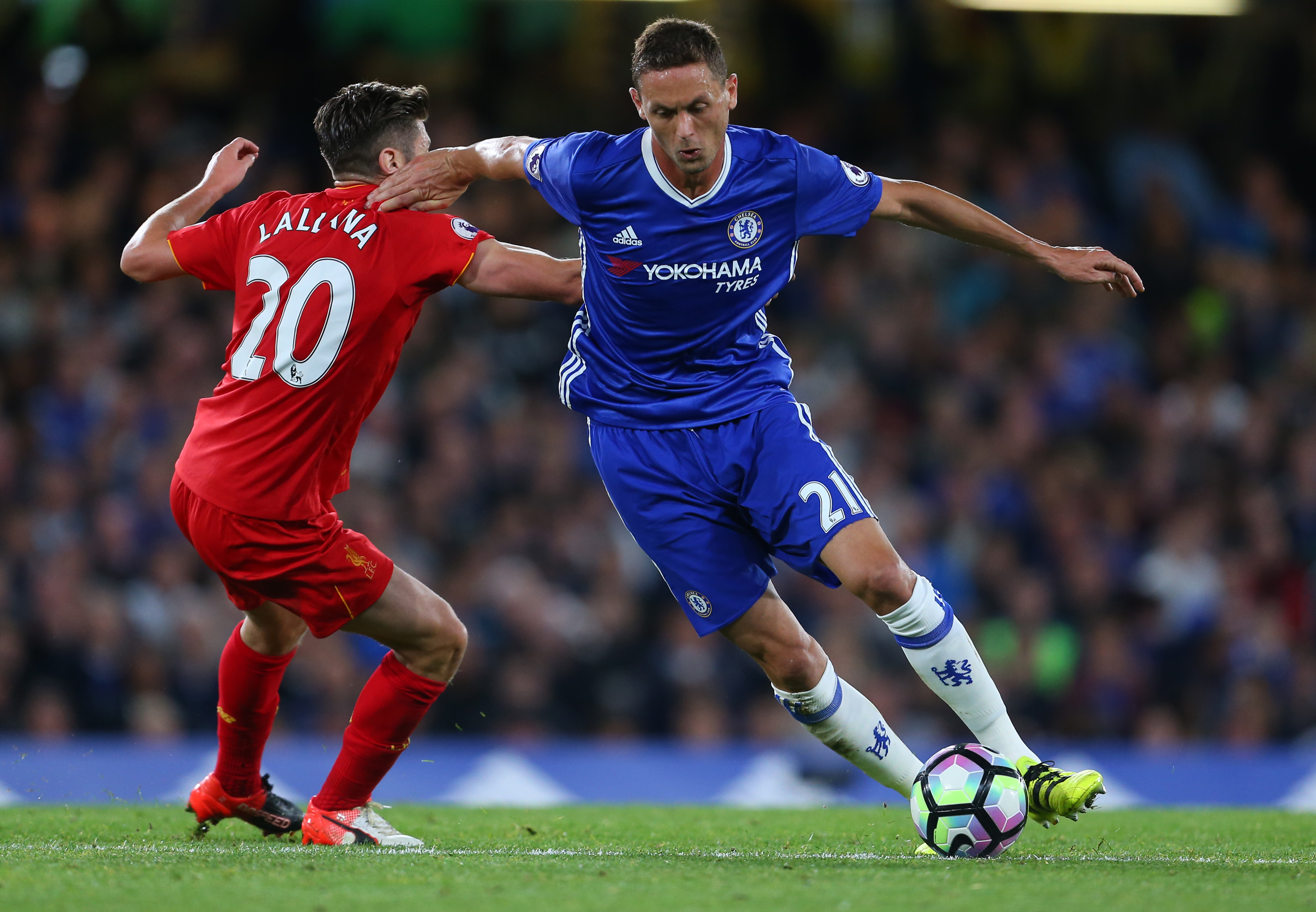 Nemanja Matic had his best performance of the season in Chelsea's defeat by Liverpool. Despite this, Matic is no longer necessary and certainly shouldn't be an automatic fixture in the lineup, let's evaluate why.
An assist capped a decent performance by Nemanja Matic against a high-pressing Liverpool side. It was a performance reminiscent of the 2014 Matic. The aggressive Serbian who on his debut out-Toure'd Yaya Toure, in his prime.
A key player during the 2014/15 title run – in actuality, Matic hasn't been at the top of his game from January 2015. Since then it has been a steady decline into an average holding midfielder.
One of the most highly regarded managers in world football is insisting on playing him in the wrong position, for one reason or another.
From this we can see how Chelsea have lined up so far this season. Obviously the two wingers drop back to make a five across midfield when defending.
When playing with three set central-midfielders, the idea is to implement three different styles, all complimenting each other – a deep-lying playmaker, ball-winning midfielder and a box-to-box midfielder. Sure, this may be describing a perfect storm but at the moment Matic isn't being used correctly.
Deep-lying playmaker
This position is currently occupied by Oscar, and with good reason. While Cesc Fabregas is the better prototypical playmaker, he lacks a huge deal outside his passing game. Oscar's tenacity and vastly improved tackling have seen him slot into a deeper position with ease.
Heat-maps have shown him dropping back in between Gary Cahill and Branislav Ivanovic on the right side of defence and his average position is further back than Matic's. From here he can play the diagonal ball to Cesar Azpilicueta or Eden Hazard.
He has often played short snappy passes with Willian, while his pace can help him join the attack and stop counters. Oscar's covering for the right-back is part of the reason Ivanovic has started the season so well.
Ball-winning midfielder.
If you could hand-craft a player for this role he would be N'Golo Kante (or Claude Makelele). Matic was brilliant at this for Chelsea for 12 months, but no longer has the legs for the job.
More akin to an emu in high heels than a footballer in boots, Matic would be a perfect back-up to Kante, should he get injured or suspended. Mikel Jon Obi would be redundant. Kante's job is made a hell of a lot harder if the box-to-box midfielder (played by Matic), isn't covering the left-wing.
Box-to-box midfielder.
Frank Lampard, Steven Gerrard, Kaka, Edgar Davids, Michael Ballack, Nemanja Matic. One of these names does not belong. Sure, in their prime they were all great midfielders, but apart from Matic they were, more specifically, fantastic box-to-box players. This has been Chelsea's biggest problem thus far this season. You may think the defence has been the glaring problem, but this accounts to it.
Powerful, high level of stamina, decent pace, good shot, great vision, awareness – all hallmarks of a great box-to-box midfielder. The Serb genuinely has a terrific shot, but never uses it. Apart from that an argument could be made that he no longer has any of those qualities, with diminishing stamina and being often muscled off the ball.
He is a defensive specialist with limited attacking qualities. With Oscar becoming so capable in defending (also, Kante can do it all), Matic is no longer needed. Instead, Chelsea require someone who can spring the attack forwards with pace and drive into the box.
He was terrific for Chelsea, a necessity for 2014/15 in winning the title. With the arrival of Kante, who is playing in Matic's more natural position, the Serb shouldn't be an automatic starter.
It's easy to see why Antonio Conte was so keen to bring in Radja Nainggolan during the summer. The Blues need someone with more attacking nous, who can hold onto the ball.
Hazard isn't the best defender, and is often late in tracking back. This means the player who occupies the box-to-box role needs to have the capability to join an attack, while having the wherewithal to race back with Azpilicueta and defend the left.
My two cents? Give the club's two young English midfielders a chance to shine.
Conte has stated Ruben Loftus-Cheek is more suited as a striker, so it's unlikely we'll see him in midfield any time soon. Yet he would be perfect. Loftus-Cheek is brilliant at driving possession out of the midfield. He is a big powerful lad and is starting to build up a rapport with his fellow Blues. On top of this, he can finish and picking out a pass isn't hard for him.
The other option is of course, Nathaniel Chalobah. I am a big Chalobah apologist, and may have mentioned before that he should be starting…Maybe.
So, one more time. He can pass.
He can score.
He can dribble.
In fact, he has all the traits of a future star in the box-to-box midfielder position.
Matic isn't suited for the role he's been tasked with, other players are and they need to be given a chance.
Do you think Matic should be dropped, if so who for? Let's discuss in the comments below.
This article originally appeared on