Calero: Real Madrid dreams, with a healthy dose of reality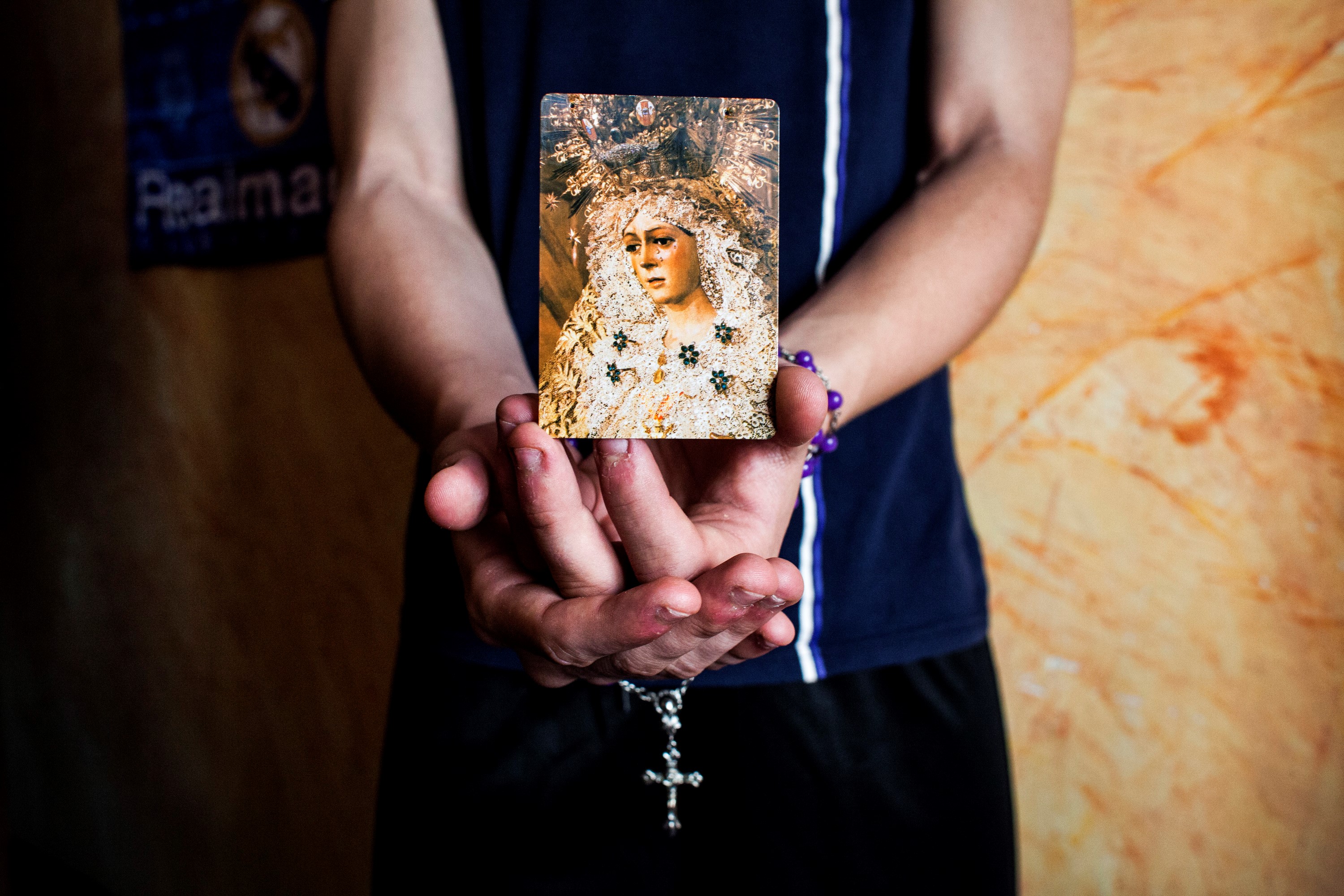 Family and football guide Miguel Calero Montiel's life. Like many boys in his neighborhood, Miguel was just a toddler when he began kicking the ball. Football has always been a family passion—the Montiels have supported Real Madrid Miguel's whole life, and at 19 Miguel continues the tradition, proudly displaying a RealMadrid flag in his room.
But Miguel is more than just a fan. At age four he began playing with an indoor team that later became Inmoblilarias MG. He then moved to Parla Escuela before winding up on his current team, Pinto Athletic Club, a third-division youth team.
Calero, as his teammates call him, plays with finishing power and physical strength. He likes to visualize the play, and he makes decisions on his own. His coach,Juan Antonio, talks about how Calero goes beyond being a center forward—participating in strategy tasks and movement off-the-ball. Antonio describes Miguel as "disciplined, but sometimes is anarchic because he wants to be in every part of the playground."
As any good player does, Miguel admires his coach, and even considers him a friend. "The coach is a professional and demanding person, like me, and he is good at teaching us the different ways to understand this sport, with empathy and sacrifice, with will and passion."
Miguel has always liked to train, and growing up he didn't limit himself to soccer. For years he balanced soccer with karate and the family still displays his karate medals in their living room—25 medals and two trophies, in total. "Up until I was 15, I was able to practice both, but when I started to excel in soccer, I had to quit karate in order to focus."
This is no surprise since at its core this is a soccer family. "Because we are Real Madrid fans, we have always held the image of this great club near to us, thanks to my father, especially." Miguel's father has been a Real Madrid fan since childhood, and he brought his son up in that tradition.
Miguel's idol is the legendary ex-Real Madrid player Raul. "I have always admired him, and he has been a fundamental reference point in my career, a mirror for me to see my reflection and a way of understanding things."
But two years ago Miguel had a setback. "I injured my ACL, which I had the bad luck of inflicting upon myself: my cleat got stuck in the surface of the field and when I moved, I tore it. It's the classic soccer injury," Miguel said, adding that the mishap, multiple surgeries and healing process required a huge sacrifice for him and his family.
Recovery has been a difficult process—Miguel needed several operations and much time to heal. His family and circle of friends were instrumental in helping him, and his club's insurance paid for the treatment and rehab. "It meant expense after expense due to the constant trips back and forth I had to make."
But such difficulties are nothing new to the 19-year-old. Miguel's father had a sudden heart attack at the young age of 33 and has suffered from a serious heart condition ever since. He hasn't been able to work due to his health, which, combined with the financial crisis throughout Spain, has put quite a strain on the family. "Since we are going through hard economic times, something we've been dealing with for a long time due to my father's heart, I have to believe in myself and concentrate on working hard."
Despite it all, Miguel is still a normal teenage boy. He plays with the family dog Nuka and jokes with his girlfriend Rebecca—an Atletico de Madrid fan. "I am an independent, outgoing person, very normal and family-oriented, who likes to go out with his girlfriend and have fun, listen to music or play video games." But he never forgets his training: he doesn't drink or smoke and lives a quiet life. "I don't go out a lot at night on the weekends, so much so that sometimes my parents have to convince me to go out."
Though he didn't complete the last two years of high school in order to give his full attention to soccer, Miguel has plans beyond just sport. "I would like to study medicine," he says with certainty. "It's a challenge, I know, but I am also conscious of the fact that the sports world has an expiration date. That's why I have to prepare myself for whatever comes and that way, somehow, I can pay back all of the help that my family and friends have provided me."