Belgium are on fire and they're not even at their best yet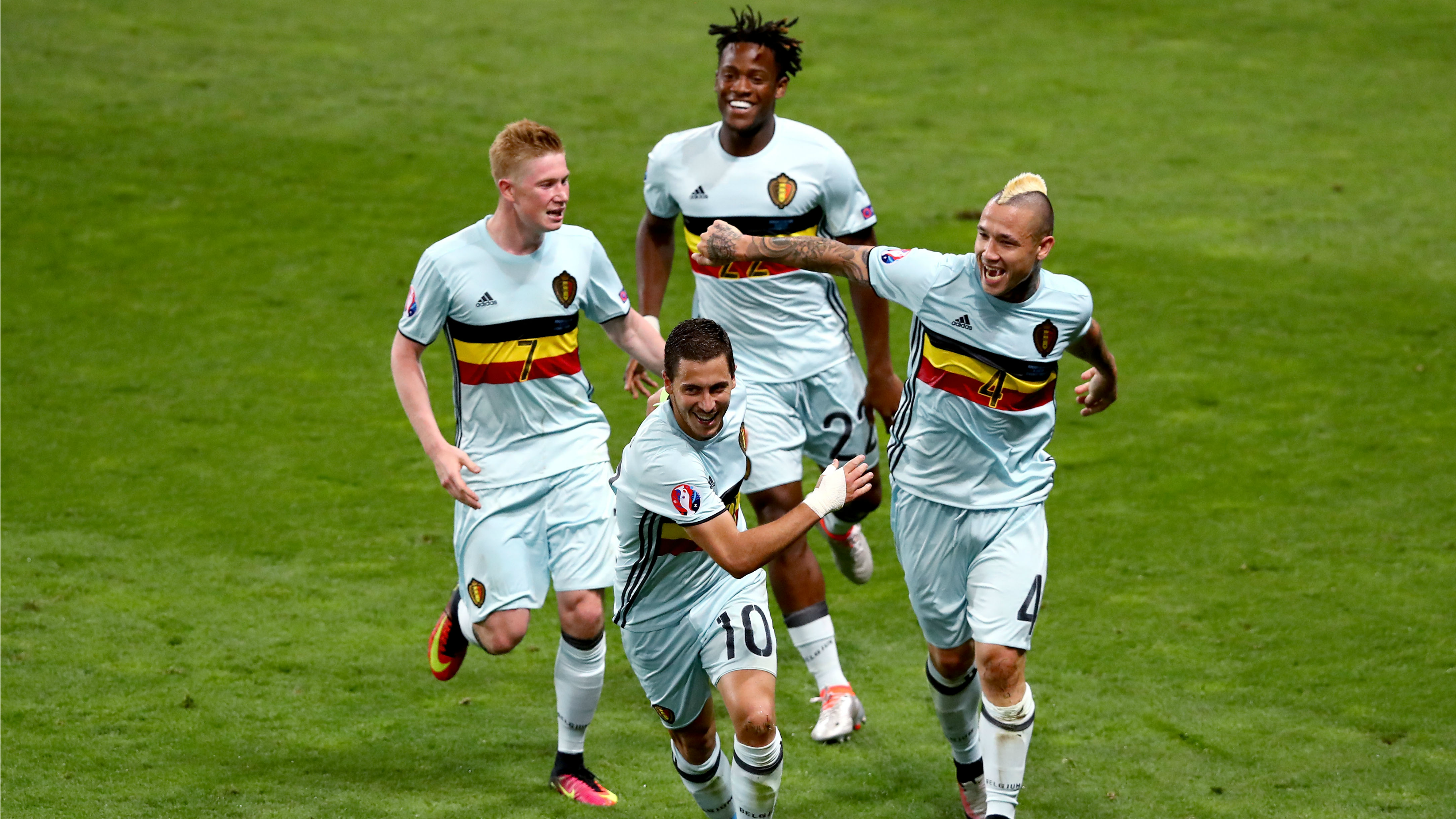 Belgium trampled Hungary 4-0 with their best performance of Euro 2016, firing on all cylinders, getting a world class performance out of their stars, and most importantly, showing that notoriously stubborn manager Marc Wilmots has the ability to learn from his mistakes and do what's best for his team. If they continue to improve at the rate they have so far, they have to be considered one of the favorites to raise the European trophy.
Belgium struggled early on in the tournament, slumping to a 2-0 loss against Italy before bouncing back against the Irish, and finishing their group stage strong with a win against Sweden. Marc Wilmots had to change his team after his mistakes against Antonio Conte's Azzuri, and his Belgium were absolutely unstoppable against Hungary, steamrolling past the Magyars despite Gabor Kiraly's best efforts.
The knockout rounds were to be the true test for Belgium, and they put a resounding stamp on their title credentials, crushing the hopes and dreams of tournament surprises Hungary. With twin talismans De Bruyne and Hazard in untouchable form, Hungary did everything but flip over on their backs and beg for mercy in front of Kiraly's goal. Eden Hazard in particular looks as if he's rediscovered his joy for the game, and today he was at his unstoppable best, frying the Hungarian fullbacks over and over again at will.
With Nainggolan and the imperious Axel Witsel marshaling the midfield behind the free-flowing trio of De Bruyne, Hazard and Mertens, Belgium bullied Hungary into submission, going in front after just 10 minutes, and never looking back.
The only real weak link for Belgium looked to be Romelu Lukaku, who held the ball up well for the Red Devils, but his decision-making was poor and looked off the pace compared to the rest of his team. Michy Batshuayi came on, instantly grabbing a goal, but Wilmots will have a tough decision on his hands for their match against Wales.
Belgium are getting stronger every game, and their confidence will only be buoyed by the incredible draw that sees them face a Wales team that's been punching well above their weight next, and (should they advance) either a wildly underwhelming Portugal or a Poland team that's shut up shop against every team they've played but struggled mightily in front of goal. The Low Country men have gotten results without being at their best this tournament, and as the bracket stands, they might only need to be at their best for one match: the Final.
Thomas Vermaelen's injury late on may have been the best thing to happen for Belgium, with the Barcelona defender the man Wilmots has doggedly stuck with in the middle of the defense, breaking up Tottenham's wonderful partnership of Jan Vertonghen and Toby Alderweireld. With Vermaelen limping off, Belgium's man in charge may be forced to move Vertonghen inside from his fullback exile, employing a natural fullback and providing even more balance to a Belgium team that's improving with terrifying rapidity.
Belgium have made incredible leaps in quality since their first torrid showing against Italy, and they finally look like the team that many pundits picked to win the European Championships. If Marc Wilmots can get out of the way of his team and continue to put his best players in the position to shine, this Golden Generation has all the ability to lift their first trophy since the 1920 Olympics.
MORE FROM FOX SOCCER: