Arsenal vs Chelsea Recap: Complete Player Ratings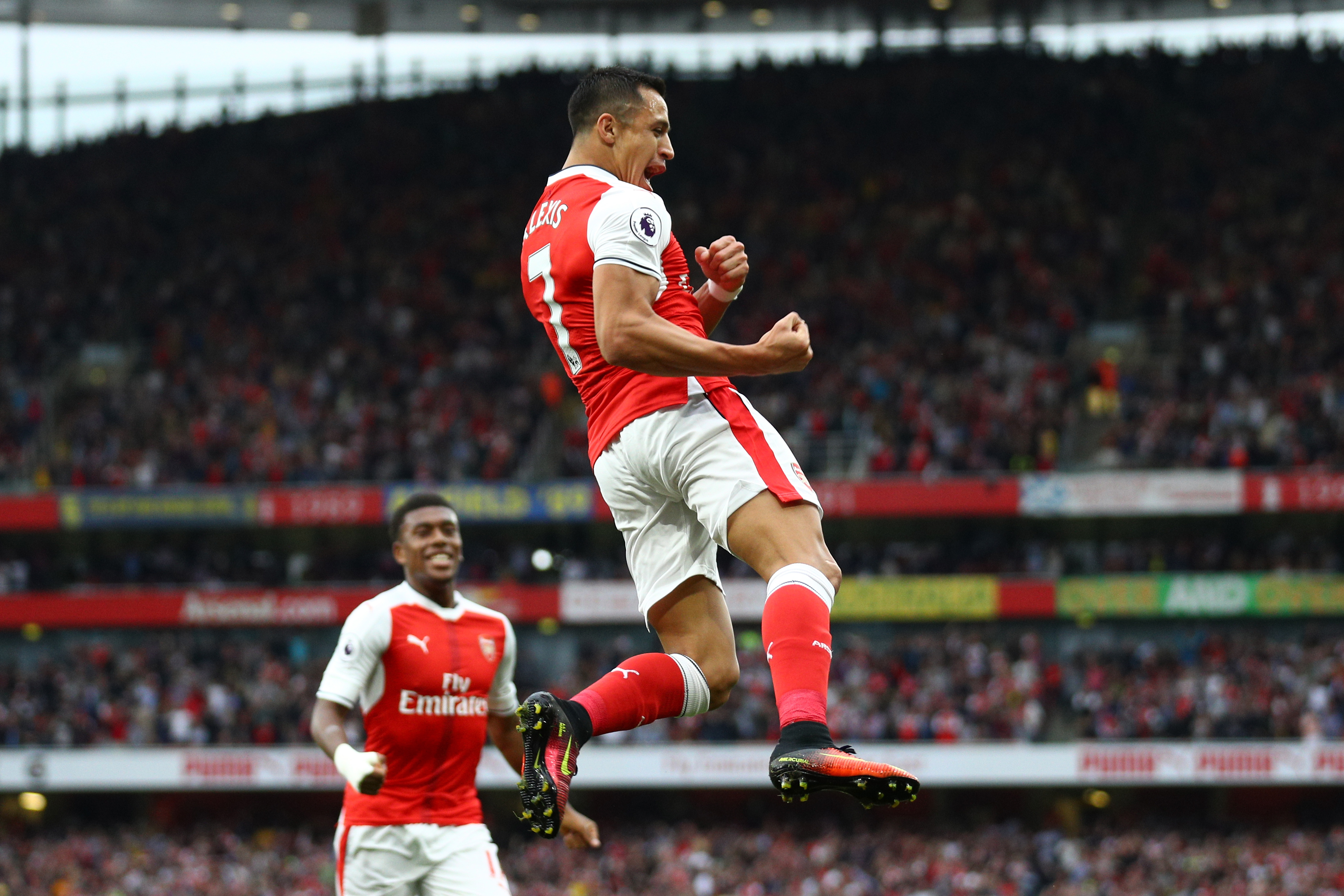 Arsenal's comprehensive and conclusive win over Chelsea is ripe with positive takeaways. Let's dig into some juicy player ratings.
Arsenal disposed of Chelsea handily, putting the game to bed in the first half and holding on masterfully in the second half to maintain the clean sheet.
It was definitely the kind of win that can eliminate all lingering confidence problems, as the Gunner's can put the Chelsea demons behind them after having not beat them in nearly five whole years.
All of that being said, we have some positive player ratings to get into, so let's do that:
Petr
Cech
GK,
Arsenal FC
6.8
Cech didn't have a huge amount to do as Chelsea were pretty poor going forward, but he was calm and organized the Gunner's defense well. His flowering partnerships with Koscielny and Mustafi bodes well for the Gunners' defense. Also, Michy Batshuayi had a perfect opportunity to score and Cech stopped him.
Hector
Bellerin
RB,
Arsenal FC
7.4
Bellerin had pace to burn down the right flank all game. Caused so many problems for Chelsea alongside Walcott and his run contributed to the second goal with an assist.
Shkodran
Mustafi
CB,
Arsenal FC
8.0
Mustafi proved himself a very good tackler against Costa and co. The German stopped a handful of attacks and made very few mistakes.
Laurent
Koscielny
CB,
Arsenal FC
7.9
Koscielny won his fair share of duels with Diego Costa, and he looks so comfortable alongside the new Arsenal signing. Chelsea's quality was so dismal that Koscielny wasn't under the cosh for much of this game but when he was challenged he did very well. A clean sheet reflects the performance exactly.
Nacho
Monreal
LB,
Arsenal FC
7.9
Nacho Monreal's legs didn't look so much of a problem today, as he ran rings around Branislav Ivanovic. His crossing looked very good at times and he was composed against Willian. Very solid performance, and his stamina didn't collapse late on, which is a very good sign.
Francis
Coquelin
MID,
Arsenal FC
7.1
Arsenal's steely defensive midfielder was injured after 30 minutes, but he made some big interceptions in the first half. Granit Xhaka is a world-class substitute to have, but Coquelin put in a good performance while he was on the field. Hopefully he will recover soon.
Santi
Cazorla
SUB,
Arsenal FC
7.7
Santi Cazorla, once again, hardly misplaced a pass. He played all 90 minutes and dictated Arsenal's tempo when they were in possession. The midfield looked just as solid with hi and Xhaka, so Coquelin's injury might not doom Arsenal after all.
Theo
Walcott
MID,
Arsenal FC
9.0
Theo Walcott looked a different man today. He tracked back, knocked the ball past players and played brilliant balls into the box – as well as scoring! It's first time he's scored in consecutive games in a while. Walcott is in very good form, and he doesn't look like stopping any time soon. Great combination play with Hector Bellerin.
Alex
Iwobi
MID,
Arsenal FC
7.9
Alex Iwobi's footwork was excellent today and he swooped around Chelsea players like it was nothing. This team is bright and young, and Iwobi is the poster child for that. Such a promising talent, and he performed today.
Mesut
Ozil
MID,
Arsenal FC
9.0
Arsenal's pass master was a class above his opposite midfielder N'Golo Kante, and it decided the game. The German scored one and had a hand in another, showing his class throughout the match with his ball movement.
Alexis
Sanchez
ST,
Arsenal FC
9.1
(MAN OF THE MATCH) Alexis' highway robbery of Gary Cahill kick-started the Gunner's storming win. His work rate was absurdly high and he couldn't stop running at the Chelsea defense. The center backs Antonio Conte put out couldn't deal with him.
Granit
Xhaka
SUB,
Arsenal FC
7.3
Showed his quality in the game after coming on as a substitute. Very composed, hardly a misplaced pass and didn't make any defensive errors.
Kieran
Gibbs
SUB,
Arsenal FC
6.7
Gibbs came on as a left winger and showed some glimpses of quality. He should get some playing time to show what he can do.
Olivier
Giroud
SUB,
Arsenal FC
–
Came on to get some fitness. Still looks a tad rough, and he'll really have to earn his place after these showings from Alexis and Lucas Perez.
More from Pain in the Arsenal
This article originally appeared on