Arsenal takes target practice on apathetic Chelsea, Blues fall 3-0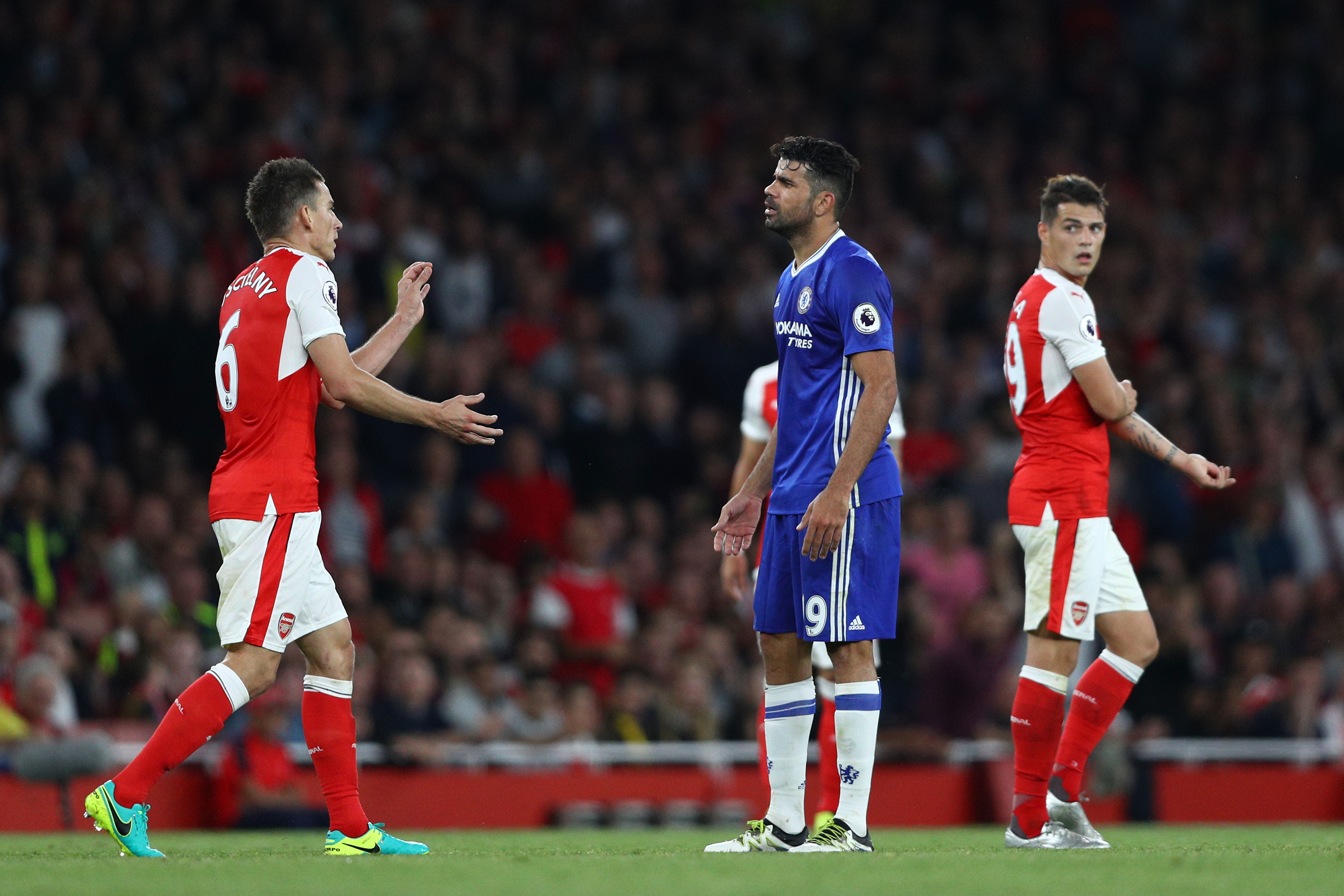 Chelsea lost 3-0 to arch-rivals Arsenal at the Emirates this afternoon. Had the score been twice or treble that, it would have been well-deserved.
Words can barely describe Chelsea's performance at Arsenal. Not even the words we're not allowed to use here in the FanSided network. From Roman Abramovich to Pedro, Chelsea need to take responsibility at all levels and figure out how they are going to recapture some semblance of credibility from this season.
The critiques, recriminations and takes will come hard and fast in the coming days. Allow us to get started, and please contribute your own. There's more than enough fodder to go around.
Diego Costa has every right to be angry
Diego Costa was the only Chelsea player who showed up today. He earned the obligatory yellow card late in the game for dissenting a non-call. He may have lashed out at Michael Oliver, but his teammates deserved every bit of his frustration anger seething rage.
Want your voice heard? Join the The Pride of London team!
Costa went the full 90 minutes determined to score and determined to avoid humiliation in front of the crowd that taunted him throughout the game. He was alone in his endeavors. His teammates neither matched his passion, his intensity or his skill. He received no service up front, despite starting runs and looking for any opportunity to get in on Petr Cech's goal.
If Diego Costa goes to the media tomorrow and talks about his desire to once again play in Atletico Madrid, Chelsea fans will be sad but 100% understanding. He deserves better than what he endured today.
Chelsea's defence needs a complete overhaul
Chelsea's backline and defensive midfielders were football's equivalents of the Washington Generals. Gary Cahill, Branislav Ivanovic and Nemanja Matic have no place in the next starting XI. David Luiz was only marginally better than his colleagues. His romantic stroll with Gary Cahill in the face of Arsenal's on-rush towards the third goal should disqualify him from any consideration as a true centre-back.
Matic was completely disinterested in playing football. He stood around, he stared, he sporadically poked a limb towards the ball. That was the extent of his contributions. Antonio Conte tolerated it for 90 minutes better than the fans.
Arsenal: Have netted 2 goals in the opening 14 minutes vs Chelsea having failed to score against the Blues in the previous 6 league meetings

— WhoScored.com (@WhoScored) September 24, 2016
Ivanovic is at the end of his career at Chelsea. The Premier League is passing him by, on the pitch as well as big picture. Much like a sitcom that stays on the air long after it stopped being funny, Ivanovic should leave while Chelsea fans still have fond memories of all he has done in Blue.
Whether Gary Cahill needs a shrink, remedial practice or a transfer is anyone's guess. He has never been the most solid centre-back, but he has always been a serviceable partner to John Terry. In Terry's absence, he is a lost little boy making errors that would get him cut from a school team, let alone a club's academy.
How much blame does Antonio Conte bear?
Managers do not always get the transfers they want. When the window closes they have to go to battle with the army they have. Conte had limited opportunity to create his ideal side given his commitments to Italy over the summer and Chelsea's historically sluggish transfer activity.
As the saying goes, it's the poor carpenter who blames his tools. To his credit, Antonio Conte has not evaded responsibility as other recent Chelsea managers were fond of doing. But Conte needs to take command of his club by managing what he inherited and what the board gave him.
More from The Pride of London
His reluctance to introduce a new starting XI was puzzling before, but will be indefensible going forward. Chelsea is frequently praised for having a substitute list that would be a first-team most anywhere else in the league. Conte needs to make use of that secondary starting XI. His primary crew is unable or unwilling to play at a Chelsea level.
His second half substitutions signaled the first significant tactical shift of his tenure. By removing Cesc Fabregas in favor of Marcos Alonso, Conte transitioned the Blues to a 3-4-3 for the latter part of the second half. Chelsea looked more lively in that formation, but Michy Batshuayi and Pedro has as much to do with that as anything.
Conte likely realized that his side was not going to battle back from 3-0. He decided to turn the second half into a scrimmage to experiment with his tactics. Better late than never. But next week's match against Hull will expose whether he is willing to make the bold experimentation necessary to effect changes.
If Conte does not field a significantly changed line-up or formation next weekend, his ability and mentality for the job will come under scrutiny. Managers are not miracle workers, and Chelsea may need a far broader overhaul than previously thought. If Conte is not the man to do it, the sooner we find out the better.
This writer will spend the next few hours sobbing under a pile of blankets. Leave him your comments below or with Pride of London on Twitter.
This article originally appeared on