Arsenal: Mesut Ozil Assist Drought Proves One Big Thing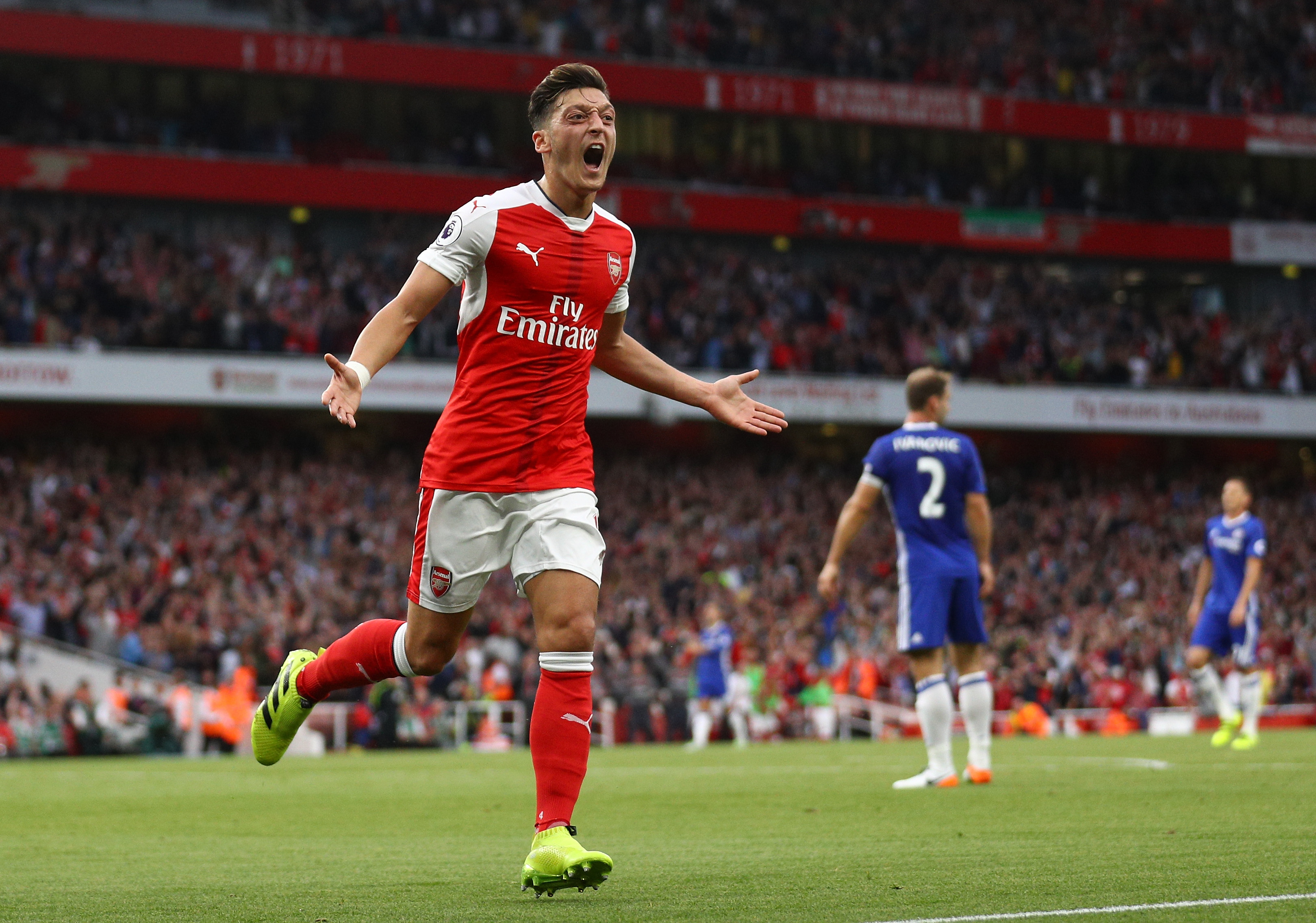 Arsenal's midfield maestro Mesut Ozil has yet to tally an assist while the team has scored 15 goals across six matches. That's proof right there of something big.
Arsenal trounced Chelsea to the tune of 3-0 (I can't say that enough) and in the process, we saw goals from Alexis, Theo Walcott and Mesut Ozil. We also saw assists from Bellerin and Alexis and, well… not Mesut Ozil.
I even saw some silly Manchester United fan say something along the lines of 'Arsenal fans want to talk about Pogba not scoring compared to Xhaka while Blind has two assists and Ozil has none.'
I chuckled heartily at the insolence of that concept. I could pick any of five ways to refute it, but I don't feel like it.
The point is, it got me thinking – is Ozil's assist drought troubling?
No. It is absolutely not.
Sure, seeing him create 19 goals was amazing and we all wish he could have snagged at least one more to tie the record. So much so that some of us (myself included) expected him to come back this season and shatter the record.
It's still possible, but that's not the point. No individual achievement outweighs the needs of the team. It's what Arsene Wenger has been building here this whole time. The whole is greater than the sum of its parts.
Ozil is still contributing. He isn't just floating around the field looking like a ghost. The fact that Arsenal has scored 11 goals in their past three games without an assist from Ozil and they've scored 15 goals across six Premier League games without an assist from Ozil just goes to show that what many claimed last year, that Arsenal were dependent on Ozil, isn't true.
More from Pain in the Arsenal
It's funny isn't it? In 2014/15, everyone complained that we were too reliant on Alexis Sanchez. The following year, we were too reliant on Mesut Ozil.
This year, with the best team and being in the best form we've been in in quite some time, there is clearly no over-reliance on anyone. Ozil's lack of assists isn't holding this side back. There have been games where he looked fairly unimportant. Alexis has had games like that too. So has Walcott.
But that's when team mates come around and pick each other up and that's what we have going here at this very moment. Ozil's assist drought merely proves that this reliance that has been all-too-frequently claimed doesn't actually exist.
The Gunner's have an exciting season ahead. And there will be plenty of Ozil assists to go around. Rest assured of that.
This article originally appeared on