Arsenal lining up Eddie Howe as next manager is classic Arsene Wenger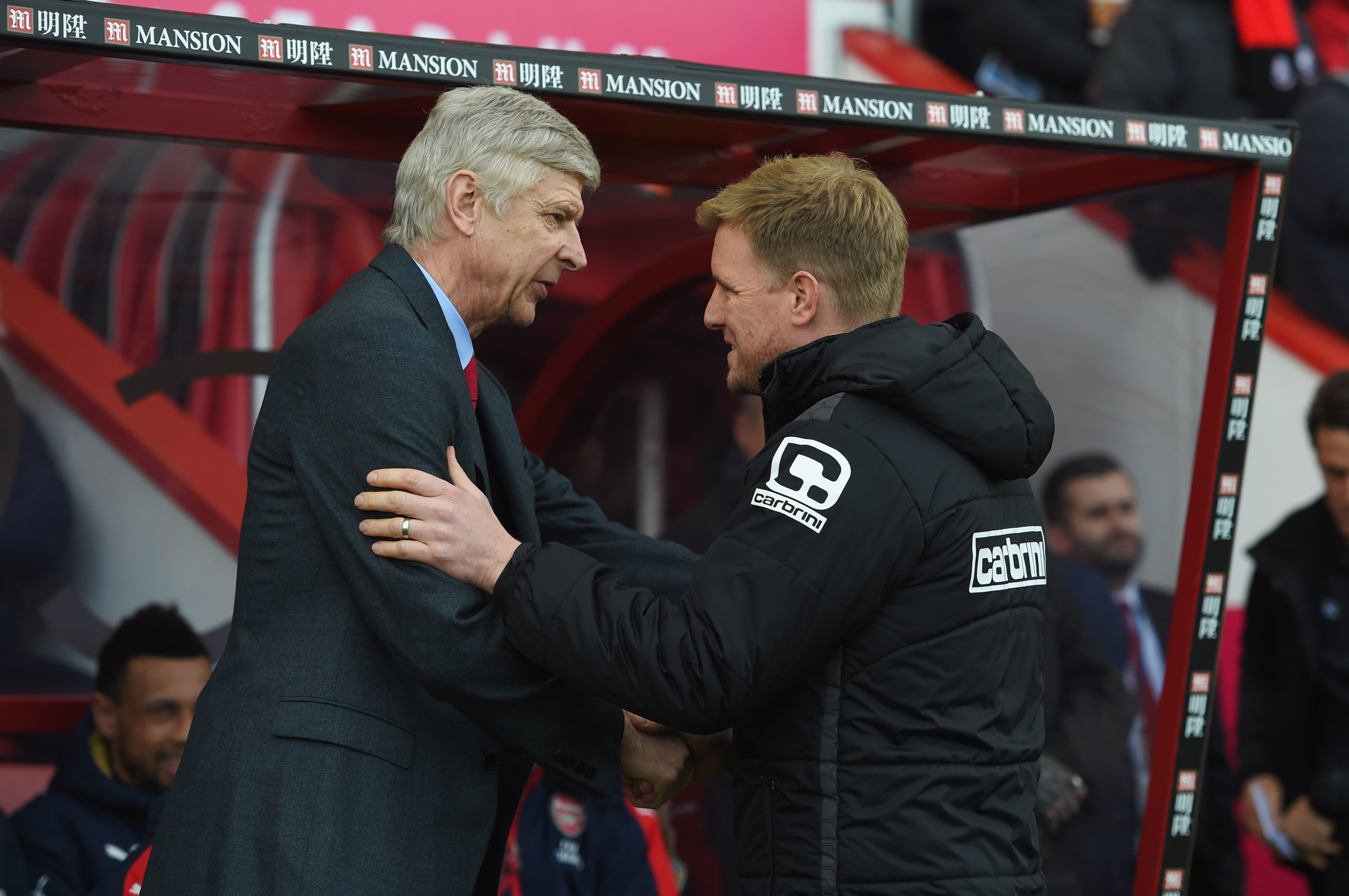 Arsenal are seriously considering Eddie Howe as the club's next manager in a move which just reeks of Arsene Wenger logic.
For years, Arsene Wenger has been criticized for not going for the best when it comes to signing players for Arsenal. Instead of signing the players in the top tier of their position, he instead goes for the second tier, or even the third. Failing that, younger players with potential who come at a lower price and nothing but the promise of tomorrow.
Now the same logic is seemingly being applied to the search for Wenger's long-term successor. The Frenchman's contract runs out at the end of this season and Bournemouth manager Eddie Howe is being lined up for the role, according to The Sun.
There's nothing wrong with Eddie Howe, per se. He's a good up and coming manager doing very well at Bournemouth. But how good Howe could eventually become, however, is unknown at this point. He could be Barcelona level or he could be Swansea level. And that's the problem.
Just like when it comes to signing players, Wenger is looking for either potential or something he considers good value. The only time Wenger signs the highest caliber of players (Alexis Sanchez, Mesut Ozil, Petr Cech, even Santi Cazorla) is when their current clubs are actively trying to sell them and are pushing them out the door.
Wenger's ready to pay up then. No problem. Had Wenger needed to fight for any of those players and, for example, had to pay £50 million to get Alexis Sanchez out of the Nou Camp, he'd still be in the Nou Camp today. Or failing that, playing for one of Arsenal's Premier League rivals who would stump up the money.
Instead, Wenger generally prefers to spend less and go for what might be the next big thing. What could be an undiscovered talent. What, perhaps, possibly, one day, might develop into something way beyond what they are now. But how many league titles have these players brought to the Emirates? It's always next season, and next season, and….
Looking for value and to the future is all well and good but sometimes tomorrow never comes. It would be the same logic on Howe. What's on Howe's CV that says he's ready to step in and be the next Arsenal manager right now? Champions League experience? No. Premier League title race experience/winner? No. Any trophies? Only if you count the Championship.
Experience of coaching egos and superstars is missing from his CV, too. A lot of these things come with time and experience and Howe just isn't seasoned enough for the Arsenal job. Apparently, the 38-year-old could work under Wenger with the current Arsenal boss moving into a director role, helping Howe along and guiding him. Exactly, he's not ready. How long does that go on for? A year? Three years?
When Pep Guardiola was known to be leaving Bayern Munich last season, and with just one year remaining on Wenger's contract, why didn't he just step down a year early instead in order to get Guardiola through the door? Surely that appointment would have warranted such a move.
Of course, Howe would come in on a much lower salary so that would fit the criteria. Also, he'll soak up all the ways of Wenger like a sponge. That's what Wenger wants, it seems. Maybe he doesn't want a manager coming in with credentials that match or exceed his?
Ultimately, nobody really knows what level Howe is going to end up at. Nobody. Not even Wenger. Look at how highly Brendan Rodgers was touted when he was at Swansea City. Same with Roberto Martinez. And look how the perceptions of those two have since changed.
You have to see how a manager performs at an Everton, Liverpool or Tottenham (obviously not in Arsenal's case) before you can really judge them. Bournemouth is no proving ground for a job as high profile and demanding as the Arsenal job is. But, again, Wenger is trying to second guess everything.
Predict the future on the cheap instead of buying proven goods for the premium they come at. This appointment, were it to ever happen, would have Wenger's fingerprints all over it. It's classic Wenger. I guess it would be naive to expect anything different at this point.
This article originally appeared on