Arsenal: Have We Misinterpreted Jeff Reine-Adelaide's Future?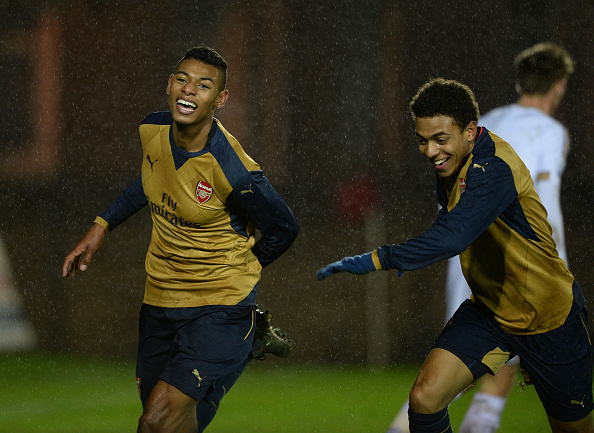 Arsenal youngster Jeff Reine-Adelaide has to be one of the most promising players in the world, but have we misinterpreted the future he has?
Arsenal has a heaping of young talent under the age of 20, and even some just over. Most of that talent is in the midfield. We know how much Arsene Wenger loves his technical midfielders.
No one stands out from the crowd more than the young Frenchman Jeff Reine-Adelaide. As technically gifted and confident as they come, Reine-Adelaide has a bright future in North London. Many have even dubbed him the heir apparent to Mesut Ozil.
That's high praise, but everything we have seen from young Reine-Adelaide gives the indication that he is up to the challenge. He is a fantastic passer and scores the odd goal as well.
However, we may have been pegging him wrong this whole time. As in, he may not be Ozil's heir at all. Despite the similar skill sets, Reine-Adelaide has been spending all his time in wide positions for Arsenal's U21 side.
So much so, that his 'mentor' at the club isn't even a current player, but a former one – Robert Pires. According to Reine-Adelaide himself, "when I saw him for the first time in training I was surprised because he was a legend for me. And I play in his position so he can give me some advice."
More from Pain in the Arsenal
It had always seemed that the young man was going to play a more central role and that perhaps he was being pushed out wide to broaden his skill set, kind of like what has been done with Krystian Bielik (although, he may very well be a center back at this point).
But that may be totally wrong, as Reine-Adelaide is looking to become the next Robert Pires, not the next Mesut Ozil.
This opens up a bunch of possibilities though. Arsenal's future may not be dictated by a No. 10 like it is now. The Invincibles didn't even utilize that position, after all. Instead, their 4-4-2 utilized a line of versatile midfielders and, with Arsenal showing a deviance from the natural winger (as in, their stock is in question) that may be on the docket for the future of the club.
This also means that Gedion Zelalem can be awarded the title of 'next Mesut Ozil' as he, too, has shown similar traits. Only this time, with the young American, we know for sure that that's the position for him.
This article originally appeared on