Arsenal rescued a draw, but don't let it distract from how bad they were
Arsenal came back from 3-0 down to draw against Bournemouth, but the rescued point shouldn't distract from the bigger issue at hand: Arsenal were awful and they were lucky not to go home empty-handed. If they're going to mount any sort of title challenge or even ensure they're in Champions League next year, they can't afford the kind of display they put on for 70 minutes against the Cherries.
Arsenal were all over the place from the start, and Bournemouth were up 2-0 after just 20 minutes, ruthlessly exploiting their opponents' disorganization and individual mistakes. First, Bellerin was caught wildly out of position and beaten by left back Charlie Wilson to open the scoring, then just three minutes later, Granit Xhaka inexplicably and needlessly fouled Ryan Fraser on the edge of the box to give away a penalty.
One goal wasn't enough, so Bournemouth scored two in three minutes #PLonNBC pic.twitter.com/SJrRWxqVbg

— NBC Sports Soccer (@NBCSportsSoccer) January 3, 2017
It was another defensive mistake that led to Bournemouth's third goal. Bellerin did have a legitimate argument for being fouled in the buildup, but the real issue was yet another case of Arsenal being picked apart way too easily.
While individual errors can make or break a season, it was Arsenal's complete lack of defensive organization that was really worrying. Even with Shkodran Mustafi back in the lineup, Arsenal's shape was all out of whack, and they looked extremely vulnerable against the counter, an issue that's plagued Wenger's sides for years now.
Arsenal weren't just bad defensively. They lacked any sort of cohesiveness in midfield, and they haven't really looked comfortable as a unit since Santi Cazorla's injury in October. Francis Coquelin's injury is yet another issue for Wenger to worry about, and with Xhaka's inconsistency, Aaron Ramsey's struggles to find regular form and Mohamed Elneny's absence due to AFCON, it's only getting worse for the Gooners. Without Mesut Ozil, only Alexis Sanchez was really dangerous in the attack, and it was telling that the Chilean grew more and more frustrated throughout the match, and was visibly angry at the final whistle.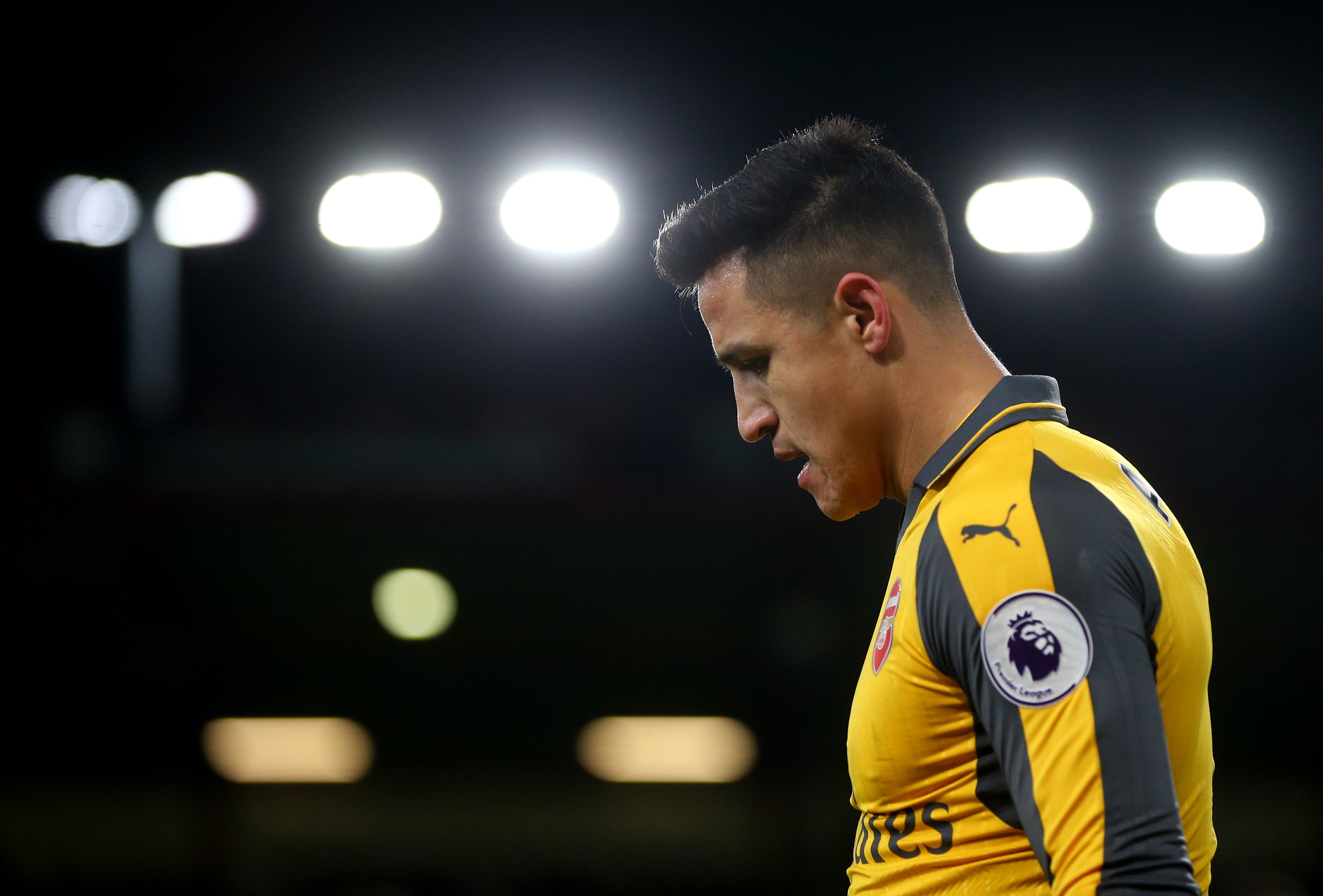 At times, it looked like Sanchez was the only player on the field for Arsenal who really wanted to win. He never stopped running, and it was he who got them back into the game in the 70th minute, latching on to Giroud's flicked header to make it 3-1.
Olivier Giroud's injury-time header rescued a point for Arsenal after Lucas Perez's incredible volley made it 3-2, and their fightback from three goals down will be a major plus in the eyes of both Arsene Wenger and the supporter base. They never stopped battling until the final whistle, and their three goals in the final 20 minutes of the match is a credit to their determination not to lose on the day.
The draw keeps Arsenal in the top four (for now), with a run of "easier" matches against Swansea, Burnley and Watford before taking on Chelsea. Still, they're a full eight points off Chelsea already, who take on Tottenham (just two points behind Arsenal), and the title looks like a foregone conclusion for them already.
The draw against Bournemouth was positive in many respects. It was a fantastic comeback in a tough away game against a very good opponent, and to rescue a point after such a terrible performance is a net positive. Still, Arsenal were absolutely awful, and that can't be ignored. When you're over the moon after a draw against Bournemouth, no matter the circumstances, are you really title contenders?
The Premier League title can't be won in January, but it definitely can be lost, and if the Gunners keep putting in performances like they did in the first 70 minutes against the Cherries, they can kiss any hopes of lifting the trophy goodbye well before May rolls around.