Arsenal: Alex Iwobi Can Surpass Theo Walcott And Alex Oxlade Chamberlain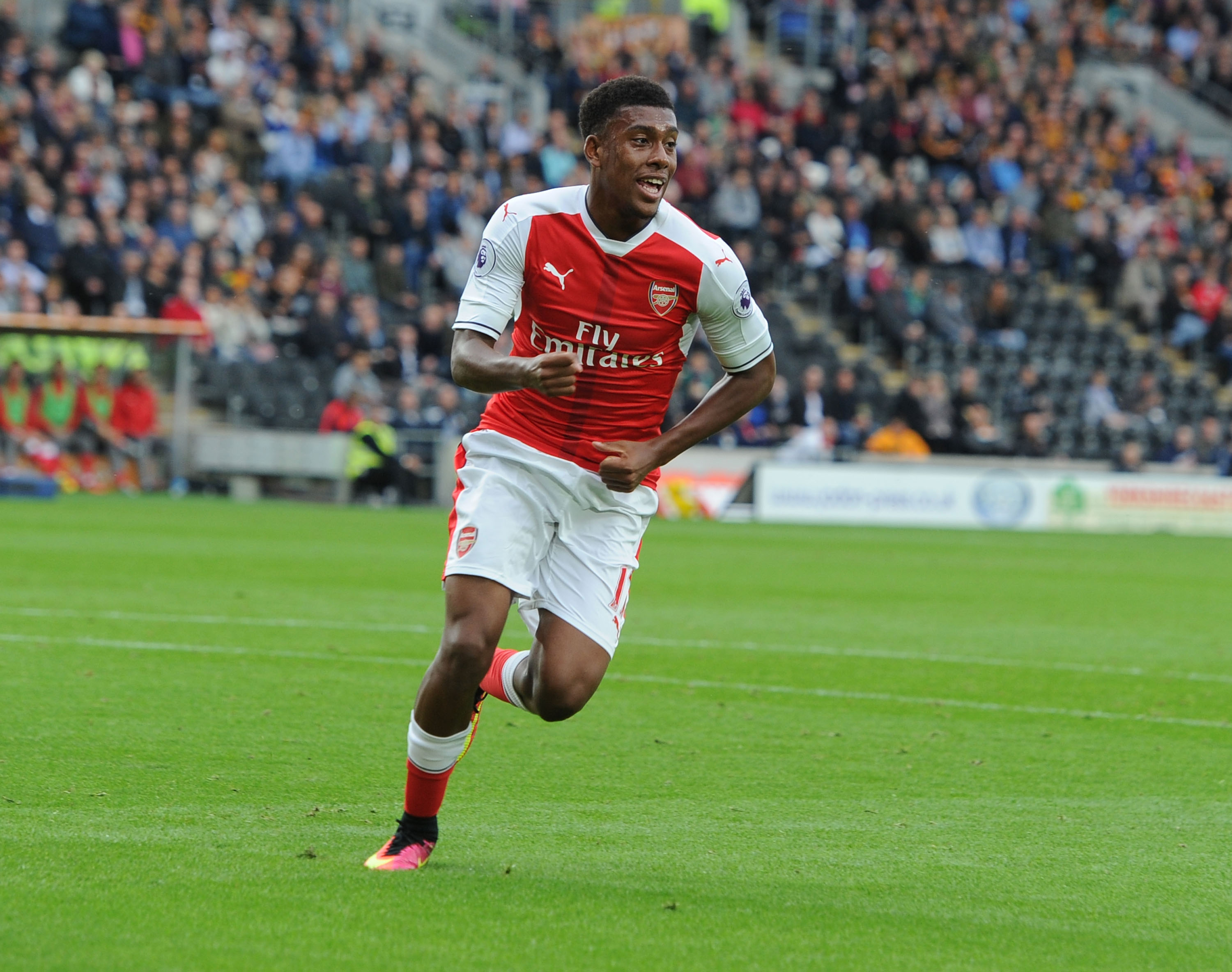 The influence of Arsenal's Alex Iwobi is only increasing, indicating he has the potential to surpass former stars Theo Walcott and Alex Oxlade-Chamberlain.
Arsenal's squad is blossoming rather beautifully. A blend of experience, world-class quality and young potential has seen Arsene Wenger assemble a squad of players that can rival any in the Premier League. Depth, talent and years, there are few weaknesses within this side, but there is perhaps one particular demographic that is more prominent than any other.
The failed youngster is one that Arsenal fans have had to endure for many years. Part and parcel of supporting a club ran by a manager intent on developing young talent rather than simply buy his way to success is the disappointment of missed opportunities. It is often issues beyond the control of the player or the club but makes it the eventual shortcomings nonetheless disappointing.
More from Pain in the Arsenal
Two prime examples in the squad are Theo Walcott and Alex Oxlade-Chamberlain. To blame the fellow Southampton graduates for their disappointing careers thus far would be harsh. A combination of poor management, positional uncertainty and horrific injury issues has seen their respective development stall rather significantly.
Now, there is a new kid on the block, and perhaps he can succeed where his predecessors failed before him.
Alex Iwobi has backed up his form towards the back end of last season with a promising start to this year. His performance against Hull City last weekend was a prime example of his quality and at only 20 years of age, his potential is truly terrifying.
After the match, Arsene Wenger was particularly positive of Iwobi's play, stating:
"What I like is his love for the game, his passion for the game and his hard work. Those things together, in our world, are a big quality and so I think he has interesting ingredients, but one game does not make a career. The consistency of your attitude makes a career."
Iwobi himself was also happy with his performance, simply thankful to be playing regularly after an early season injury scare:
"I'm happy with my performances. That gives me more confidence for every game I play. I'm just excited. I can't wait to play and I want to get more minutes on the pitch. I'm really enjoying my football and that's all that matters."
Want your voice heard? Join the Pain in the Arsenal team!
Iwobi is a very talented player, like Theo and Chamberlain before him. Unlike the two Englishmen, however, Iwobi is not a physical freak, relying on incredible athleticism and pace. That is not to say that he is slow and weak, but simply, he is far more advanced than both Chamberlain and Walcott in the mental aspect of the game.
His movement off the ball is sensational. He is able to continually find space, drift between the lines, drive at the back four with the ball and run the channels without it. His improved versatility is what perhaps offers him the perfect opportunity to truly excel in this Arsenal side.
The crux of the issue, though, like Walcott and Chamberlain, is injuries. Iwobi has developed into a crucial cog in the starting lineup and will continue to given the opportunity. Perhaps only fitness could steal him of such opportunity.
This article originally appeared on