Argentine player has contender for miss of the season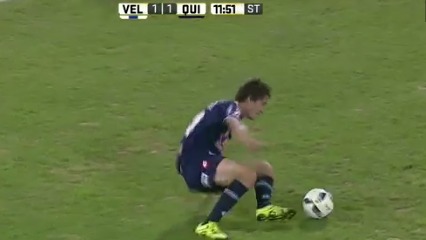 There are misses and then there are misses.
Daniel Imperiale had one of those nights in Argentina.
A midfielder for Quilmes in Argentina's Primera Division, Imperiale managed to pressure Velez Sarsfield's goalie into giving up the ball at the top of the box with an open net.
And then this happened:
¿Qué hizo Imperiale? Increíble lo que se perdió Quilmes. Siguen 1 a 1 ante Vélez en Liniers. https://t.co/DaVtkKfLkD

— TyC Sports (@TyCSports) March 28, 2016
That's not just a miss but a trip, whiff and just plain embarassment all wrapped into one.
Even with that collapse, Quilmes managed to win the game anyway. Silver linings?
h/t Bleacher Report