Antonio Conte recruits upstart Michy Batshuayi to partner Diego Costa in the field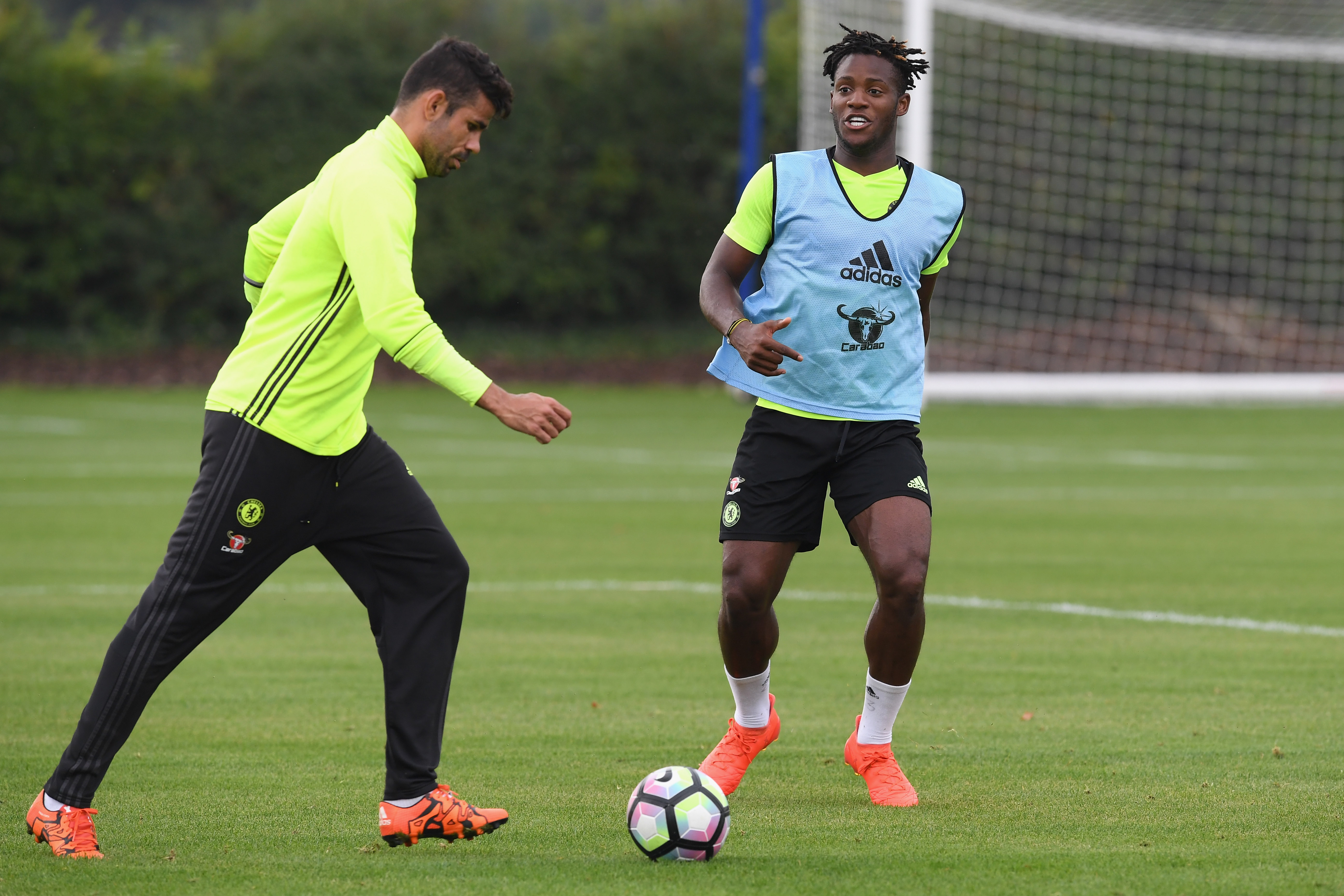 This is probably the most bizarre thing you'll read all day. With Diego Costa struggling to effectively operate alone, Antonio Conte recruits Michy Batshuayi to partner up with him. The greatest buddy cop partnership in history is born.
Diego Costa knocked heavily on the door. On the glass, it read "Chief Antonio Conte" in blue letters.
"Enter." Diego did so.
The office was full of papers stacked in every available space. Along the back wall were monitors showing all the latest police operations from across the world. Chief Conte sat in a large leather chair facing the monitors, not turning as Diego entered.
Costa slowly became annoyed that he was called here and wasn't being offered service. After several minutes of face contorting and hand waving, he turned to exit. As he did so, he heard Chief Conte's chair swivel, and he promptly turned back towards him with the most innocent face he could muster.
More from The Pride of London
"You have been doing good work lately Diego," Conte said as he flipped through a folder on his desk, "though it has been a bit…unorthodox at times. Some might even say you were slightly too violent."
Costa scoffed. Too violent? He had been doing his job the only way he had ever known. He learned his trade on the sunny back streets of Brazil. He wasn't going to change now. And besides, he thought, Conte just told the press he likes him this way. He likes that he is a warrior.
"You did well when the Klopp's Kops came to town Diego, even kept your cool this time," Chief Conte said with a hint of surprise in his voice, "though that operation obviously did not go as planned."
MORE CHELSEA: Marina Granovskaia: My (imaginary) interview with Chelsea's mysterious executive, part 1
Costa straightened up, his uniform starting to feel a bit too tight. He could sense a "but" coming.
"But…,"Conte said as Costa felt a snarl come across his face, "I think it is time we give you a partner. To boost your performances. To give us an edge during future operations."
"I work alone." Costa began to fidget. His thoughts began to drift to all those he put out of a job because of his lone wolf attitude. Loic Remy tried to stay in town, but found it difficult to stay healthy. The juniors had all gone off to learn elsewhere for a bit, no doubt biding their time for Costa to slip up. And last he heard Didier Drogba was in the US doing well just before his retirement.
"You didn't always," Conte sighed, still flipping through the file in front of him. "Before you came here you worked with a partner on occasion. They used to call him El Tigre…"
Costa coughed into his hand to hide the rage building in his face.
"Falcao is washed up," Costa growled, "he proved that these last two years. And besides, I haven't needed a partner since and I don't need one now." Costa saluted and began to turn when he heard knocking on the door.
"Enter!" Chief Conte shouted, finally putting down his file and leaning back in his chair. Michy Batshuayi entered, his uniform shirt being untucked and unbuttoned. He was playing on his phone.
"Hold on boss, let me finish this tweet," he said happily. Costa could feel the shock appearing on his face as Conte began to show a smirk on his.
"No boss, you have got to be kidding!" Costa said, beginning to wag his arms in all directions once again.
The smile on Conte's face flickered, but never faded. All the same, it felt much more sinister now. Costa returned his hands to his side, with familiar feelings of a warning coming.
"And…done!" Batshuayi said as he returned the phone to his pocket and looked up beaming. He glanced around the room without his smile dropping.
"Diego. As you know, Batshuayi has looked very promising on the operations on which I have deployed him," Conte said proudly.
Costa stammered. "He…he only came in for clean up! Even the times you brought him in to help I had the situation covered! I WORK ALONE!" Costa was huffing now, one arm raised high above his head. Conte was undisturbed, though the smile had faded from his face.
WANT YOUR VOICE HEARD? JOIN US AT THE PRIDE OF LONDON!
"This is non-negotiable Diego. We need that extra something on point. Batshuayi is young, he is raw, but he has potential. Much like I have heard you did at a similar age. You too were given a partner then, and it helped you flourish. Now it is your turn." Conte's chair swiveled back towards the monitors. The conversation was over. It had been decided.
Costa, knowing that there was no point arguing, dropped his hands and turned to leave the office. As he attempted to do so, Batshuayi put one arm around Diego, and held his phone out with the other.
"Strikeforce selfie!" he sang as he smiled. Diego had his snarl again. He could have been back in Madrid, so he thought. He left the office with Batshuayi tweeting behind him.
"Hash…tag…on point…with Diego now…" Costa heard behind him.
Now alone, Conte watched the monitors once more. When he heard the noise of glass breaking and Diego's yelling cease, he grabbed the remote and switched every monitor over to football.
A strange feeling that this could have been him, been all of them, in another life, passed over him. He chuckled at this ludicrous thought as he reached into his desk draw for the wine bottle.
This article originally appeared on