Saint Petersburg Stadium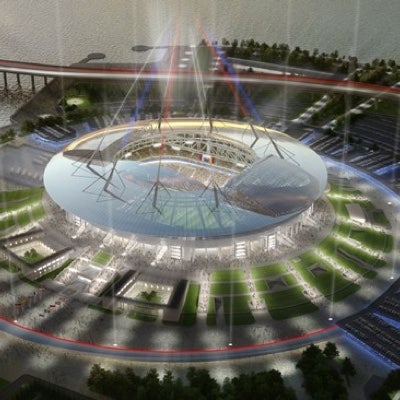 Built:
New Stadium
Capacity:
68,134
Home Team:
FC Zenit Saint Petersburg
Saint Petersburg's new, super-modern stadium is being built on the site of the old Kirov Stadium on Krestovsky Island, which used to be one of the country's largest stadiums, with a capacity of 110,000.
The building will be 56.6 metres high and one of the world's most modern arenas. Equipped with a retractable roof and a sliding pitch, it will be able to host any type of event at any time of year.
The stadium will be home to FC Zenit Saint Petersburg and will also host many different types of events. In 2020, the arena will host three matches in the group stage of EURO 2020, as well as one of the competition's quarter-finals.
---
ABOUT SAINT PETERSBURG
Founded: 1703
Population: 5.2 million
Altitude: 13,4 m
Distance to Moscow: 687 km
Founded by Peter I the Great in 1703 as Russia's imperial capital, Saint Petersburg is the embodiment of artistic talent. Europe's best architects and Russia's foremost creative talents, including Alexander Pushkin, Nikolay Gogol, Fyodor Dostoevsky, Dmitry Shostakovich and Joseph Brodsky, left their indelible imprints on this remarkable city.
From architecture and city planning to the performing talents of the Mariinsky Opera and Ballet, or the masterpieces of the magnificent Hermitage Museum, everything in this city is focused on beauty and elegance. The city's legendary drawbridges over the grand Neva River and the famous 'White Nights' in June draw tens of thousands of tourists every year.
Saint Petersburg city centre is a UNESCO World Heritage site. Tourism is one of the key sectors of the city's economy. Saint Petersburg welcomes up to five million tourists each year, more than any other city in Russia