Rostov Arena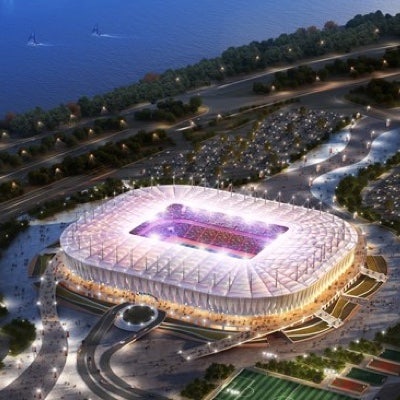 Built:
New Stadium
Capacity:
45,145
Home Team:
FC Rostov
Rostov Arena will be situated on the left bank of the Don River.
The stadium's original design blends harmoniously into the picturesque landscape. The shape of the arena's roof imitates the meanderings of the Don River. The varying heights of the stands allow spectators to savour not only what is happening on the pitch, but also to enjoy views of Rostov-on-Don.
FC Rostov, the 2014 Russian Cup winners, will play its home games at the stadium.
---
ABOUT ROSTOV-ON-DON
Founded: 1749
Population: 1.1 million
Altitude: 130 m
Distance to Moscow: 1,109 km
Known from the time of Herodotus as the land of warlike Scythians, the endless steppes of the Don River basin eventually became home to the freedom-loving Cossacks.
The flamboyant Cossack culture is still prevalent in Rostov-on-Don, a modern city of one million inhabitants overlooking the serene Don River. The village of Starocherkasskaya, located 27 kilometres from Rostov-on-Don, is the former capital of the Don Cossacks. Today it is a museum city and one of the area's main tourist attractions.
Despite its ancient history, Rostov-on-Don appears a dynamic and fresh city. Its streets are romantically named 'Harmonious', 'Creative' and 'Lucky'. Here, one can find the most unusual commemorative monuments: to a water pipe or to a newspaper reader.
The Don River provides the city with the tranquil and picturesque sand beaches and unique cuisine, featuring fish and crayfish dishes.
Rostov-on-Don is situated about 1,000 kilometres southeast of Moscow and is a transport and cultural hub of southern Russia.