Kaliningrad Stadium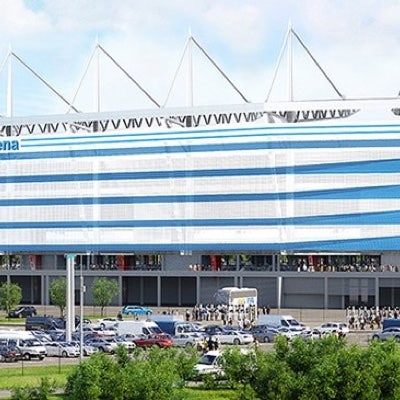 Built:
New stadium
Capacity:
35,212
Home Team:
FC Baltika Kaliningrad
Kaliningrad Stadium is being built for the 2018 FIFA World Cup Russia™ on Oktyabrsky Island, right in the heart of Kaliningrad. The selection of Kaliningrad as a host city has prompted the local authorities to develop the island, which for many centuries has been a wilderness, left largely untouched.
Kaliningrad Stadium will be multi-purpose. As well as football matches, it will host other sporting events and concerts.
After the event, FC Baltika Kaliningrad will play its home games at the stadium.
---
ABOUT KALININGRAD
Founded: 1255
Population: 459,000
Altitude: 4,8 m
Distance to Moscow: 1,235 km
Founded in the 13th century by knights of the Teutonic Order, and formerly known as Königsberg, the capital of East Prussia, Kaliningrad is home to over 450,000 people, a key Russian Baltic seaport and gateway to Europe.
Throughout its history, this ancient European city has been home to a myriad of thinkers and artists including the philosopher Immanuel Kant, a life-long resident who taught at the local university; the iconic composer Richard Wagner and the romantic writer E.T.A. Hoffmann. Kaliningrad's pride is the reconstructed Königsberg Cathedral of the 14thcentury. With its two chapels, Orthodox and Protestant, the cathedral is a symbol of peace and reconciliation.
The region has been known from classical antiquity as a main source of amber in Europe (around 90 per cent of the world's amber deposits are located here). The amber industry is still a key business in the city and attracts thousands of visitors every year.
The Kaliningrad region is renowned for its pristine beaches and pine sand dunes. It is home to the nature reserve of Kurshskaya Spit, which was included in the UNESCO World Heritage List in 2000.