Fisht Stadium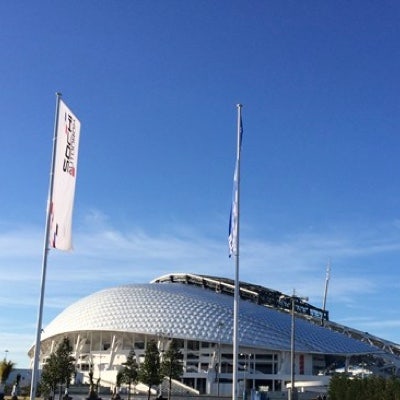 Built:
New Stadium
Built:
2014
Capacity:
47,700
Home Team:
Russia
Located in the Olympic Park in Imeretin Valley in Sochi, Fisht Stadium was built for the Winter Olympics in February 2014, and hosted the opening and closing ceremonies.
Fisht Stadium was originally named after Mount Fisht, a peak in the Caucasus range of mountains. The silhouette of the arena resembles a snow-capped mountain peak.
Under current plans, the Russian national team will hold training camps and play some of its competitive and friendly matches in Sochi. Fisht Stadium will also host a whole range of other mass-participation events. Located nearby is Sochi's Formula 1 circuit.
---
ABOUT SOCHI
Founded: 1838
Population: 401,000
Altitude: 14 m
Distance to Moscow: 1,679 km
The Black Sea resort of Sochi has risen to global prominence after having hosted the 2014 Winter Olympic Games. Situated along 140 km of the coast (the longest city in Europe) and against the backdrop of the Caucasus Mountains, this resort, now commonly referred to as the 'Russian Riviera', has long been one of Russia's most popular tourist destinations and a great sports city.
The city offers countless opportunities for sports: mountain climbing, hang-gliding, diving, sailing, aqua bikes, skiing and much more. The famous mountain resort, Krasnaya Polyana, is located 40 km from the seacoast. In Sochi one can go skiing in the morning and sailing or swimming in the afternoon on the same day.
The undisturbed forests surrounding the city are a UNESCO World Heritage site.
During the preparations for the 2014 Winter Olympic Games, Sochi's tourism infrastructure underwent significant and extensive expansion and renovation. The resulting new accommodation and transport infrastructure provides a modern and tested state-of-the-art tourism environment for visitors attending 2018 FIFA World Cup Russia™ matches in the city.