Ekaterinburg Arena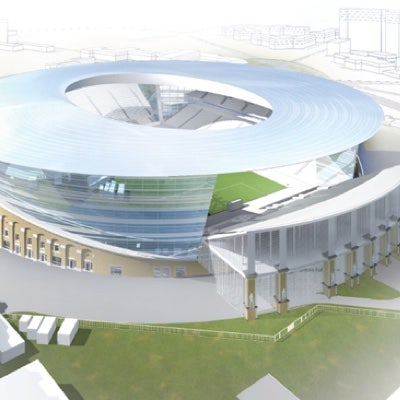 Built:
1953
Capacity:
35,696
Home Team:
FC Ural
Home to one of the country's oldest football clubs, the stadium was built in 1953 and has been refurbished on a number of occasions. The last of these refits was completed in 2011.
On each occasion, however, the stadium's historical façade remained untouched, as an architectural legacy. Architectural and decorative features typical of Soviet neo-Classicism were used lavishly in the construction of the stands, along with decorative art in the form of sculptures, vases and banners.
The stadium will retain its recognizable historical façade, although a roof and temporary stands will be installed in time for the 2018 FIFA World Cup Russia™.
---
ABOUT EKATERINBURG
Founded: 1723
Population: 1.4 million
Altitude: 237 m
Distance to Moscow: 1,755 km
Uniquely located on the geographical borderline of Europe and Asia, and at the foot of the Ural Mountains, Ekaterinburg has a population of 1.4 million. The city was founded by a decree of Peter I the Great.
Ekaterinburg is the fourth largest city in Russia in terms of population, and is one of twelve Russian cities with a population of over a million. During the 18th century, the city became known as Russia's iron making centre, and it is now a modern city with world-class infrastructure that includes an efficient metro system and an excellent airport.
The city is also one of Russia's most well-known centres for the arts and one of Russia's leading sports centres. Ekaterinburg has the third largest number of diplomatic missions in the country (after Moscow and St Petersburg).