No. 13 San Diego State beats Air Force 79-72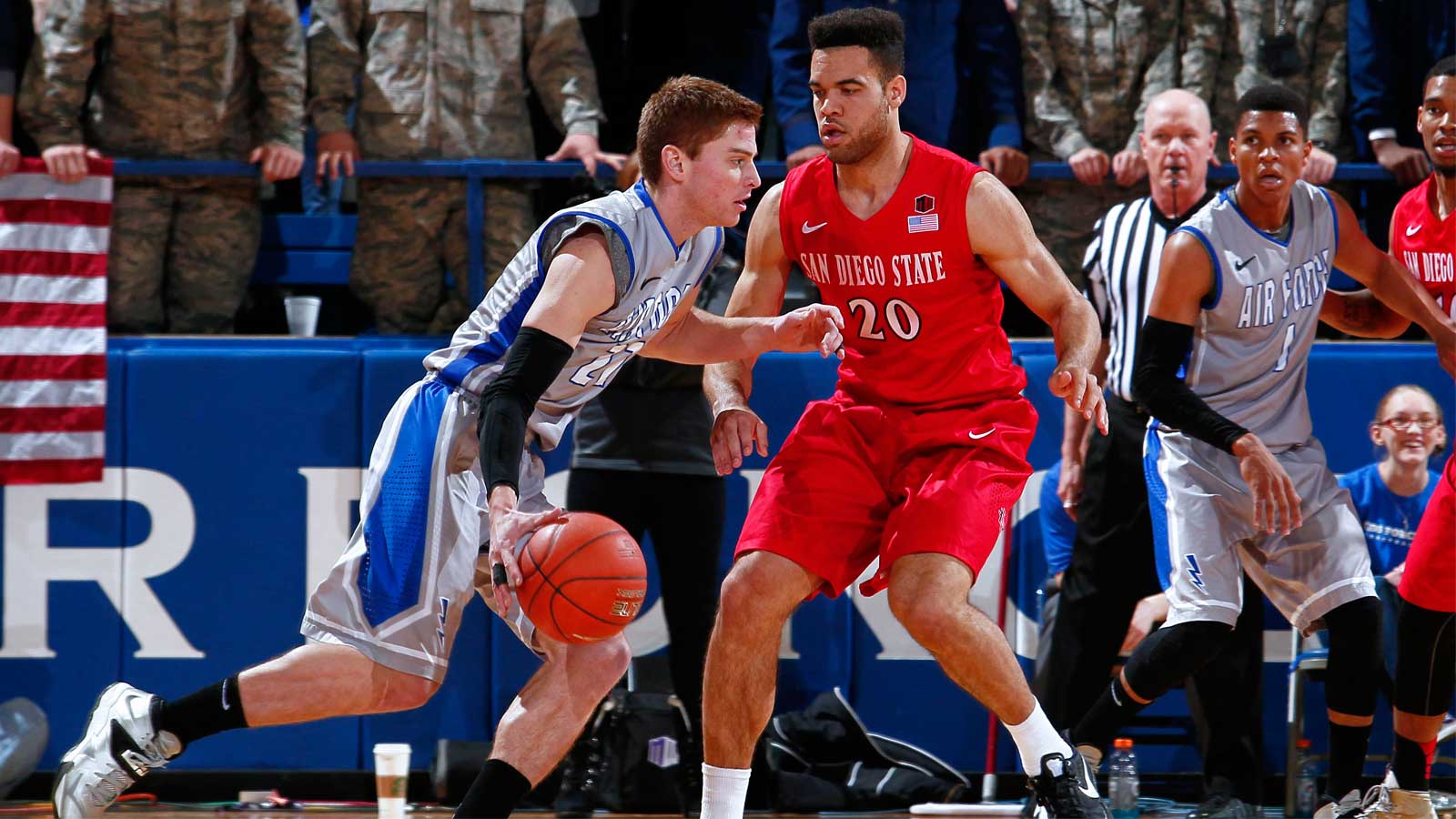 AIR FORCE ACADEMY, Colo. (AP) — San Diego State forward JJ O'Brien finally got his hand back.
After playing with a taped and padded right hand to protect a bruise he got on Nov. 29 against Creighton, O'Brien didn't have anything on his hand Sunday and he had 18 points and 11 rebounds to lead the 13th-ranked Aztecs to their 13thth straight win, 79-72 over Air Force.
"I knew that I had it in me," O'Brien, who came in averaging nine points and five rebounds, said of his breakout game. "But the hand and the tape were really holding me back. Tonight I just wanted to be aggressive."
San Diego State (14-1, 3-0 Mountain West) has the fifth-best active streak nationally and it tied the second-longest winning streak in school history. The Aztecs continue the second-best start in school history behind the 20-0 in 2010-11.
Tre' Coggins had 29 points, including five 3-pointers, for the Falcons (8-7, 2-2), who did not go down easily against the taller, deeper and more physical Aztecs. Air Force led for much of the first half before trailing 31-27 at the break.
"We got afraid to guard him (Coggins) in the last two minutes and then when we did guard him we fouled him," Fisher said. "He's a good player. He can beat you off the bounce and if you back off him he can beat you shooting from a distance."
San Diego State's rebounding advantage and 3-point shooting proved the difference. The Aztecs held a 39-30 rebounding edge including 17-6 on the offensive end. The Aztecs were 7 of 14 from beyond the arc while the Falcons were 7 of 20.
Even though San Diego State had won nine of the previous 11 meetings, Clune Arena has been a nemesis for the Aztecs the past two years, including a Falcons' 70-67 victory last season and a 58-56 win in 2012. The Aztecs were ranked in both losses.
"We came in more focused. With the last couple of years maybe we had expectations to win and win big and we came in (today) knowing it was going to be a good game," O'Brien said. "It is not easy to win here. We were just really tough tonight."
"Air Force popped us twice in a row (at Clune) so it was nice to come in here and sneak out a victory," SDSU coach Steve Fisher said. "For whatever reason, this has been a hard place for us."
Air Force had won eight of its last nine games at Clune coming into Sunday. The Aztecs started the second half on a 7-0 run over the first 2 minutes for a 38-27 lead.
"We didn't finish the first half very well and didn't start the second half very well," Air Force coach Dave Pilipovich said. "Right in there is where they built their lead and maintained it to win the game."
Xavier Thames had 16 points for the Aztecs and Josh Davis added 13 points and 11 rebounds. Matt Shrigley scored all 13 of his points in the second half, connecting on three big 3-pointers midway through the second half.
"We just have got to keep up Matt's confidence, he is shooting like crazy in practice," Fisher said. "Whether you are a freshman or a senior you have to believe in yourself.
"Air Force has played everybody tough," Fisher said. "But our depth helped us for sure."
San Diego State was the Falcons' first ranked opponent this season. Air Force is 4-80 against ranked opponents in program history. The Falcons will likely have another chance when they play at San Diego State on Feb. 15.
"SDSU played us very well and they are a very good team," Coggins said. "They caused us to turn the ball over."
Air Force had 14 turnovers, the Aztecs just seven.