MadFriars' End of the Year Review: Fort Wayne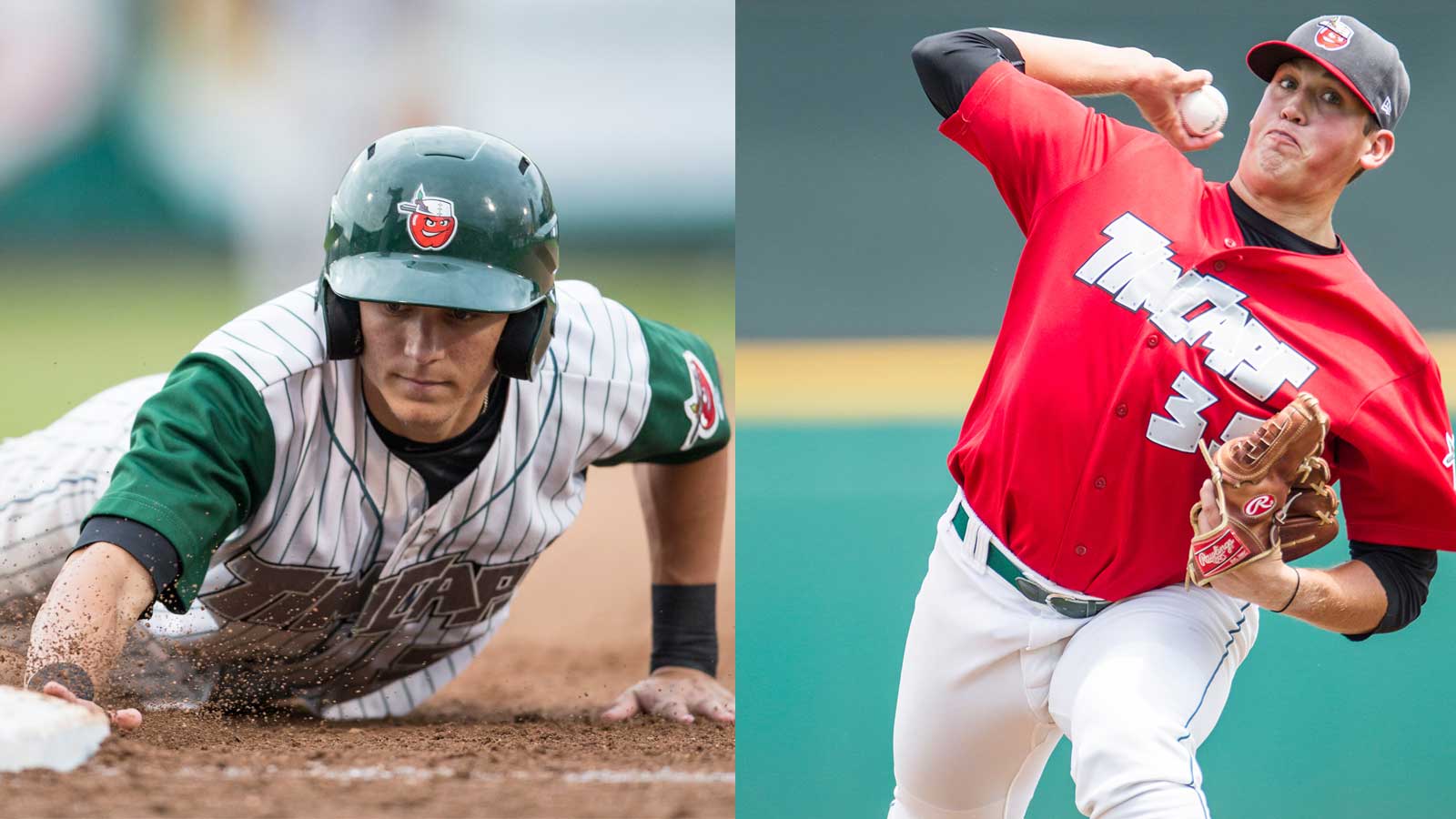 Summary: The TinCaps were the youngest and one of the more talented teams in the Midwest League. This meant they were capable of great highs and lows. They made their sixth straight playoff apprearance where they won six out of seven, but also had a 13-game losing streak and lead the minors in errors.
The Midwest League is the first full season league and one of the more challenging to hitters because of the early cold weather. At this level, batters are still adjusting to wood bats and learning how to cover the plate. Pitchers with so-so "stuff" can succeed as long as they have decent fastball command and the ability to throw a second pitch.
Top Players: The MadFriars' staff split on the top player. Ben liked what first baseman Jake Bauers did over the course of the whole season while John liked shortstop Trea Turner's contributions on the offensive and defensive side that he believed propelled them into the playoffs. Fernando Perez, who saw time at first, second and third base led the team in home runs with 18 and set a franchise record with 95 RBI. Both agreed that Turner, the Padres' first round draft pick in this year's draft is the top position prospect coming out of the Summit City.
For pitchers, right-hander Kyle Lloyd, led the team, the Midwest League and the organization with 155 strikeouts was the easy selection for pitcher of the year. Six-foot-nine, 190 lbs. stork-like right-handed relief pitcher, Tayron Guerrero, can dial it up to the high 90s and touch 100 also had a solid year but the top prospect was Ryan Butler, a seventh round pick out of UNC-Charlotte. If the Padres keep Butler in the bullpen he could be in San Diego very fast but will have more value if they can convert him to a starter.
On the Beat: Chris Goff, who had his first season covering the TinCaps for the Fort Wayne Journal-Gazette, shared his thoughts with MadFriars on what he saw with Trea Turner and relief pitchers throwing a 100 mph.
Announcer Series: Mike Maahs, who has been broadcasting Fort Wayne games since they were known as the Wizards and an affiliate of the Minnesota Twins, broadcasts the home games and does the pre-game shows. He gave his thoughts on the top players that he saw and if the "Big Apple" really is the top dessert in the minor leagues.
Randy Smith is the Padres Direct of Player Development and gave his thoughts on this year's squad and talks about the decision on whether Butler will be a starter or a reliever going into next year.
Minor League Announcer Series: John Nolan
John began his first year broadcasting TinCaps games after graduating from Syracuse University. Late in the season he took over full time duties when Mike Couzens left to join ESPN.
The New Jersey native grew up a Mets fan and had previously broadcasts games in the Cape Cod League, baseball's most prestigious summer league.
What type of player is Trea Turner? How would you describe him defensively and offensively.
John Nolan: Based off his time in Fort Wayne, I'd say Trea Turner falls into the "Fun to Watch" category. I'd describe him as a dynamic player who has innate talent and always hustles when he's on the field. His speed is noticeably elite.
Defensively, he was the best shortstop in the Midwest League while here. The numbers back that up. His .982 fielding percentage was the highest in the league for anyone who played more than 30 games at short. And standard fielding percentage doesn't even take into consideration his range, which was better than anyone else.
The best play I saw any Midwest League fielder pull off in 2014 was during a mid-July Sunday afternoon game at Cedar Rapids. There was a hard-hit grounder destined to go through the 5.5 hole until Trea cut it off on a backhand and then from shallow left field made a jump-throw across his body to beat the runner. It was shades of a young Derek Jeter. So his defense is part of the reason he's exciting to watch.
Offensively – and this is the area where some were skeptical when Trea was drafted by the Padres No. 13 overall in June – he proved to be far more than just a slap hitter. Besides the pre-draft analysis, there was reason to wonder about Trea's bat when he came to Fort Wayne on July 12 after he hit .228 in 23 games with Eugene.
However, with the TinCaps he was phenomenal at the plate. He hit the ball to all fields. With his speed, any time Trea makes contact, there's a chance he"ll be safe. While he recognizes he isn't a power hitter, Trea can barrel the ball up. He hit four home runs – three of which came in an 11-game span. He had some timely hits as well, including a walk-off single and a triple to lead off a must-win playoff game.
Perhaps more so than any other position player in the Midwest League this season, when you saw Trea Turner, you thought you were looking at a future big leaguer.
Fernando Perez, despite leading the team in home runs and RBI, never seemed to walk. Is he somewhat too aggressive as a hitter?
JN: Yes, he is. As are the vast majority of 20-year-olds in the Midwest League. But in Fernando's defense, I can't recall many at-bats in which he chased pitches far out of the zone. With that said, there were times when his approach was maybe too aggressive given the situation.
But you could say Fernando epitomized the team's collective approach. Manager Michael Collins and hitting coach Morgan Burkhart never preached a plan of patience at the plate for their hitters. As a team, the TinCaps were rarely looking to take a lot of pitches and wear pitchers out that way. Instead, led by Fernando, they wore pitchers out by leading the league in hits and finishing second in runs, while setting a franchise record for home runs.
Dustin Peterson made 38 errors this year at third base. What plays seemed to give him the most trouble?
JN: The majority of Dustin's errors came on throws to first base. It's worth remembering, though, that Dustin was a shortstop in high school. So not only was this his first full season, but it was his first full year at the hot corner.
Over the course of the season, Dustin's range at third base improved. That actually contributed to a few of his errors. He had the ability to make diving stops on hard-hit balls down the line or in the hole, but then had wild throws across the diamond.
Don't forget, however, the Fort Wayne franchise record for errors in a season is held by Michael Cuddyer, who, as a Twins prospect in 1998, committed 61 errors. He stopped playing shortstop after that season and it seems like in the end his bat prevailed.
How did Jake Bauers look defensively at first base?
JN: Whether it's because it's usually just more exciting or because there are more stats to evaluate it, I'd say fans and media alike often can be guilty of overlooking defense at the expense of offense.
And so for Jake, who showed much promise offensively as he had the fifth best average in the league (.296), we probably didn't talk enough about his defensive performance, which was fantastic.
While the TinCaps led Minor League Baseball in errors on the season (208), Jake was very reliable, as was Trea Turner (see first question). That's why the TinCaps' departure from the playoffs at Lake County – a slightly wide throw by Trea and Jake didn't get his foot on the bag allowing the go-ahead run to score in the bottom of the eighth – was such a cruel way to see the season end.
Jake routinely picked balls out of the dirt and stretched like a gymnast to reach after errant throws. I've read some say Jake doesn't have the prototypical size of a first baseman, and even Randy Smith has jokingly called him "stocky," but he's athletic. There were a number of line drives he soared up to snare.
Josh VanMeter was a big star locally in high school at Norwell High School. Can you describe how much attention was on him at the beginning of the year and how he dealt with it?
JN: As far as I know, there was only one ballpark in the Midwest League this year selling a t-shirt jersey for an active player. And that would be at Parkview Field for Josh VanMeter. The list of Minor League players who make the t-shirt/jersey list is a short one, especially at Low-A.
So that's the best way to describe the attention Josh had as the first position player from the Fort Wayne area to ever play for the TinCaps. Fort Wayne's media presence isn't to be confused with New York, but he was the focus of the local reporters, too. On Opening Night, he had about 100 family and close friends in the crowd. His teammates jokingly called him "The Mayor."
I think Josh dealt with it as well as any 19-year-old could. Heck, as well as anyone could regardless of age. He did every interview, posed for every fan picture, and signed all the autographs asked of him, and he did that all with a smile.
Josh has said he put too much pressure on himself the first two months of the season. On May 25, he was hitting .196. So while a .254 average for the season doesn't blow you away, maybe it should considering he hit .289 over his final 75 games. Hitting coach Morgan Burkhart told me Josh's turnaround during the season was as impressive as any he's been around. Also, defensively, he committed only two errors total in July, August, and September.
The script couldn't have been written much better at the end of the season when it was Josh who hit a three-run homer and had a four-RBI game to send the TinCaps into the playoffs on the final day of the regular season. Then in the playoff opener, he broke a tie game in the eighth with a two-run single off Tigers reliever Luke Putkonen, who was pitching for West Michigan on a MLB Rehab Assignment.
Nick Schulz was a big part of the team's success. How would you describe him?
JN: The best anecdote I can give on Nick is from August 26. At this point the TinCaps were in must-win mode to make the playoffs and Nick went 5-for-5 with two home runs, including a grand slam, as he drove in six runs to lead Fort Wayne to a victory over Bowling Green. After the game, MiLB.com wanted to interview Nick. I went down to the clubhouse to see if he was still around. Not only was he around, he was lifting.
Not to say that all big contract guys lack zeal for the game, but as someone who went undrafted after four seasons at San Jose State and then went unsigned for more than 300 days, Nick, in his own words, has "some fire in (his) belly."
His offensive numbers should speak for themselves: .341/.386/.545. He was second in the Midwest League in August in home runs (7) and fourth in RBIs (24). Hitting coach Morgan Burkhart said Nick's biggest development over the course of the summer was the quality of his at-bats when he got to two strikes.
And on the defensive side, he was steady, too, as a corner outfielder. No errors in 48 games. He didn't make "How'd-he-catch-that?! Catches" but he got to every ball he was supposed to and made a few nice sliding grabs.
Kyle Lloyd came out of nowhere to pitch really well and got better as the season went on. Why?
JN: Well having never seen him pitch before he came to Fort Wayne, I can't answer why he was in a position to come out of nowhere. His numbers with Eugene last year were pretty good. But as for how he developed over the course of the season, the simple answer is how he threw his splitter.
Many a Midwest League batter thought he was looking at a fastball only to see Kyle's splitty dive down to the dirt at the last moment. Often times, he was able to set batters up for that pitch by getting ahead with his low-90s fastball. Toward the end of the year, his slider became a strike pitch as well.
From July 12 through the end of the season, Kyle struck out a Minor League Baseball-leading 88 batters in 54.1 IP. That phenomenal run began on a Saturday night at Parkview Field when the TinCaps were on a 13-game losing streak. Kyle stopped the franchise's longest ever losing skid with a 13-strikeout performance in six innings against South Bend. He finished 2014 with 162 Ks – top five in franchise history behind only the likes of LaTroy Hawkins and Jake Peavy.
Part of the explanation for why he got better as the season went on may have to do with his conditioning. In Mike Couzens' story on nutrition and Minor League Baseball, TinCaps trainer Dan Byrne said Kyle (along with his roommate Justin Livengood) was nutritionally the best on the team.
Where do you think Ryan Butler's future will be. In the bullpen or as a starter?
JN: Fortunately for Ryan and the Padres, any prediction I make doesn't matter at all. I can tell you, though, with the TinCaps, he was every bit as dominant as a closer as the numbers indicate. Some teammates nicknamed him "Rocket Arm" – deservedly so – and compared him with Tyron Guerrero, who had an All-Star first half in Fort Wayne.
Ryan's fastball was clocked at 101 MPH on multiple occasions and routinely sat in the mid-to-upper 90s. Therefore, he usually relied on overpowering hitters. And why not, right? It was rather rare to see him mix in a secondary pitch.
Maybe the best compliment you can give to a closer is that when he comes into the game, everyone in the ballpark feels like the game is over and that was pretty much the case with Ryan.
Who was the top player and pitcher in Fort Wayne this summer?
JN: Since you said summer, I won't consider Mallex Smith, who was only here in the first half. In that case, for the reasons given above, it's pretty easy to answer that Trea Turner was the best position player in Fort Wayne this summer and Kyle Lloyd was the best starting pitcher, while Ryan Butler was the best reliever.
Though it certainly took a complete team effort to extend the Midwest League's longest active consecutive postseason appearances streak to six (and league semifinals appearance to four straight years), July 12 was a definite turning point in the season. That was the day that Trea and Ryan arrived from Eugene and Kyle began to pitch like an ace. Suffice to say the two rookies brought in a boost of talent as well as a feeling of freshness, and every five days, the TinCaps knew they were in a position to win with a dominant starter taking the mound.
###
You can follow all of the action in the Padres' minor league system @madfriars on Twitter.