Jake Bauers' bat making an impact in the Padres' system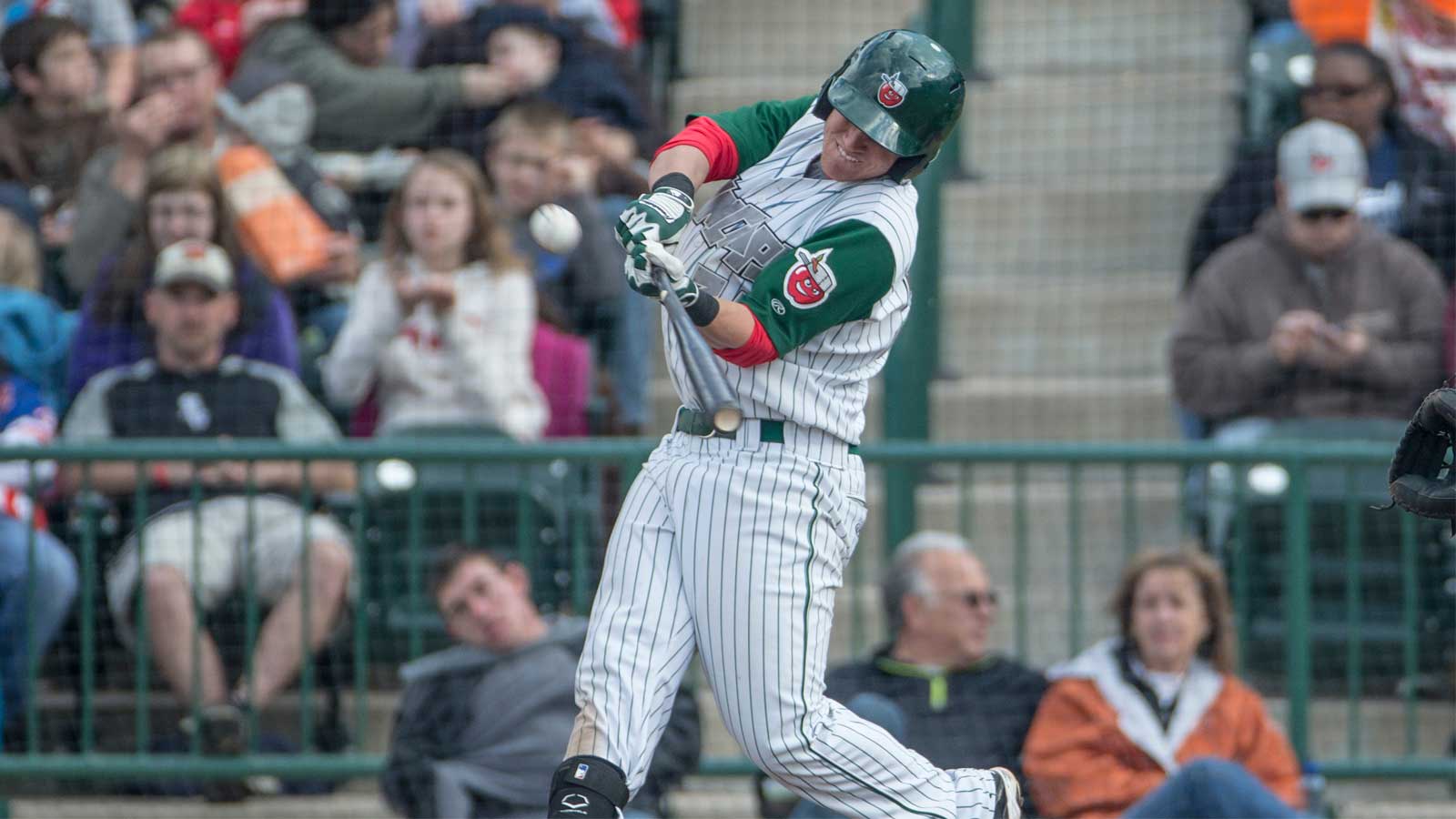 FORT WAYNE – "The big separator as you go forward in baseball is that more physical tools start to grade out even and what separates guys is what they do upstairs and stay one step ahead of their opponent," opined former Cubs' All-Star Mark Prior, now the Padres' Special Assistant to the General Manager on a recent trip to El Paso, San Diego's AAA affiliate, on the differences between the different levels of the minor leagues.
For first baseman Jake Bauers, who just turned 18 in October and is the youngest player in the Low-A Midwest League, it's his improvement at the mental part of the game as opposed to just his physical development, that has been his separator and enabled him to sit atop the league leaders in batting since being plucked from extended spring training in late April.
"It all comes down to an approach," said Bauers before a recent game in Fort Wayne.
"That is one thing I really worked on during extended spring was instead of going up there and looking for anything in the strike zone, it's looking for something you can drive and are tuned in for; and when you get it not missing."
Bauers was a seventh round pick by the Padres in the 2013 draft out of Marina High School in Huntington Beach, California, and passed up a scholarship to the University of Hawaii to sign with San Diego.
"The opportunity to chase my dream and play every day was just too much too pass up."
"If you go to college you have to focus on so many things and the contract included the scholarship program so if I decide to go back to school it's paid for."
In his first professional season in the Arizona League Bauers found himself getting caught up in trying to do too much as he hit .148/.200/.222 in his first 29 plate appearances.
"I think it was adjusting to the speed of the pitching," Bauers said on his early struggles.
"Instead of working to left-center, I was trying to pull everything because I was worried about something going past me. I just started trusting my hands more and good things started happening."
And good things did start happening in August as he hit .355/.395/.421, finishing the season at .282/.341/.374. He was part of an infield that featured second baseman Josh VanMeter, third baseman Dustin Peterson and shortstop Franchy Cordero, one of the more talented groups that the Padres' have had in the AZL in a long time.
The problem coming out of spring was the organization was facing a logjam at first base.
The best infielder at Fort Wayne last year was third baseman Gabriel Quintana. The problem was that Duanel Jones, who signed with the Padres in 2010 for a $900,000 bonus and was at third most of the year for the High-A Lake Elsinore Storm, did not play well and the Padres were not willing to let their six-foot-three 225 lbs., tools monster go at only 21.
Because the organization couldn't promote him to AA San Antonio, they brought back Jones to play first base and put Quintana at third for the Storm. Throw in the fact that first baseman Luis Tejada; also had a subpar 2013 in Fort Wayne but a good season the year before in the Arizona League, and the picture for the full season teams in A-ball at Lake Elsinore and Fort Wayne became very crowded.
The best way to settle the competition instead of giving up on either Jones or Tejada was to try to figure out a way for all three to play and the easiest and most logical was to send the younger Bauers to extended spring and be the full time first baseman in Eugene, the Padres' affiliate in the short-season Northwest League.
But things changed in late April.
"We decided to give him an opportunity to perform," said Randy Smith, the Padres Director of Player Development when asked on why Bauers was promoted.
"There was a lot of discussion if he could make the jump to the Midwest League at the end of spring training so we started him off in extended [Spring]. He kept hitting and so we sent him out there and he really hasn't stopped."
"Jake is mature beyond his years and is a cocky, confident kid in a good way."
After a slow start in his first four games, Bauers crushed the ball in May and June and on July 1 was hitting .348/.426/.515.
"The biggest improvement with Jake is just his maturity level," said Michael Collins, his manager in Fort Wayne and last year with the AZL Padres.
"He put himself in a good position to hit early when he got her because he took a lot of tough pitches and put good swings on good pitches which sound simple and easy but isn't."
Collins also believes that Bauers, a solid six-foot-one, 210 lbs., is a better athlete than advertised and both Mike Couzens and Mike Maahs, the announcers in the Fort Wayne broadcast booth, have stated that he has gone a long way in stabilizing an error prone TinCaps' infield in his ability to come off of the bag and dig balls out of the dirt.
"He moves around very well at first base and he runs better than you would think."
"I have complete confidence in his ability to steal a base or do a hit and run and could see him in left field in the future if he is blocked at first to get that bat in the lineup."
In July, he has experienced a slump – along with the rest of the TinCaps who dropped 13 straight games – but the process is still the same; have a plan, have an approach be aware of what you are trying to do.
Bauers has added speed and strength since being drafted but his rise above the competition has been an ability to see and understand the game beyond the level he is playing.
John Conniff is a contributor to FOX Sports San Diego and you can follow him and all of the action in the Padres' minor league system @madfriars on Twitter.