Chiefs aiming to ground high-flying Chargers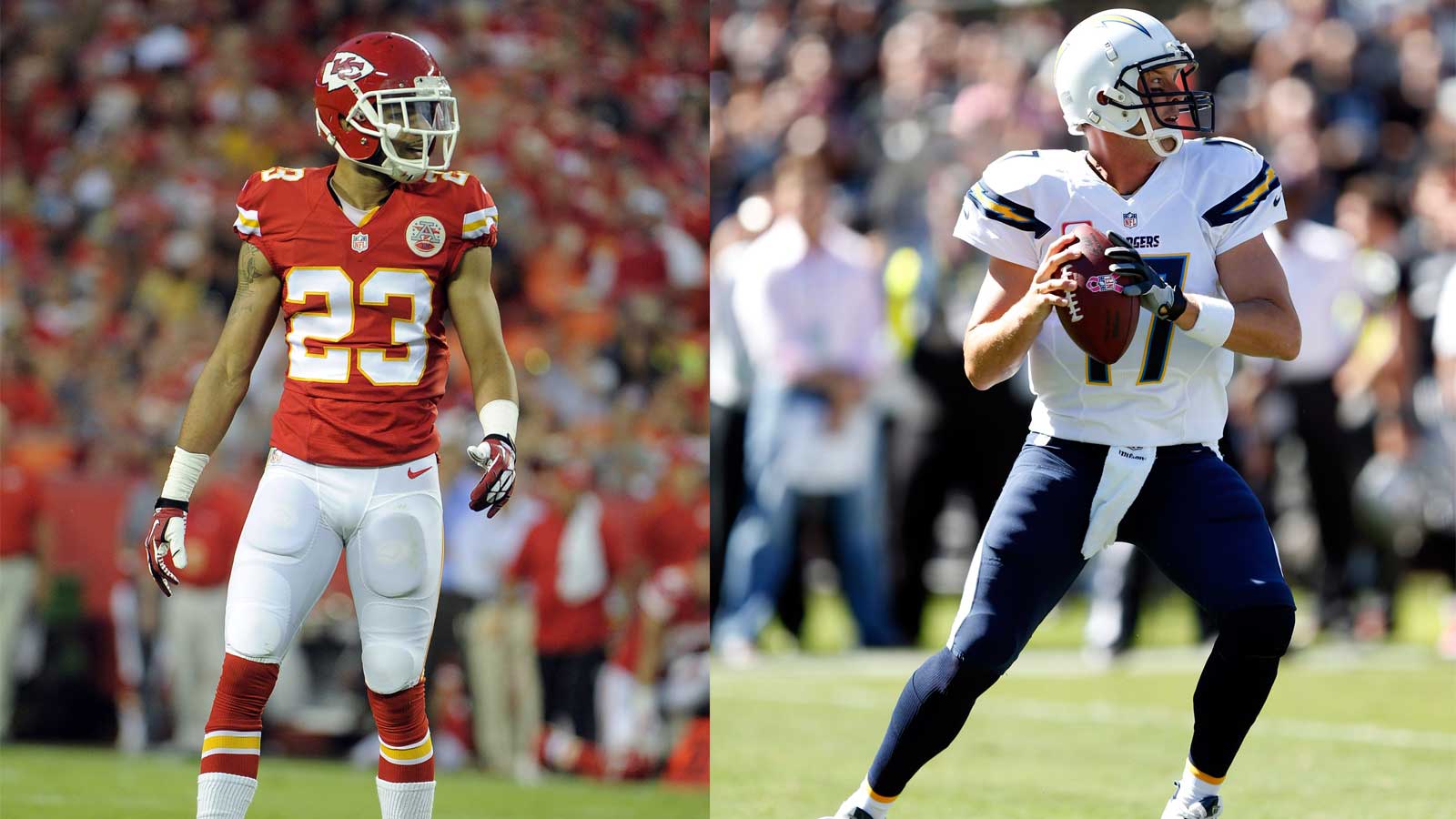 KANSAS CITY, Mo. (AP) — The high-flying San Diego Chargers are tied for fifth in the NFL in scoring. They're second in the league in time of possession, sixth in passing yards and near the top of the rankings in most other categories.
Third-down percentage. Giveaways. Sacks allowed. You name it.
They are the kind of gaudy numbers that, when printed in black and white, would make any defensive coordinator cringe. But they're also the kind that makes a Kansas City Chiefs defense full of bravado look forward to stepping on the field and seeing what it can do.
"They're just a really good team. They're really hot right now. Philip Rivers is doing some really good things for their team," Chiefs cornerback Phillip Gaines said, "so it's going to be a nice little challenge going against them."
Nice little challenge? Yeah, the Chiefs sure sound scared.
The reality is they have suddenly become one of the stingiest defenses in the NFL, giving up just a shade over 20 points per game — fourth-best in the league. And they've done it while playing without players including Pro Bowl linebacker Derrick Johnson, fellow middle linebacker Joe Mays, defensive tackle Mike DeVito and Pro Bowl safety Eric Berry.
All four have been down with injuries, though Berry has practiced all week and could see the field for the first time Sunday since spraining his ankle in Week 2.
"We'll just see how he does," Chiefs coach Andy Reid said.
The strange thing is that while Berry is considered one of the Chiefs' better defensive players, there's an argument to be made that they've been better with him on the bench.
After getting toasted by Tennessee in their season opener, the Chiefs largely shut down the high-powered Broncos in the game Berry got hurt, a 24-17 defeat. They grounded Miami the next week in a 34-15 victory, and made such a mockery of Patriots quarterback Tom Brady in a 41-14 drubbing at Arrowhead Stadium that backup Jimmy Garoppolo finished the game.
Even in their final game before their bye, the Chiefs defense hung tough. It was only because the offense floundered that they lost 22-17 in San Francisco.
Still, none of those offenses — except perhaps the Broncos — quite matches what the Chargers have been doing this season.
Rivers is completing nearly 70 percent of his passes for 1,756 yards with 15 touchdowns and only two interceptions, good for the best passer rating in the NFL. His top wide receivers, Keenan Allen and Malcolm Floyd, present all kinds of matchup problems. And the ageless wonder Antonio Gates already has six touchdown catches from his tight end position.
Throw in running back Branden Oliver, who is averaging nearly 4 1/2 yards per carry, and San Diego has become one of the league's top offenses.
"They're explosive," Chiefs defensive coordinator Bob Sutton said, slipping in a cliche that may actually be apropos: "It's going to take all 11 guys."
It may take that many guys just to stop Rivers, who is 13-4 in his career against Kansas City. The only team he's beaten that many times is Oakland.
Over the course of those 17 games, which roughly equates to a full NFL season, Rivers has thrown for 4,220 yards, 27 touchdowns and 17 interceptions. Those numbers on a yearly basis would make him a virtual lock for the Hall of Fame.
"Right now, most people would argue he's playing as well as anybody in the league," Sutton said. "He's really taken off the last two years. One thing he's done is more taking what is given to him. He's much more confident dropping the ball off and it's made them a very efficient football team."