Beckham is Xolos and LA Galaxy€'s bizarre shared heritage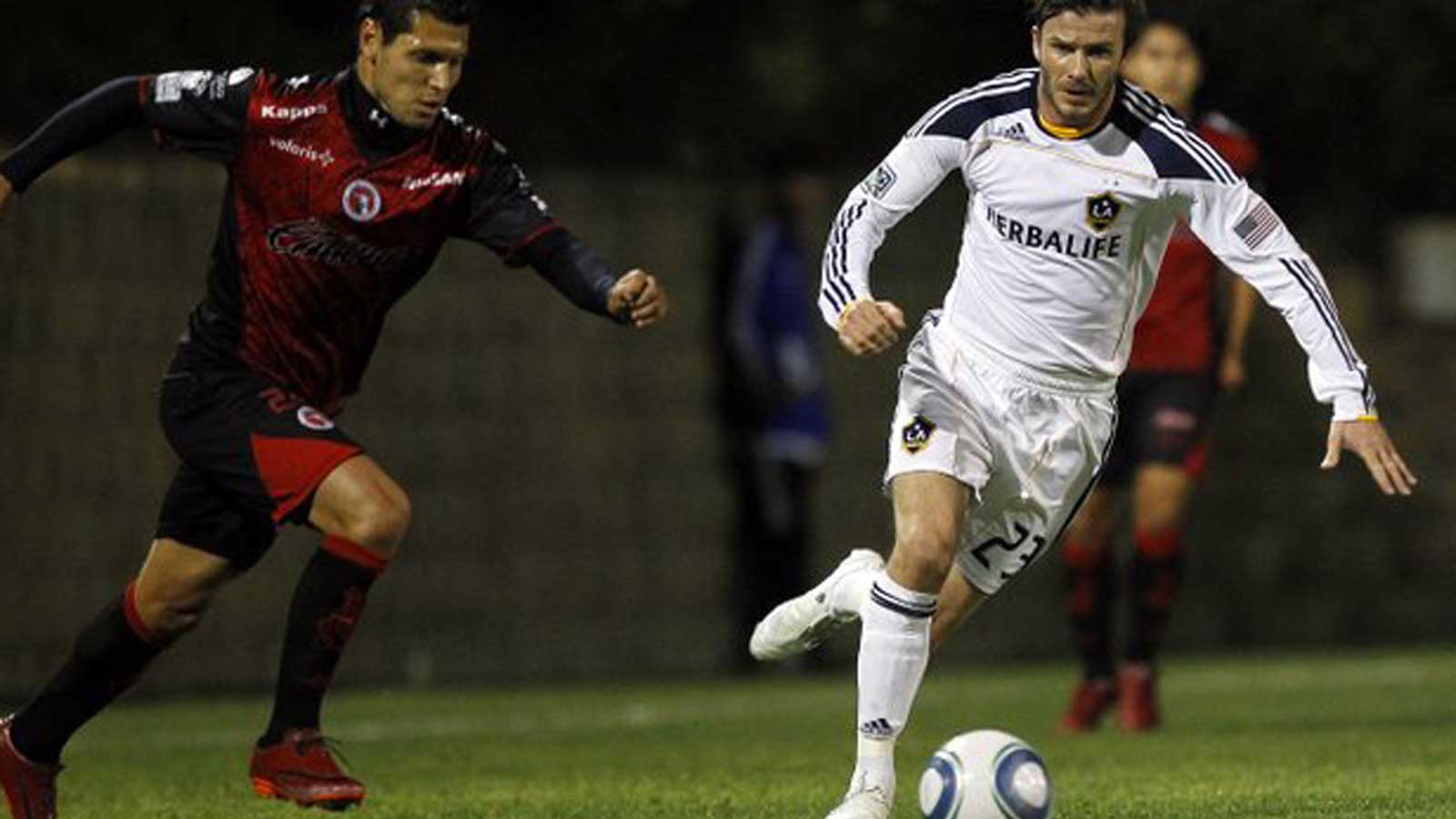 The Los Angeles Galaxy promised, even in its earliest incarnation, to be a bombastic squad that balanced egregious spending with an olive branch of sorts to every type of American football fan.
In its first decade of existence, Mexican heroes Jorge Campos, Carlos Hermosillo and Luis Hernandez all suited up for the four-time MLS champs, albeit without much success on the pitch between 1996 and 2002.
Gradually, the focus shifted away from Hispanicized last names to make an impact, and towards a more global scheme. The signing of David Beckham in 2007 made it so that MLS truly made a name of itself worldwide. Following the former Manchester United and Real Madrid star's arrival, a growing number of Europe-based players would make the jump, shaping MLS' current strategy.
The shift in strategy has also yielded changes in their trophy room. With four MLS Cup titles, the Galaxy have cemented themselves among the league's elite, and decisively proved the tried-and-true strategy in other American leagues and sports, of spending (wisely) in order to win.
Along with the more cogent links that include geography, friendly affairs and players who have worn both shirts including Herculez Gomez and Paul Arriola, there is one bizarre item that brings the Los Angeles Galaxy and the Xolos de Tijuana together before they even step onto the pitch this Wednesday evening.
In 2011, when the Tijuana side was tip-toeing relegation in the Liga MX, and the Galaxy were en route to their second consecutive MLS Cup title with Beckham in tow, a news report surfaced that had the English midfielder joining the Mexican side on loan.
The details behind the story read even then as pure fiction, yet it made the rounds, from Tijuana to Tahiti, Los Angeles to London: Xolos' benefactor and father to team owner Jorgealberto Hank had offered Simon Fuller and Beckham's handlers at 19 Entertainment the keys to a Coronado mansion, a helicopter to bring him to and from games south of the border, and a ridiculous seven-figure salary for the loan spell.
Tijuana journalists, ostensibly not to blame for the rumor, were bombarded with bizarre questions for hours. At the time, working for an international soccer-only site, I posted the rumor to near-universal derision… that is, outside of Southern California and northern Mexico. Other international outlets picked up the story and made it viral… and global.
Following the initial report, a series of quotes that, to this day, remain disputed, came down from the wire, with an apparent positive response from Becks to come south of the border and reside by the ocean. In a matter of hours, it wasn't just Tijuana that was abuzz with the news, but the entire San Diego region, as well.
Though the story sprung up with ferocity, it was a while before it was quashed down. And yet, Beckham once again served to put a team on the global map. Xolos would waste no time in putting their own stamp on the Mexican game, as their Apertura 2012 title can attest, as well as their deep run in the Copa Libertadores.
And yet, even today, the Beckham "near-signing" remains an important part of Club Tijuana lore.
Tonight, at the StubHub Center in Carson, Xolos and Galaxy will face off, their shared ambassador nowhere to be found, but living long in the memory.
Eric Gomez is a Journalist based in Mexico City. Born in Chula Vista, Gomez is an alumni of San Diego State University, and is currently the Chief Editor for FOXDeportes.com. Follow him on Twitter @EricGomezFox