Veteran FOX Sports Broadcaster Charles Davis Details Personal Connection to Sunday's Matchup in Dallas
Kevin Burkhardt, Pam Oliver and I are headed to Detroit this weekend to call Sunday's Cowboys/Lions game on FOX. Thirty-some years ago, had you told me I'd be calling a Cowboys game, I would have hoped it was after I had finished playing in the NFL. In fact, I signed with the Cowboys as a rookie free agent and participated in the team's training camp in 1987 following my days as a defensive back at the University of Tennessee.
However, my aspirations of being an NFL player were dashed after I was cut by Dallas. I saw guys I had played against get drafted and embark on their chosen career paths, and I was devastated by the realization mine would take a different trajectory.
I am not ashamed to say that disappointment left me more devastated than I showed on the outside. After starting for a good team in the SEC for four years, the idea of going undrafted was a big blow to my ego. I thought, "If I'm not good enough to be drafted, then I must not be all that good after all."
While that can be a dangerous mindset to fall into, I was fortunate enough to finally overcome it. I now tell anyone who will listen that instead of doubting yourself, channel that negative experience into proving the naysayers wrong and hopefully earning another shot. I wasn't singularly focused on proving those who didn't draft me wrong and making the team, and I paid the price by getting cut. That's embarrassing to admit, but I hope it serves as a cautionary tale for others. When they lower me into the ground, that's one of the biggest regrets I'll have.
Ever since, I have made a point to put my heart and soul into everything I do, which includes hours of preparation for each game. However, as is often the case, I had to learn the art of preparation the hard way, when the University of Tennessee Radio Network gave me the opportunity to call the Volunteers spring game alongside Mr. John Ward, the legendary Voice of the Vols, in 1987.
Assuming all my years of high school and college football playing experience would carry me, I arrived with no notes or spotting boards. Mr. Ward said, "Where's your stuff?" to which I replied, "Stuff? What do I need stuff for? I know this team."
Fortunately, he had foreseen my lack of preparation and preemptively created a board for me. That kind act of leadership taught me an invaluable lesson without embarrassing me. Mr. Ward took a potentially humiliating moment and turned it into a teaching moment. I have been so blessed throughout my life by countless people willing to mentor and share their knowledge with me, beginning with my father, who was a high school football and basketball coach in our small town of New Paltz, N.Y.
He is the reason I learned to love sports at a young age and eventually grew to love the Tennessee Volunteers (my mom was from Tennessee). While I played high school football, basketball and baseball, I initially didn't ever think it would be possible to play in college because of my school's size. We hardly knew what a Division I player looked like in New Paltz.
In the beginning, my aspirations were local; my goals were "New Paltz-sized" goals. Although I watched college football, I was more awestruck by the legends of my school. I wanted to be those upperclassmen my dad had coached who let me carry their helmets or round up basketballs after a game. I knew there was a bigger world out there because I had read all about it, but I couldn't talk to or reach out and touch those guys.
Regardless, I took a leap of faith and reached out to the University of Tennessee in a letter asking for an evaluation, which the school granted. The rest, as they say, is history — I graduated high school and went on to become a four-year starter at defensive back at Tennessee. I earned a political science degree and a master's in history, two fields in which I remain incredibly interested.
All those years of avid reading as a child allowed me to blend my passion for books and history with my love of football and broadcasting. I was always the kid they told to "shut up" in school, and now I'm the guy who often has a historical reference to insert on-air.
As much as I love to talk, though, I was rendered nearly speechless when I encountered Johnny Unitas, one of my childhood heroes, after I had just finished calling my second-ever game – University of Central Florida at South Carolina. Johnny's son was a walk-on at South Carolina, and I bumped into Johnny at the elevator. Despite being in awe of the man, I somehow managed to respond to his questions about whether or not I enjoyed my TV job.
He then told me a story that has stayed with me forever, that after working for CBS for three years, his contract wasn't renewed. Johnny told the president of CBS Sports he didn't understand because everyone consistently praised him after each game. The president sheepishly said they weren't telling him the truth because of who he was. Johnny responded, "I played all those years in the NFL. Do you think I never got coached?" He then told me, "That's my advice to you, young man. Make sure you have people around you who actually coach you."
I have tried to heed his advice and seek out constructive criticism, particularly since I don't have the NFL playing background my peers do. My biggest challenge is ensuring I'm at the top of my game at all times. I'm not a big name, an All-American or future Pro Hall of Famer, so, in my mind, I must be better prepared than others. That's where I find the motivation each day to hone my craft.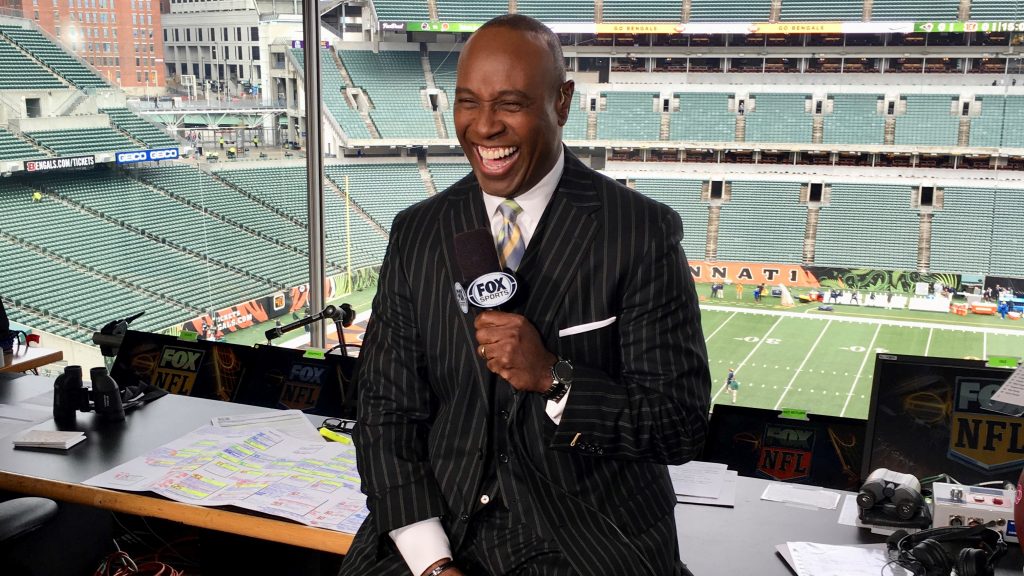 After seven years as an NFL analyst and seven as the lead college football analyst for FOX, the job continues to get better. I've been fortunate to work with the same broadcast crew for years, and they are wonderful. Going to work every week still thrills me nearly as much as charging onto the football field once did, and I'm as excited about being in the booth for Sunday's Cowboys/Lions matchup as I was suiting up for Cowboys' training camp more than 30 years ago.
All that has changed is the suit itself.