Award-Winning Filmmaker Craig Gillespie Directs New Ad Spots Celebrating "TNF on FOX" Kickoff Game and Key Seasonal Moments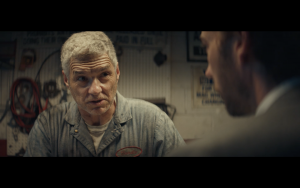 Week 4: Vikings vs. Rams Spot
Week 5: Patriots vs. Colts Spot
Week 6: Eagles vs. Giants Spot
Week 10: Panthers vs. Steelers Spot
Week 11: Packers vs. Seahawks Spot
Week 13: Saints vs. Cowboys Spot
LOS ANGELES – The NFL's Thursday Night Football, Presented by Bud Light on FOX debuts September 27, energized by FOX Sports' new "Now It's a Game" campaign, which celebrates a schedule full of marquee NFL matchups. The campaign, comprised of an introductory "anthem" and six individual key matchup spots, is directed by award-winning filmmaker Craig Gillespie ("I, Tonya").
"Football is in FOX Sports' DNA, and the premiere of Thursday Night Football on our network is a big moment in our brand's evolution," said Robert Gottlieb, Executive Vice President and Head of Marketing, FOX Sports. "This is year one of the broadcast on FOX, and we wanted a campaign that was distinctive to our voice, but also true to what we plan to deliver to NFL fans as the network home of this franchise."
The campaign shows every-day fanatics – such as a dentist, a mechanic and a young student — talking up Thursday Night Football on FOX at work and on-the-go. It also features NFL stars Jared Goff, Ndamukong Suh and Saquon Barkley along with FOX Sports' broadcaster Joe Buck and Pro Football Hall of Fame colleagues Troy Aikman, Michael Strahan, Terry Bradshaw and Howie Long. An unbridled enthusiasm for the new slate of games is shared by them all, in conversation with peers, passengers and patients – a common theme leading to the realizations that "This is different!" and "Man, these games are good!"
"The spots' fast-paced editing reflects the hard-hitting energy of Thursday Night Football," said Gillespie. "We wanted to do something that felt creatively unique and different, but is also authentic to the voices of people who love the game — fans, players and broadcasters — in their everyday environments."
Thursday Night Football debuts on FOX Thursday, September 27 at 8:20 PM ET when the Minnesota Vikings take on the Los Angeles Rams and continues through Week 15 of the NFL regular season. All eleven Thursday Night games airing on FOX are distributed in Spanish on FOX Deportes and streamed across the FOX Sports app and Amazon Prime. Each week, on-location coverage kicks off at 6:00 PM ET with NFL GAMEDAY KICKOFF on NFL Network, hosted by Colleen Wolfe, leading into FOX NFL THURSDAY featuring Bradshaw, Long and Strahan at 7:30 PM ET on FOX.
The "Now It's a Game" campaign was created by Wieden + Kennedy New York.
###
About FOX Sports
FOX Sports is the umbrella entity representing 21st Century FOX's wide array of multi-platform US-based sports assets. Built with brands capable of reaching more than 100 million viewers in a single weekend, FOX Sports includes ownership and interests in linear television networks, digital and mobile programming, broadband platforms, multiple web sites, joint-venture businesses and several licensing partnerships. FOX Sports includes the sports television arm of the FOX Broadcasting Company; FS1, FS2; FOX Sports Regional Networks, their affiliated regional web sites and national programming; FOX Soccer Plus; FOX Deportes and FOX College Sports. In addition, FOX Sports also encompasses FOX Sports Digital, including FOXSports.com and the FOX Sports app. Also included in the Group are FOX's interests in joint-venture businesses Big Ten Network and BTN 2Go, as well as a licensing agreement that established the FOX Sports Radio Network.
About THURSDAY NIGHT FOOTBALL
Thursday Night Football started in 2006 with an eight game schedule exclusively on NFL Network. By 2012, Thursday Night Football had grown to a 13-game schedule exclusively on NFL Network, where it remained through the 2013 season. For both the 2014 and 2015 seasons, CBS partnered with NFL Network to present an expanded 16-game Thursday Night Football schedule. For both the 2016 and 2017 seasons, NBC and CBS partnered with NFL Network to present Thursday Night Football with additional digital distribution via Twitter (2016 season) and Amazon Prime Video (2017 season).