Baseball's Power Affirmed in Magical Postseason, and Ordinary Regular Season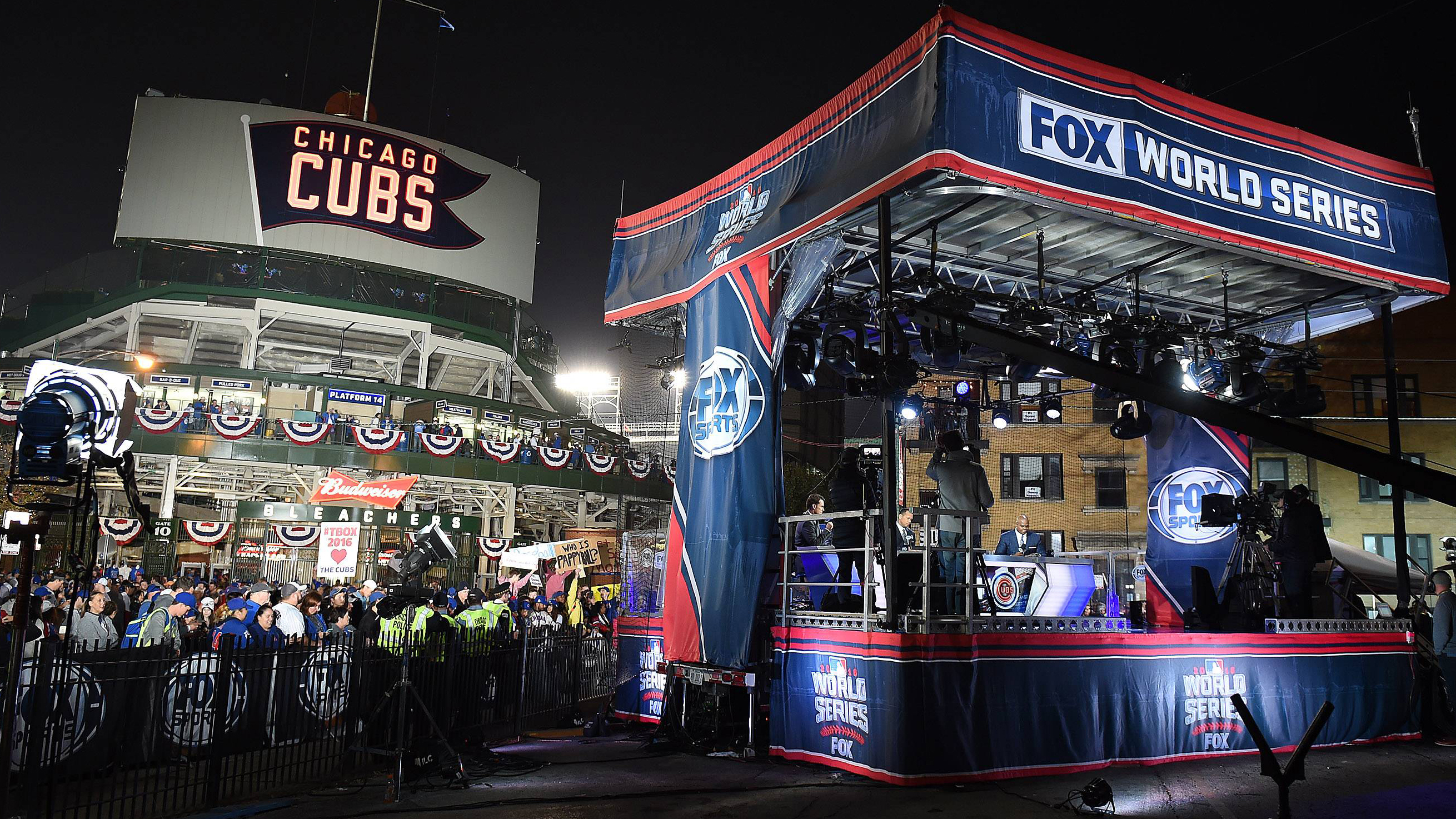 Fly the W. After 108 years, nineteen presidents, two world wars, twelve men on the moon and the inventions of radio, television, nuclear power, the internet, and the mannequin challenge, the Chicago Cubs are at last World Champions. The Cubs triumph in this year's epic, gut-wrenching seven-game World Series, unleashed a frenzy of unfiltered emotion in the City of Broad Shoulders. The Cubs victory parade drew an estimated five million people and was widely reported to be the seventh-largest gathering in human history (take *that*, 1970 funeral of Egyptian President Nasser). Thousands more came out to scrawl tributes in chalk to long-departed Cub fans on the exterior walls of Wrigley Field along Waveland and Sheffield Avenues, a spontaneous monument to baseball's unique ability to inspire connection across generations.
More relevant to Fox Sports, the World Series delivered the largest baseball audiences in decades to FOX Broadcasting Company and the earlier rounds of the National League playoffs shattered records on FS1. The list of records broken and superlatives achieved by FOX coverage of the 2016 postseason could literally fill pages, but we'll try to list just a few of the most noteworthy milestones here.
The entire seven-game 2016 World Series averaged a 13.1 rating, 23 share and 23.4 million viewers on FBC in primetime, a +51% gain over last year's 8.7/16 and 14.7 million viewers for a five-game series, and the highest-rated and most-watched World Series in twelve years. Nielsen further estimates that over 115 million Americans watched at least some part of the World Series on FBC. The 13.1 HH rating for the World Series beats the season-to-date average of every show in primetime television, including NBC's Sunday Night Football.
The series culminated with a spectacular 21.7/37 and 40.0 million viewers for the unforgettable, ten-inning Game 7. The average audience of 40.0 million viewers for Game 7 made it the most-watched baseball game in 25 years and FOX's most-watched non-NFL telecast of all-time. Game 7 also ranked as the most-watched baseball game ever presented on a Spanish-language network with 565,000 viewers on FOX Deportes, and the most-watched authenticated event in Fox Sports GO history with an average minute audience of 344,000. The World Series had a dramatic impact on the primetime ratings race, briefly catapulting FOX into first place for the season-to-date among Adults 18-49, and creating the possibility that the World Series and next February's Super Bowl may be enough to propel FOX to leadership for the entire broadcast season.
Earlier in the month, the Cubs run to the National League pennant re-wrote the FS1 record books, producing the most-watched month in FS1 history and a long list of firsts and record-highs. Over 63 million people watched FS1 in October, a 32% advantage over what had previously been the network's most-watched month (the three most-watched months in network history are the three Octobers in which FS1 has aired playoff baseball). Eight of the ten most-watched FS1 telecasts ever are Cubs playoff games that aired this October. The weeks of October 10 and October 17 ranked as the most-watched weeks in network history in both total day and primetime, and FS1 ranked as the #1 network in cable primetime in both of those weeks.
The momentum provided by the postseason also helped produce record-highs for FS1 studio shows including Undisputed (168,000 viewers in its regular time period), The Herd (172,000 in its regular time period), Fox Sports Live with Jay and Dan (646,000 following an MLB postgame), and Garbage Time with Katie Nolan (582,000 following an MLB postgame). The MLB postseason had an enormous impact on the broader fortunes of FS1. Total viewing of FS1 for the calendar year through October 31 is up 8.43 billion minutes over last year, of which an incredible 93% – or 7.80 billion minutes – is directly traceable to MLB playoff games, pregames and postgames.
While the ratings for a spellbinding month of playoff baseball were indeed eye-popping, it's also fair to acknowledge that it took a once-in-a-lifetime event for baseball to scale these heights, and the figures listed above may very well not be repeatable. What is repeatable, and where we believe the true power of the business of baseball lies, is the strong performance of regular season baseball all season long on regional sports networks around the country. The 2016 MLB regular season was, put bluntly, nothing terribly special. One team won over a hundred games, one team lost over a hundred games. A few major market teams won their division (Dodgers, Red Sox, Rangers) while a few others played well below .500 baseball (Angels, White Sox, Braves). No major single-season or career records were broken, and the emotional highlight of the regular season for many – the retirement of Dodger broadcaster Vin Scully – didn't even occur between the foul lines.
Yet even in a pedestrian regular season, Major League Baseball dominated local television viewing across the country for 26 weeks. Of the 25 U.S. MLB markets (four markets have two teams and one team is based in Toronto), RSN coverage of MLB ranked #1 in cable primetime during the regular season in 24 of those markets. If we expand that analysis to include both broadcast and cable networks, baseball ranked among the top five networks in prime in 22 of its 25 U.S. markets, and #1 overall in nine markets. By comparison, ESPN did not rank in the primetime top 5 in a single MLB market during the regular season.
The power of regional sports networks relative to ESPN and other national sports outlets is often poorly understood, and not without reason. Comparisons between regional and national networks are made difficult by the fact that the RSNs are rated locally rather than nationally, and by the fact that for many years, success in television has mostly been defined by a national ranking of weekly programming, which severely disadvantages baseball and other sports that are played more than once a week.
Some clarity is offered by the occasional custom analyses provided by Nielsen that capture the national nightly viewership of MLB, NBA and NHL on regional networks. The most recent of these analyses indicated that a typical night of RSN baseball is seen by an average audience of over 4.5 million viewers across the country, and of that number, nearly two-thirds of the viewing is controlled by FOX owned-and-operated RSNs. To put that number in some context, ESPN has averaged over 4.5 million viewers only 37 times in the last twelve months. It's fair to say that ESPN is still universally perceived as the dominant leader in cable sports, and yet night-in, night-out for six months a year, RSN baseball draws numbers that are rarely achieved by ESPN.
Another way to gauge the power of regional sports programming is to move away from Nielsen ratings and simply ask viewers which networks they value most. That's exactly what our Consumer Insights team did in a recent study, the results of which we are sharing here for the first time. Viewers in seven major markets were presented with groups of three networks and asked to identify which of the three they would be most likely to keep and which they'd be most likely to discard.
By showing each viewer a series of network groups, our team was ultimately able to rank a long list of networks from "most essential" to "least essential" for each respondent. The results were compelling: regional sports networks ranked as the most essential networks in cable, trailing only the four major broadcasters overall. To their credit, ESPN ranked as the second most-essential cable network in our research. Discovery was a distant third, demonstrating the clear importance of sports to the future health of the cable bundle.
In each of the seven markets we surveyed, the local RSN was considered more essential than ESPN, sometimes by very sizable margins. In Dallas, 36% of respondents cited FS Southwest as their most preferred sports network versus 14% citing ESPN. In Philadelphia, the margin was 41% to 14%. In Chicago, it was 50% to 14%. In midwestern baseball hotbeds Detroit and St. Louis, the gaps were even more enormous. FS Detroit beat ESPN by 62% to 14% and in St. Louis, FS Midwest beat ESPN by 65% to 8%. In both markets, the local FOX RSN beat every major broadcaster to rank as the most essential television network overall.
The relationship between FOX and MLB is unique in all of sports. In no other major sport are such a high percentage of all games produced by a single media company. The stratospheric ratings delivered by this year's postseason may be rare, but we can look ahead with confidence to more regular seasons in which baseball will dominate not just sports television but all of television in every major market for months at a time. We look forward to many more seasons in which baseball will truly be the economic engine of FOX Sports, and vice versa.

About the author: Michael Mulvihill is Executive Vice President, Programming, Research & Content Strategy for FOX Sports. He is a lifelong fan of the Pittsburgh Pirates.