Tragedy at Penn: What happened to Tim Hamlett?
Fall: Back to school season. Katherine and Archibald Hamlett should be sending their son Tim off to his senior year as a track runner at the University of Pennsylvania. Instead, they are donning black ribbons.
Timothy "Akil" Hamlett disappeared after leaving his family's New Jersey home on Dec. 26, 2014. That would be the last time the Hamlett family saw their only child alive. He had been missing for nearly five months when the New York Police Department found his remains in the Hudson River. His death was ruled a suicide.
He was 20 years old.
September is National Suicide Prevention Month. According to the American Foundation of Suicide Prevention, 50,000 people die by suicide each year. Hamlett is the latest in a wave of seven suicides that have rocked the Penn community over the last two years, making it ground zero for the national conversation around student-athlete mental health.
At a long 6-foot-1 and effortless in stride, Tim Hamlett was born to run. His freshman year, he made an immediate impact on the starting blocks, setting school records in 300- and 400-meter races and standing tall and handsome on the podium.
"Sometimes I would watch him and just be proud that I made that," Katherine says.
Off the track, his friends say he was the life of the party. He had a disarming sense of humor and enjoyed being a part of the Penn social scene. At an age when young people are typically self-conscious, Hamlett seemed comfortable in his own skin. He wore workout clothes to class, choosing function over form as he roamed from lecture halls to the track. His friends painted him as a goofy kid, but he pulled it off well.
Sometimes I would watch him and just be proud that I made that.
Katherine Hamlett, Tim's mother
"That was Tim," said teammate Kyle Webster, "always smiling."
His smile flashed his signature trait. "He had the 'Hamlett lip,' his bottom lip hung a little more when he smiled, same as my husband," Katherine said. "Some days, I wake up in tears and just lay in bed when I realize he is really gone."
* * * * *
Penn has a rich history in track and field. Since 1895, the university has hosted the Penn Relays, the sport's oldest and largest U.S. competition. In 2010, Usain Bolt ran at the event. As an Ivy League school, Penn might not have a reputation as a traditional D-I powerhouse, but it's a competitive program filled with highly recruited athletes who could easily run in the power conferences.
A D-I atmosphere and a chance at a brand-name degree may be an exciting opportunity, but it also creates a unique pressure cooker of physical exertion, academic workload and time commitment. Though an individual's reasons behind suicide are complex, these demands on a student-athlete can contribute.
"There are additional risk factors of student-athletes," says Penn's Dr. Anthony Rostain, who serves as a Professor of Psychiatry and Pediatrics, as well as a consultant for the National Football League and Major League Baseball. "I'd say there is a lot of risk. There is a lot of concern over depression."
In his sophomore year, Hamlett changed to the 800 for the sake of the team. Coaches thought the shift would give one of their most talented runners a competitive advantage. The 800, however, was out of Hamlett's comfort zone.
He was still always smiling, but even when he was smiling, it was empty, you know?
Kyle Webster, Tim's former teammate
In high school, he avoided the event because of the intense physical strain. In order to prepare his body for the punishment of the 800-meter, Hamlett had to work harder than ever. "The issue with the 800 is that it takes so much more training," says former teammate Allante Keels. That meant extra practices, longer lift sessions and little free time.
The transition took a toll. "When I saw him, I noticed he was dropping weight, I said, 'Son, are you eating right?'" Archibald Hamlett says.
As coaches pushed him deeper into training, those close to Hamlett say they began to notice changes. Their gregarious, outgoing friend seemed to be pulling away.
"He was still always smiling," Webster says, "but even when he was smiling, it was empty, you know?"
Over a matter of months, Hamlett became withdrawn from his social life to the point of isolation. "Tim was in my room every day of the week. When we were hanging out, I was as close to him as being my brother on campus," Webster says. "Then I never saw him."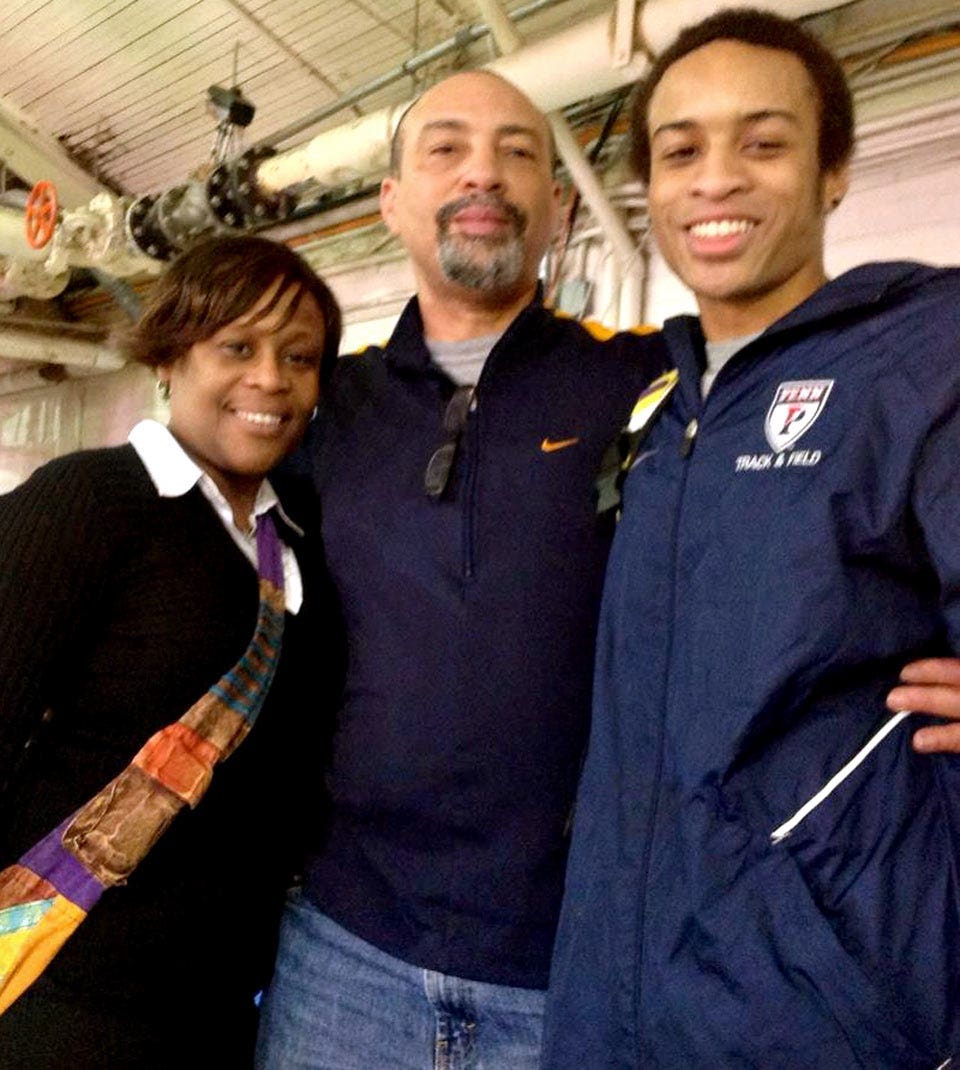 The Hamlett family. From left: Katherine, Archibald and Tim.
* * * * *
In January 2014, the middle of Hamlett's sophomore year, teammate Madison Holleran died by suicide. A dark cloud hung over Penn's track program. Hamlett and his friends ran a race in her honor.
In retrospect, the Hamletts feel there were gaps in communication between the university and parents regarding mental health in the wake of Holleran's death. They say neither the track team nor the athletic department broke the news to parents of the team. Ron Ozio, Penn's director of media relations, said in a statement the university followed protocol.
"When a student dies, administrators work to coordinate an official university response," the statement said. "Great care is taken to identify and notify friends and other members of the campus community who may be impacted by the student's passing."
On campus, there was no lack of awareness about Holleran's death. It was inescapable for Hamlett and the rest of the track team. Hamlett's photo was even used as the cover image for a campus newspaper article about Holleran's suicide. Shortly thereafter, ESPN, People, Huffington Post, and other national media flocked to the story.
The Hamlett family, though, says it didn't get any notice about Holleran, or any resources to educate in suicide prevention. "At the time, Tim was one of the students who was still alive," Katherine says. She feels there could have been a way to save her son with more information.
The effect Holleran's death had on Hamlett is inconclusive, but as the team mourned, his mental health deteriorated.
His teammates suspected something was wrong.
"A big moment for me was when I caught him on the bridge on campus," said Webster. "I said I hadn't seen him for a while, and he kind of responded, 'Yeah, I'll catch you later,' and that just wasn't Tim. He was always like, 'Let's go to dinner. Let's play Madden right now.' He would drop everything and say, 'Let's go.'"
He was looping. He would say the same things to me over again.
Archibald Hamlett, Tim's father
Hamlett's parents, meanwhile, were not immediately aware of the change in their son, but were tipped off at the end of his sophomore year. As they moved Hamlett out of his dorm room, his teammates hinted that Tim had been gone from his normal activities. He and his wife hoped it would be a phase. They trusted the coaches around their son were taking good care of him.
In September 2014, shortly after Hamlett returned to Penn for his junior year, his parents say his roommate raised serious concerns over his behavior. It was then the Hamlett family also learned their son had been removed from the track team because he was missing practices and was no longer in competitive shape.
That day, the Hamlett family made arrangements to pull their son out of school and take a leave of absence. While his parents carefully evaluated their medical options, Hamlett took a turn for the worse. They observed an alarming change in their son's personality.
"He was looping," Archibald Hamlett remembers. "He would say the same things to me over again. I would walk past his room and he would be listening to a song, and then I'd come back 10 minutes later and I'd ask him, 'Are you still listening to the same song?'"
Over the ensuing months before his disappearance, Tim spent most of his time locked in his room. He avoided talking to his parents even when conversation naturally presented itself. He became isolated from the outside world.
Then, suddenly, on the day after Christmas, Tim Hamlett left home and never returned.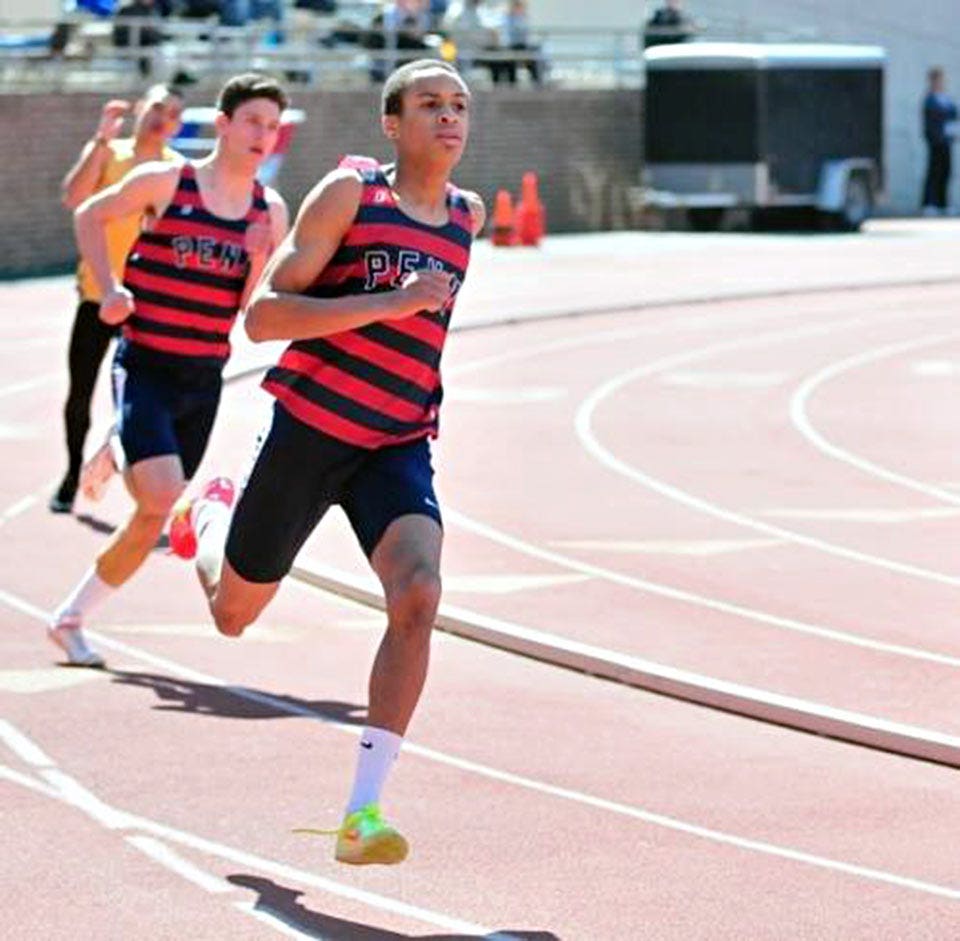 Tim Hamlett in full stride for Penn.
* * * * *
Upon hearing about Hamlett's death, Penn officials called his parents with an offer to hold a candlelight vigil for their son on campus. Though the Hamlett family appreciated the gesture, by then they had shifted their focus from bereavement to action.
Thus, the Hamlett family has worked with undergraduates to champion the Hamlett-Reed Initiative — a sweeping proposal of university policy changes named after Tim Hamlett and Theodric Reed, another Penn student who died by suicide in August 2014. The proposal was hand-delivered to Penn President Dr. Amy Gutmann by a march of 30 students on Sept. 10.
"Penn is a great institution, but it needs to focus on the loss of life," Katherine says. "We want to make sure this never happens to another family again."
The document calls for sharper focus on high-risk groups like student-athletes, increased access to counselors, greater anonymity, proactive outreach to students, input from third-party experts, as well an all-inclusive mental health orientation for students and parents. The ambitious initiative also stipulates aggressive deadlines as soon as Oct. 1.
Penn is a great institution, but it needs to focus on the loss of life. We want to make sure this never happens to another family again.
Katherine Hamlett
"We don't want to nibble. We want to bite," Katherine says.
The university has responded quickly. On Sept. 18, Penn administrators met with student leaders to negotiate the terms of the Hamlett-Reed Initiative. While the policymakers did not commit to the initiative as a whole, they agreed to follow up in the coming months.
Dr. Rostain agrees with the spirit of efforts like the Hamlett-Reed Initiative while also tempering expectations. "Seven out of 100,000 will kill themselves among college students," he says. "That's a sad statistic. Penn, because of the size of its community, it's predictable this will happen. To try to suggest otherwise is to foster a myth."
Dr. Rostain's views reflect the pragmatic realities facing mental health professionals. He believes the goal of suicide prevention efforts should be to understand risk factors instead of playing a zero sum game.
Penn has tried to address the issue in its own ways. The school announced a partnership with the Jed Clinton Health Matters program and formed the Task Force on Student Psychological Health and Welfare, appointing Dr. Rostain as co-chair. The task force's eight-page report made little to no mention of student-athletes as an at-risk group.
"We didn't identify it as a specific need," Dr. Rostain says.
Time will tell if either the Hamlett-Reed Initiative or Penn's institutional efforts will improve the situation on campus, but Dr. Rostain cautions that combatting the issue can be difficult.
"It's very hard to know sometimes," he says. "People don't want others to know how close to killing themselves they are, so that's the part of the human dimension policies or institutions can't really do anything about."
The Hamletts echo the difficulty in recognizing the warning signs.
"We never thought it would have happened to us," Katherine says. "My son was my oxygen, who elevated me to a whole other dimension of what it means to be alive.
"He's still my oxygen, but these days it's harder to breathe."
Need help? Call 1-800-273-8255. You'll be connected to a skilled, trained counselor at a crisis center in your area, anytime 24/7.
For more resources visit the website of the American Foundation for Suicide Prevention (https://www.afsp.org/) and the Jed Foundation (https://www.jedfoundation.org/)
Follow Justin Ching on Twitter @Justin_Ching