For Boston Marathon's Rich Havens, test of mettle led to awarding medals
(Our continuing series about the Boston bombing tells the tales of more than two dozen people directly affected at last year's marathon. So 2014 is the comeback, because 2013 was the knockdown. This is our latest installment. Read their stories.)
When two bombs detonated near the finish line of the Boston Marathon just before 3 p.m. last April 15, there were nearly 6,000 runners on the course, their races cut short by the havoc on Boylston Street.
For most of those stranded, thoughts of finishing what was left of the 26.2 mile trek became secondary to the safety of those who were nearest to the blasts.
When the dust finally settled that evening and in subsequent days, it was only natural that those competitors marooned by the horror at the end of the route lament their own races left unfinished.
Rich Havens knows the joy of crossing the finish line at the Boston Marathon. The finish area coordinator for the race since 1997, Havens ran Boston for the first time in 1980 and has completed the race more than 10 times since.
As part of his job, Havens arranges the distribution of medals to marathon finishers, and it was he who made the call well into the night of April 15 to hand out medals to everyone who raced, not just those who officially finished. Such a decision –€" giving finisher medals to non-finishers –€" would normally be controversial in the running community, but Havens says he doesn'€™t regret it for a second.
People were in tears, even people who weren'€™t receiving medals who were there just watching. They couldn'€™t believe we were doing that.
- Rich Havens
"€œI remember it was about 8:00 or 9:00 and (people were collecting their belongings) and we made the decision to say, '€˜You know, people did finish this race,€'"€ Havens said. "€œWhether they finished a mile before, at (Massachusetts Avenue and Commonwealth Avenue), or they were closer, they finished.
"€œTheir race was not finished because their bodies gave up, their race was finished was because of what an outside force did. So when these people came to pick up their bags, they thought that'€™s all they were going to get, but we were not going to end it there. We were going to say, '€˜By the way, you forgot something,'€™ and drape a medal around their neck.
"€œThe emotions that came from that action –€" you had to be there. You had to be there to actually see it. People were in tears, even people who weren'€™t receiving medals who were there just watching. They couldn'€™t believe we were doing that."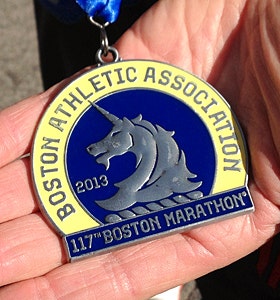 Handing out medals shined a bit of light on an otherwise somber scene at the makeshift finish area, where thousands of deserted yellow bags filled with unclaimed belongings lined well-guarded section of Berkeley Street, less than a half-mile from the site of the explosions.
"€œNormally, when people finish a race they get their medal –€" '€™Yay, I finished 26.2,'€™ you know? –€" then they get their blanket, get a banana and leave,"€ Havens said. "€œBut this, receiving that medal, was even more coveted last year than any other year before.
"€œWhen we made that decision and started handing them out to people and saw the range of emotions that were displayed, it gave me a personal satisfaction. It was emotional for me to know that I made the right call. What if I made the decision that '€˜Nope, you didn'€™t finish the race, you didn'€™t go 26.2, sorry we can'€™t hand these out™?' It wouldn'€™t have felt right, so I'€™m glad we did the right thing."€
This year, Havens says he hopes to see a more traditional ending to the 118th running of the race, but he'€™ll never forget the terror of the 117th –€" and the eventual good that shined through in the hours and days after the attacks.
"€œIt'll always be there; it'€™s a stamp that will be with me for the long term, and you can never shake what that was,"€ Havens said. "€œWhat happened last year happened, and that (finish) area that we created was needed. It was something, on a day that was a big lowlight for all the reasons we know about, it was a big highlight that, frankly, I don'€™t think I want to lose."