Why Breanna Stewart is the best basketball player Team USA will have at the Olympics
LOS ANGELES — This world is going to hell in a handbasket, and it's all the next generation's fault.
Millennials are sarcastic brats who come to work drunk. They have no sense of their place in the world, spending more than they earn and forcing their parents to foot the bill. They don't understand how to run a successful business, because they're more concerned with staring at Twitter all day. And they've doomed capitalism with their focus on ridiculous activities like having fun.
Truly, millennials are the worst — until you meet one. Then, you understand that they are motivated, brilliant, and trying to make their way through an increasingly complicated existence. And should you have the extraordinary fortune specifically to meet Breanna Stewart, the 21-year-old phenom, you'll quickly realize this world is in very good hands.
You know Stewart's resume. She's a four-time national champion who predicted she'd sweep her four seasons before she'd won her second title. For four straight years, she came away from the NCAA tournament as its Most Outstanding Player. No player in NCAA history has blocked 400 shots and dished out 400 assists — except for Stewart. In 2015-16, she led UConn in scoring, rebounds and blocks, while shooting over 40 percent from deep.
I am a woman of my word!!!! 🏆🏆🏆🏆 #BleedBlue

— Breanna Stewart (@bre_stewart30) April 6, 2016
Stewart is the most decorated player in college basketball history, and arguably its most dominant: Someone taller than her peers at 6'4", with the skills of a guard; a player equally adept in the post or at the 3-point line; a defensive whirlwind who can guard all five positions; young enough to have room to grow; coachable and looking to reach that potential; yet tempered by the biggest games on the biggest stage. She is the prototype for what a modern player can be.
There is one thing she's missing, to be fair. The typical "killer instinct" we associate with the best is nowhere to be found with Stewart. As coach Geno Auriemma explained during a recent practice for the Women's National Team, however, "Stewie" demoralizes an opponent in a very different way.
"She has it in a different way. We just talked about this yesterday, as a matter of fact," the UConn coach said. "If Stewie was a little bit like Maya [Moore] and Diana [Taurasi], she might have to play in the NBA, instead of the WNBA. She'd be at that level. But everybody's different. She does it in a different way. She does it kind of less demonstratively. But if you look at her, you say, wow, this team could really use a 3. Well, it's coming. Or this possession, we really need a blocked shot — here it comes."
It's an approach adopted by the best of her generation — those who see the titanic systems that drive humanity and (correctly) decide that the way forward is teamwork. Individual success is an illusion: fleeting at best, toxic at worst. Better to spend one's limited time working as a collective than struggle in solitude against overwhelming odds. For Stewart, that means being able to do literally everything at the highest level so she may fit her skills to the team's needs. It also means never resting on her laurels.
"For me, I think it's just that I have options, if that makes sense," Stewart told FOX Sports. "In this league and at this level, people are really good. Defensively, offensively — just being able to have moves, and countermoves, and just continuing to get better defensively. I feel pretty comfortable and confident with what I'm doing, but there's always a lot of things you can get better at."
Sat down with youth, LAPD & Team USA to discuss the social challenges and racial tension. #BeTheSolution pic.twitter.com/4b4rhPj1gr

— Breanna Stewart (@bre_stewart30) July 26, 2016
That dedication has turned Stewart into one of the game's greatest all-around players, so the comparisons to all-time standouts naturally follow. And given the orientation of our larger sports landscape, they inevitably boil down to NBA players. The one that gets thrown around the most often is Kevin Durant. On the surface, it makes sense. Both are tall players who can reach into forever, and both love the 3-ball.
But the comparison is staggeringly unfair. Not only because of the gender disparity, mind you, although that's a big part of it — and something of which Stewart is well aware. She'd prefer to be compared to the legends of the women's game — people like Moore, and Taurasi, and fellow all-world superstar Elena Delle Donne. Just don't ask Stewart to pick her favorite comparison.
"I don't know, I think that's a tough one. If you look at any of the comparisons, it's all to great players and great people. So you can't just say, 'Oh, I like this one better than this one.' To be talked in in the same limelight as those legends? That's awesome."
The Durant comparison falls apart on a logical level as well. KD is amazing, a singular talent without peer. He's also not the rim protector Stewart is. Durant can do most things on the floor. Through Stewart, all things are possible. These are the facts.
In reality, there is no comparison for the first-time Olympian. Hers is a wholly unique skill set, which isn't lost on Auriemma. A coach who's taught his share of legendary player had only one name who stands next to Stewart.
"The only one — and she's not 6'4" — the only one who did that was Maya. For our team, anyway. Stewie has all the qualities that Maya had, but she's a lot longer. But that's how Maya used to play. I could show you a clip when we're playing Texas in the NCAA tournament, and we're up like 30. And a kid has a breakaway layup, and Maya sprinted the length of the floor to block the kid's shot.
"Fast-forward, we're playing Rutgers two years ago in the AAC tournament. Kid's got a breakaway in a 25-point game, and Stewie comes out of nowhere to block the kid's shot. Why? Just because she can. And that's a rare quality in today's players."
Indeed, for all of her affability, one would do well not to cross Stewart on the court. While she leads her teammates with a positive approach to the game, there's no hesitation to embarrass an opponent. Asked if she'd rather dunk on someone or swat a shot into the 14th row, Stewart grinned. "I'd love to dunk on someone. That would be great. I don't know how often that would happen, though."
She certainly has it in her, though:
Unfortunately for Stewart, opportunities to demoralize an opponent have been few and far between during her rookie year with the Storm. As people are fond of reminding Stewart, she's lost three times as many games this WNBA season as she did in the entirety of her UConn career. Even there, though, Stewart showed her maturity in adapting to a new set of circumstances.
"Coming from UConn, not used to losing. [Laughs]. And then having lost, I think we're 9-15 right now. And just putting that on the backburner, and focusing on the next game. Because the season goes so quick, that if you stay stuck in the game you just had, your chances of winning the next one are even lower."
Moreover, Stewart is still a rookie in a grown woman's game. Her own play has been up and down this season as she's learned how best to deploy her myriad skills. That continued during Team USA's scrimmage against the Select Team on Monday night. The lower-level squad pushed the National Team to the brink in a contest decided by just four points, and Stewart was involved for both better and worse in the clutch.
On consecutive plays, she prevented an easy layup then had her own shot swatted on the baseline. The next time down on offense, she nailed a clutch jumper after nearly having the ball stolen — but she followed that play up with an awful foul on a 3-point shooter. Then she went and redeemed herself with her own clutch bucket to tie things up. From there, Stewart's defense completely shut down the Select squad, she scored one of the clinching buckets, and the National Team pulled out a victory.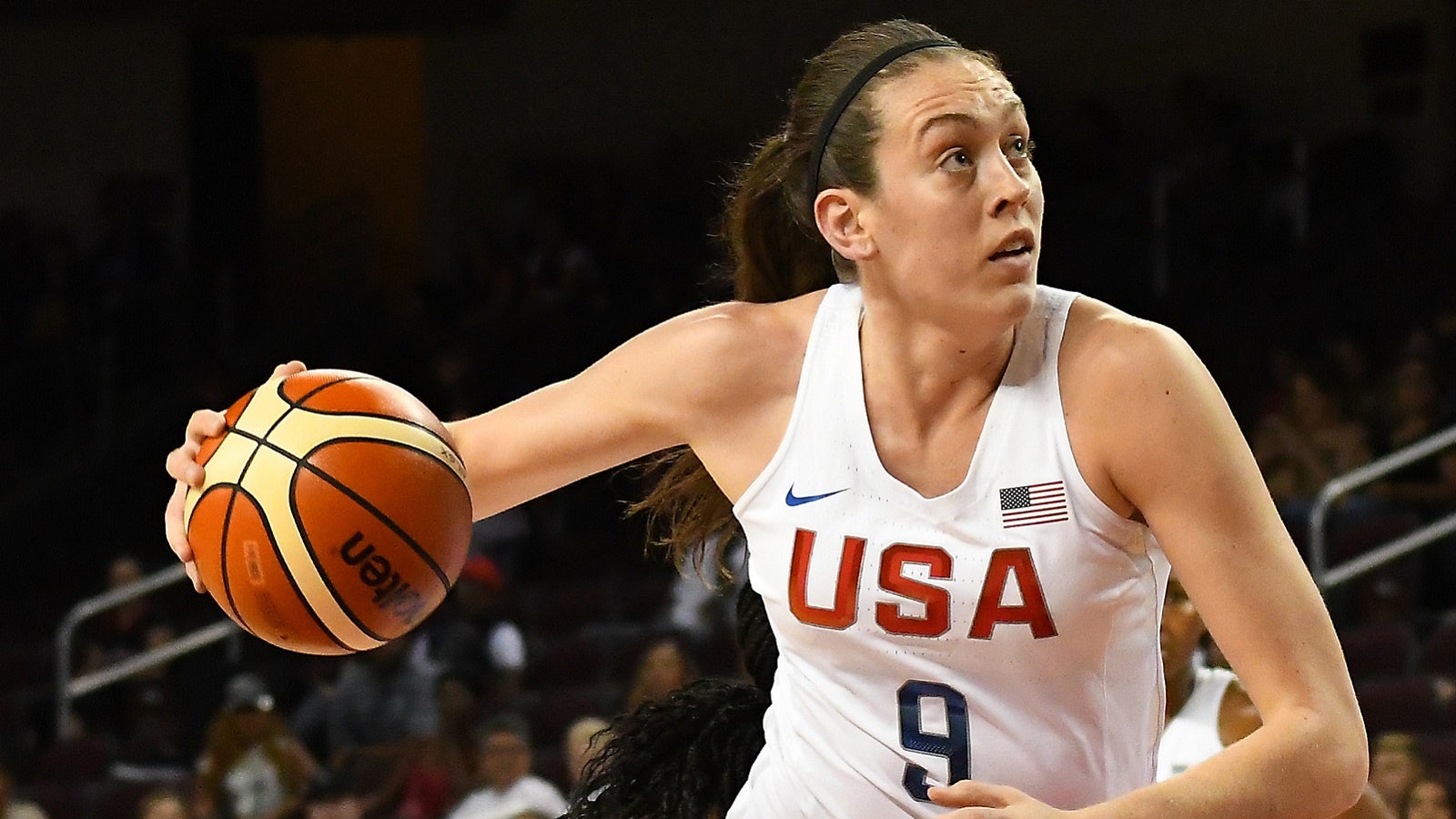 The upshot for Stewart and Team USA? She won't make those mistakes again. She immediately takes any potential lesson to heart, internalizing it and improving her game in the next moment.
"You know, her first trip with us at the world championships in 2014, she was really overmatched," Auriemma said of Stewart. "And we really couldn't put her out on the floor against the best players in the world. Now you fast-forward, and last October we went to Spain, and she was really, really, really good. And now you fast-forward to today, and she has spent X number of months in the WNBA, and she's doing to them in that league what she did to the college players when she was in college. So just in two years, she's made herself from, 'Oh yeah, she's going to be in the future, really good. That's why she's on the team.' To now, man, she's going to play a lot maybe, and really help your team win. That's how far she's come in such a short period of time."
Should she continue on this path to ultimate domination — doing it with her own approach all the while — she'll become the face of a generation. Rest assured, she's well on her way.