How gymnast Simone Biles stumbled into her signature move by accident
FOXSports.com's Brett Smiley recently chatted with the U.S. women's gymnastics team's Simone Biles, the three-time world champion in the all-around (2013-2015) and four-time national champion (2013-2016).
The 19-year-old Texan has become the most decorated gymnast ever at the world championships with 14 medals (10 golds) and is widely expected to continue her reign of international dominance at the Rio Olympics.
FOX Sports: You've compared the process of getting into shape for competition as "repeatedly convincing yourself you aren't going to die." What's the most challenging part of your preparation?
Simone Biles: I think it's getting the mentality and also the endurance. Once you have the endurance you can pretty much do all of your routine. But it takes convincing yourself every time that you'll be okay, and that you can do the routine and the skills and kind of go on autopilot. Because if we actually think of the things that we do — we can really hurt ourselves. That's why I was referring to there. What we do is dangerous and we're supposed to make it look easy because we've been training since we were young. I think once you get the mental aspect and the confidence, you can pretty much do anything.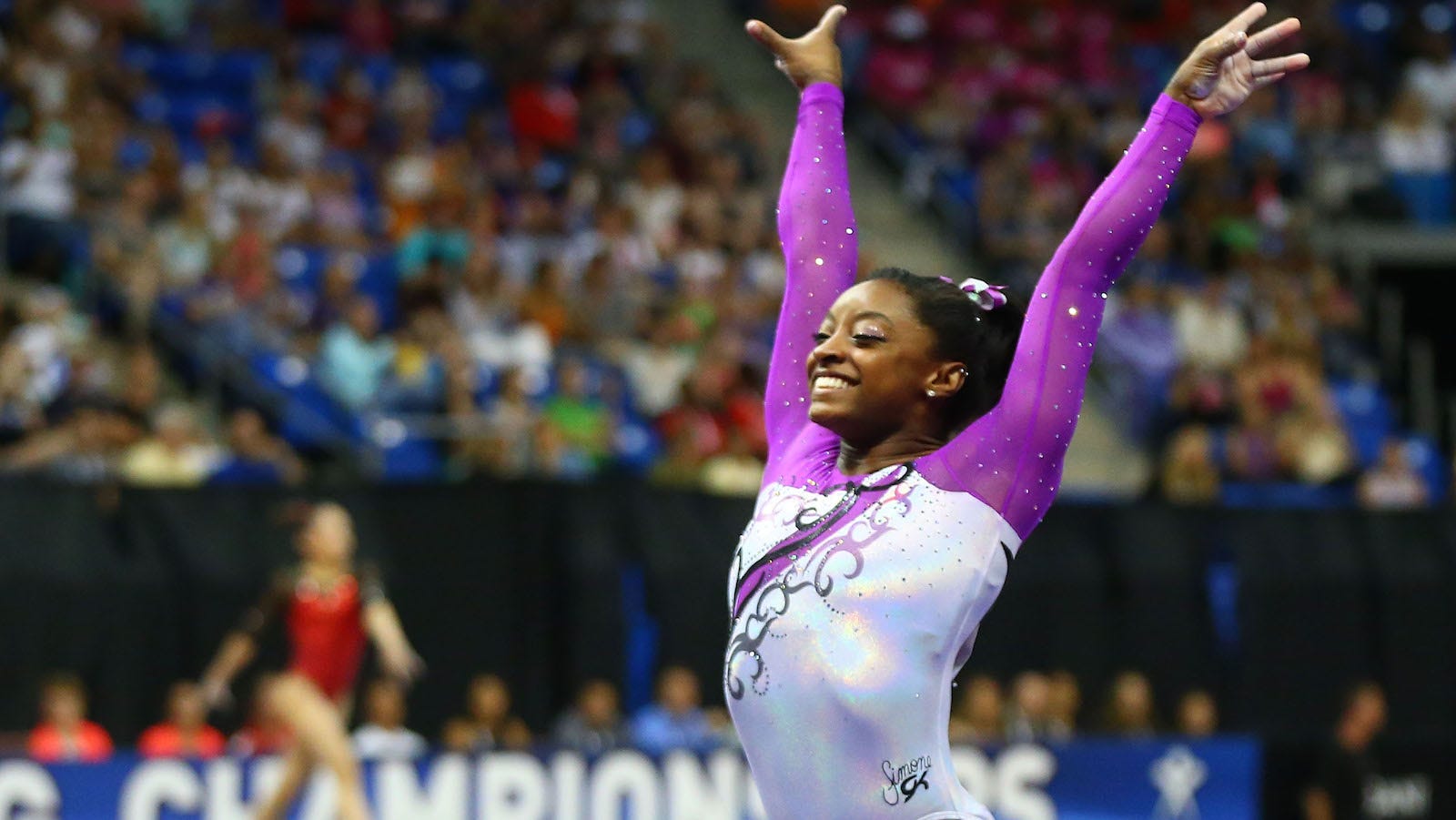 FS: How and when did you create the "Biles" — the double flip in the layout position with a half twist?
SB: It was in 2013, I was training another floor skill but one day I was at the gym and I kind of landed short on a double layout full out and I partially tore my calf muscle. So my coach figured since it was a backwards landing, that's why it can happen, but she thought 'What if you did a half turn and landed forward, then it could protect your calf.'
And she said no one has ever done that skill before so it could potentially be named after you if you ever went to a world competition and did it. So I thought that was cool and started playing around with it in the gym and we took it to camp, showed Martha [Karolyi, the U.S. women's gymnastics National Team Coordinator], and they didn't think it was going to happen because it's very tricky as a forward landing skill, but I landed it 95 percent of the time so they thought 'OK, maybe she can do it.' And it looks really good, so that's how we came up with the skills.
FS: What's your earliest memory watching the Olympics on television?
SB: My earliest memory was in 2008 watching Nastia [Liukin] and Shawn Johnson. I loved watching Shawn's floor and Nastia's bars and beams so I felt that was so exciting, and to watch them medal first and second.
FS: If you indeed make the team — what about the Olympic experience do you think you will enjoy the most?
SB: I think it's very exciting to have so many athletes at the same place at the same time that all have the same talent. I think it's so cool to have such a collection of talent in one place with everyone doing amazing things, representing their countries. I'm really excited to see the arena feel, and all the energy in the Olympics village from all the athletes. Everyone is striving toward toward that one goal.
FS: I can't quite make out the song you used for the Pacific Rim floor routine — what was that? Is that the same song you plan to use at the Olympic Trials in San Jose?
SB: Oh man, I'm not sure what it's actually called! I know some of the fans do but I don't know. Our choreographer brought it to me and then Martha approved it and she really liked it and so did my coach and I.
FS: Same one you'll be using at the Trials?
SB: Yes, I'll keep this routine.
FS: What goes through your mind the moment before you begin a routine?
SB: Before I begin a routine I just think confidence and how many times I've done this routine, so one more isn't too big a deal. I just try to relax and not think about it as much right before I go.
FS: Can you tell me about your involvement with Tide and working with Nadia Comaneci and Dominique Dawes?
SB: I'm super excited to be working with Tide as well as Nadia and Dominique. I think they set the bar pretty high and that's exactly what Tide is doing, so I think it was the perfect fit. And they definitely understand the evolution of gymnastics. It's cool to carry on that legacy from those two. So I'm excited for the campaign and the videos to come out.
FS: Gymnastics is one of the most popular sports among TV viewers at home. What's something that the average Olympics viewer, who tunes in only once very four years, probably doesn't know about gymnastics?
SB: It's an ongoing sport every single year. At the end of the year there's the big meet, every year we have a world championship, and it's practically the same athletes which is pretty cool. And not as many people tune in as for the Olympics so I think they're missing out on all of the greatness from many of the same athletes that are at the Olympics.
FS: You got to announce the Texans' 4th- and 5th-round draft picks this year. What was that experience like?
SB: It was very nerve-wracking but it was very exciting. It was an honor that they would want me to announce the players, and that I could change someone's life just like the way I made the national team and got the announcement that changed my life. So I was excited to be a part of that because I know how hard they worked.
What an entrance, @Simone_Biles! 🏅🏅🏅 #TexansGameday pic.twitter.com/qjhXXGxMa0

— Houston Texans (@HoustonTexans) November 29, 2015
FS: Have you met another fairly well-known Houston athlete, J.J. Watt?
SB: Yes, I got to meet him at one of the Texans' games — he ran up beside me and said 'Congrats on everything and good luck.'
FS: Is the plan still to go to UCLA in 2017?
SB: Well, not on a gymnastics scholarship but I'm still hoping to go there after I finish everything, and hopefully plan to help out with the team somehow if I can.
FS: What attracted you to UCLA?
SB: The coaching staff and the girls that I would be going with my year. We have a very talented and amazing group of girls and a lot of them are from camp so I know them very well. It felt like a home away from home for me, especially with Val [Valerie Kondos Field].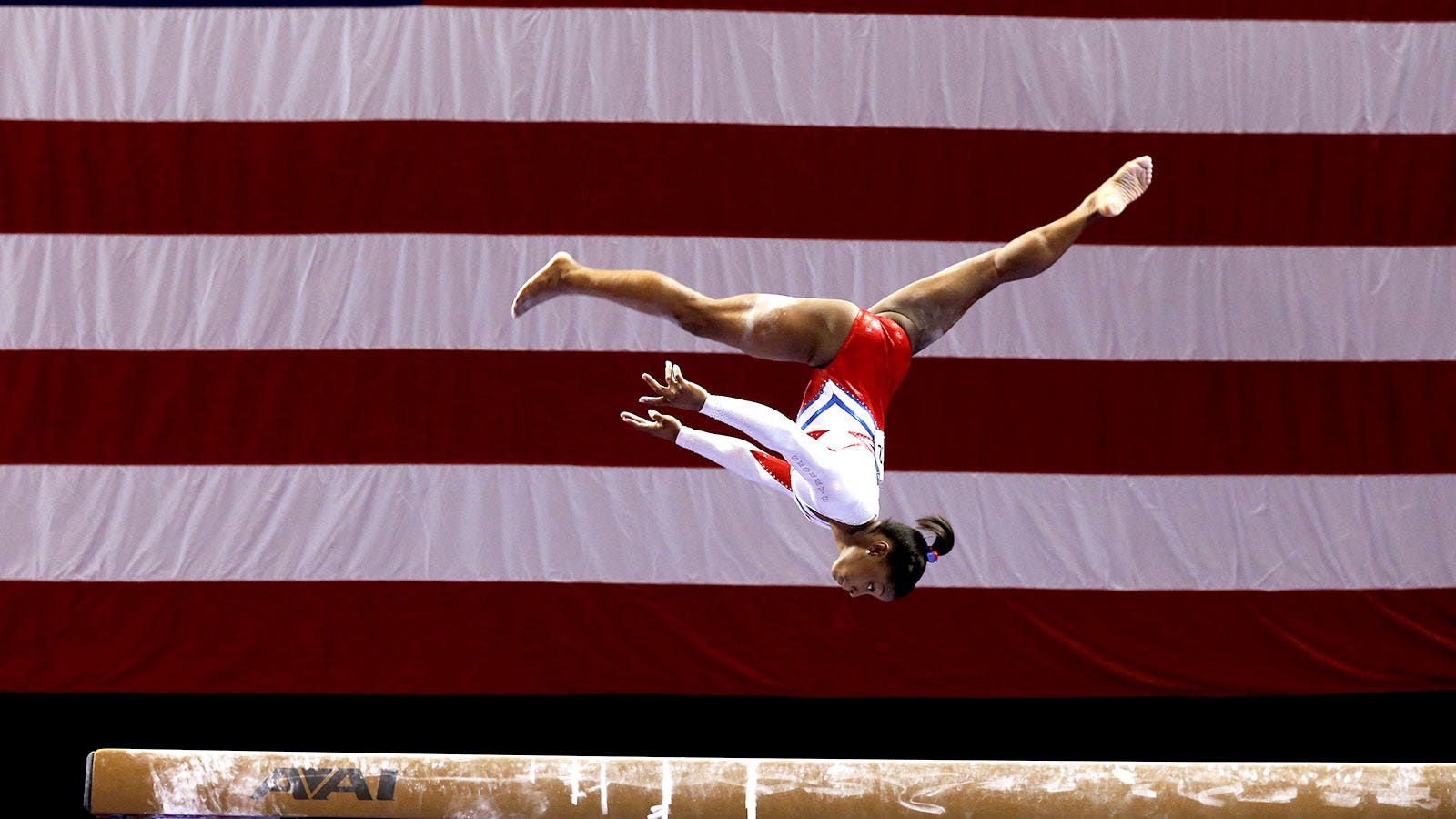 [RELATED: Olympic gold medal diver David Boudia on the dangers of diving and repeating in Rio]