Motley Crew: The incredible story of the Dirty Dozen Rowing Club
The waters of the Oakland Estuary were suitably calm in the earliest hours of March 15, 1983. Only a light breeze swept across the narrow channel that separated its namesake from the island of Alameda. In the daytime, the divide represented a stark contrast. Container ships, cargo cranes and all manner of manufacturing dotted the Oakland side, with soccer fields and planned pockets of suburbia just across the strait. It was always a strange juxtaposition, but there was an even stranger sight on this night, that of Allen Trant, a 58-year-old diabetic with a history of chronic heart trouble, lurching his 14-foot rowboat across this couple of thousand feet of water at 3:30 in the morning, one deliberate stroke at a time.
After coming ashore, Trant made a quick stop at the Oakland Grill, his favorite all-night spot near Jack London Square, for a light breakfast — stack of pancakes, three eggs (sunny-side up), bacon (four strips), and coffee — before a row back across to his floating home in Alameda's Barnhill Marina. Trant cleaned up and drove into Emeryville, just northwest of Oakland, to the offices of Consolidated Capital Realty, a real estate investment firm where he was a vice president of a division responsible for 80 percent of the company's profits. Before heading inside, he stopped at the bakery next door to pick up pastries for his coworkers. It was now 5:30 a.m., and he was so exhilarated by the morning's agenda — which didn't have a thing to do with real estate investing — that instead of taking the elevator, he raced up the nine flights of stairs to his office. This would be, Trant was convinced, the most important day of his life.
That's when the heart attack came.
As Trant took the elevator down to ground level and sped off in a cab to the hospital, he also left a group of very perplexed rugby players standing on the banks of Oakland's Lake Merritt. Their coach had urged everyone to show up no later than 6 a.m. for practice, and now Trant hadn't shown. They'd waited a half hour, with no sign of their most senior teammate.
But this wasn't rugby practice. These nine men, who ranged in ages from 24 (fireman) to 42 (high school football coach/teacher), were preparing to embark on one of the most unlikely and utterly weird journeys in the history of amateur athletics. What they hoped to do had never been attempted and has surely not been tried since, for to do so would risk becoming the punch line of jokes around the world.
The goal, as set by Allen Trant and agreed upon by all: become a world-class rowing squad, qualify for the 1984 Summer Olympics in Los Angeles and bring home gold to the Bay Area. And of all the challenges this implausible effort immediately conjured up, the most damning was that not a single one of them had ever rowed crew — a skill they had less than 16 months to master.
What followed would change every one of their lives forever. Global adoration, heartbreak, improbable circumstances — these would become near-commonplace occurrences of everyday life. And these nine men, already familiar with the demands of a physically brutal field sport, would be tested in ways even they could not have conceived.
But on this brisk March 1983 morning, the other members of the newly formed Dirty Dozen Rowing Club just wanted to know what the hell had happened to Allen Trant.
Homer Allen Trant was always drawn to the water. Born on January 6, 1925, he was raised by his mother, sister and brother in one of the poorer residential areas of Omaha, Neb. — "the low-rent district," as he'd call it. His family had come down from the South Dakota plains home to the Rosebud Sioux and settled near the city's stockyards and meatpacking plants along the Missouri River. As a boy, Trant would walk past these bustling symbols of industry, perhaps find a tree along the river bank and fall into one of the Horatio Alger paperbacks he so regularly devoured.
Trant had read about Olympians in a Boy Scout manual — though still too young to enroll even as a Cub, he figured it best to be prepared — and decided that he, too, would make the Olympics one day. And so throughout his youth, Trant was seduced by the rush of athletic competition. He enrolled at the University of Nebraska and made the football team, wearing No. 19 and playing halfback, though he was barely 160 pounds. Trant never got any significant playing time and was pulled into active duty as a Navy pilot in October 1943. "SERVICE CALLS SOUND FOR HUSKER GRIDDERS," read the Joplin Globe (Mo.) newspaper headline.
When he returned from the war, Trant settled in the San Francisco Bay Area and enrolled at the University of California at Berkeley, where he (again) made the football team as a halfback. As with his hometown Huskers, he didn't find much footing with the Bears, though he did get to sport a fancy Heisman-like pose in a 1946 game program.
After graduating in 1949, Trant enrolled across the Bay at Hastings College of the Law in San Francisco. He passed the state bar in 1954 and practiced law in Oakland for almost 20 years before moving into the financial sector. As the '70s came to a close, Trant was one of the top executives at Consolidated Capital Realty, with its 700-employee office in nearby Emeryville. He married and had three kids but eventually divorced and settled into a rickety floating home in Alameda that he bought on a lark for about $60,000.
The allure of living on the water was inescapable for Trant. He even bought a neighbor's boat, which wasn't even for sale, oars and all, for $2,500 on the spot and would practice by stroking his way across the Oakland Estuary, where his home was moored. It was only about a quarter-mile across to all the shops and restaurants and nightlife that Oakland offered, and the exercise was good, especially for a man with intermittent heart troubles who was teetering on the risk of full-blown diabetes.
The view was much better out on the water than when cooped up inside his inland apartment in Emeryville. That was perfectly suitable for daily life, but this second home on the water — a pied-á-l'eau, if you will — had its charms. It needed upgrades, sure, but those would come. And here he could row and meet people and forget about the daily stresses of office life, how he didn't see his kids enough, how he felt the internal burden of some greater purpose.
A new decade arrived and Trant turned 55. The Olympics were a dusty memory, but his competitive drive had not yet been fully quelled. Good thing, too, since it was during that spring of 1980 that he would meet the men with whom he'd become entwined for the rest of his life.
"By and large, every rower in an eight-oared shell does the same thing — pull an oar through the water as smoothly as possible as hard and as frequently as requested by the coxswain." That's how author Daniel James Brown describes the sport of rowing in The Boys in the Boat, which chronicles the true story of how nine Americans from the West Coast hoped to win gold in rowing during the 1936 Summer Olympics in Germany. It is the clearest and fairest explanation of rowing as will ever be put to paper. Crew is not about power or aggression. It's about being smooth through the water. How that is best accomplished, though, is open for debate.
But first, a (very) brief primer on rowing: The two disciplines are sculls (where you grip a separate oar in each hand) and sweeps (where you hold the same oar with both hands). The boats themselves, called shells, come in four sizes: single (one rower), pairs, fours, and eights. Sculls come in the first three varieties, sweeps the last three. The eights are generally considered the most prestigious of the races. They are certainly the fastest. The boats themselves are 60 feet long and can weigh as little as 185 pounds. An occupied eight can weigh more than a ton in the water, but as Newton's third law of motion will attest, these boats glide faster and with more power. They can complete a standard 2,000-meter race in less than six minutes. Just 220 strokes to victory, and one rower out of sync can scuttle the entire operation.
It's in this way that the members of the Dirty Dozen (who rowed sweeps) were most suited to succeed in an unfamiliar sport. They already grasped the importance of teamwork in the face of physical demands and precise movements. In sweeps, a bad stroke — mistimed by a tenth of a second or angled just a few degrees off — could doom a race. Comparatively, the most competitive rugby format has 30 players on the pitch (15 a side) going at each other for 80 minutes, and scoring plays often require timing and coordination among all participants. It's these kinds of sporting environments that thrive on trust, above all else.
Tony Machutes has sought out that type of environment his entire adult life. At 6-foot-4 and 235 pounds of taut muscle, he was a standout high school football player in a minuscule town along the Pennsylvania-New York border. The son of a coal miner, Machutes left for a football scholarship at San Jose State University, as he says, "the day after I graduated." When the Dozen formed, the 42-year-old Machutes became de facto captain, his rounded, professorial glasses belying an intense, competitive spirit.
In the beginning, the men were raw — no technique, only power. They were simply athletes who wanted to win. Machutes saw rugby as "mayhem without going to jail." With rowing, he says, the act had changed, but the underlying motivation remained as true as any rugby slobberknocker: "You saw that everyone else was sacrificing their life and that you're just going to get this done."
There is no easy way to explain the earliest machinations that forged the Dirty Dozen. The generally accepted version of events starts that Allen Trant struck up a conversation with the son of an employee during a Consolidated Capital fishing trip in the spring of 1980. This man was a former quarterback at nearby Arroyo High School, and he mentioned how the football team (for which he was an assistant) was strapped for cash. Trant believed in paying forward good fortune, so he asked to arrange a meeting with the coaches. He was soon face to face with Machutes, Arroyo's football coach and athletic director, and assistant coach Mark Knop, a former student of and player for Machutes.
Trant's generous contribution not only jumpstarted the program but also brought him closer to Knop, Machutes, and their rugby mates on a team dubbed the Hayward Area Griffins. Trant watched a few matches from the sideline and was mesmerized by the athletic skill the men possessed.
In the summer of 1982, he signed up his new rugby friends for a bathtub regatta on the estuary. The event, sponsored by KNBR, the local sports radio station, was held annually to benefit patients at Children's Hospital in Oakland, so the eyes of the Bay Area would assuredly be turned to this event. The vessels in this 440-meter race consisted of pontoon-style rigs that held an ornate, decorated tub atop their decks. Passengers used oars to stroke along the port and starboard sides as fast as they could — and hopefully they didn't fall in or capsize on the way to the finish. To that end, Trant hired a local crew coach named Paul Marron to give the men a crash course in basic oarsmanship.
On Aug. 22, 1982, "A Touch of Class," as the vessel was called, with its crew's garish red and white tropical shirts, won the bathtub regatta and did so by cranking about 38 strokes a minute, a respectable rate on par with competitive collegiate crew teams.
That fall, as the owner of a crumbling floating home moored in Alameda, Trant enlisted another member of the rugby team, an out-of-work carpenter named Brad Souza, to remodel his entire residence. "Allen wasn't happy with the guy who was working on it, so I basically started doing some repairs," Souza says. That turned into a job that required more help, so he brought in guys like Steve Rocconi, Steve Anderson, Roger Carroll, Tom Drengacz, and others — core members of "A Touch of Class" Trant knew would work well together.
Two months later, the floating home was finished. Many of the high-end finishes and design touches had to be specially ordered, but the job got done. A freak accident almost sank Trant's home on the day of its christening, but with disaster averted, Trant rewarded them all with a New Year's scuba diving trip to the Yucatán.
It was there that Trant, on his 58th birthday and perhaps in a state of euphoria, returned from his last scuba dive of the day and raised the idea of entering the Olympics. And since rugby had long been eliminated by the International Olympic Committee, maybe rowing should be their sport?
The idea didn't feel completely ridiculous, and they reconvened stateside at their usual pub of choice, the Rugger's Inn — an establishment owned by Carroll and his younger brother, Bobby, and known for its long table planks being held up by kegs at each end — for a few rounds of beers and a more formal agreement to give it a go. It meant sacrifice for most — Machutes, for example, would have to take a leave of absence from Arroyo High School to commit — but they were all in. Trant decided on the team name: The Dirty Dozen. He simply liked that it sounded tough. That there were only 10 of them mattered not.
Fully assembled, the Dirty Dozen was, on a fundamental level, a perfect mix of physiques, interests, origins and ambition. Dell Turner, who'd been playing with the Griffins for four years, was slender and lanky, born and raised in Southern California before going to school in Nevada and ending up in the Bay Area as a salesman. Machutes was a Pennsylvania baby boomer who'd made his way to San Jose. Kevin Dugan, a muscular 24-year-old fireman and the youngest of the group, was a local kid who'd ended up at California State University at Bakersfield on a wrestling scholarship. Carroll, as a bar owner used to lugging kegs without a second thought, had biceps resembling skin-toned coconuts. Anderson, with his blinding Norse-blond locks, was an avid runner and former offensive lineman in high school for Machutes, his old coach. (Knop was a tight end.) Souza was smaller but scrappy, with a stare that could make anyone take a step back. Somehow, this brew of characters mixed well, with Trant's work ethic and Midwestern folksiness acting as a kind of bonding agent.
With a team in tow, ready to make a run at history, Trant set up a meeting in the Bay Area in February 1983 with Julian Wolf, the head of United States Men's Rowing Committee, a man who would ultimately serve as his public advocate and private nemesis for the next 16 months. But at that moment, Trant figured if he could have this man's support, the Olympics would surely be within reach, even without an oar yet wet.
Wolf, a legendary figure in the rowing community since the '40s, was named to the U.S. Men's Olympic Rowing Committee in 1971. Then with the Olympics coming to his home city of Los Angeles in 1984, Wolf was the obvious choice to spearhead the effort to win gold. He helped get Kris Korzeniowski, a Polish defector who'd had success with crews from Italy to Canada to the U.S., appointed as men's national team coach, and they would select the "camp teams" that would eventually comprise the men's eight, meaning the Dirty Dozen would have no chance to qualify together for this race. (Korzeniowski, however comical he found Trant and his American free-market mindset, was one of the Dozen's biggest supporters from the get-go. "Rowing is very conservative sport," he told me, "and it's nice to see, from time to time, someone to have done something out of box.")
For Trant, this news about the eights not being subject to open trials was a revelation. He was crushed. And with Knop and Machutes at his side, Trant became apoplectic when Wolf said something about how his camp squad could give the Dozen a 1,000-meter head start and still beat them. "The hair on his neck just went up," Machutes says.
From his Los Angeles base of operations, Wolf was, in a very real sense, a kindred spirit of the Dirty Dozen — himself a radical departure from the idea of the East Coast, Ivy League rower caricature — but he also held a deep and abiding respect for the culture of rowing and The Way Things Are Done. And as the head of the Men's Rowing Committee, that meant keeping a camp system that would select the men's eight for Los Angeles, no matter how much Trant seethed.
For the next 16 months, Trant made his life's mission to not only persuade Wolf to change the rule but also convince him he was flat-out wrong about his team's ability to shake up the establishment.
"I told [Trant], in all honesty, 'Don't go through with this. You have less than a zero chance,'" Wolf later told one reporter. "But I didn't know who I was dealing with."
When Mark Zembsch was a boy, doctors took one look at his small stature and assumed there must be something wrong with him. One day, a physician showed him a picture of a racing shell and told him, "You can be a big-little guy if you choose." From there on, coxing in the Olympics became Zembsch's dream.
Zembsch was, physically speaking, the perfectly constructed coxswain: diminutive (five-foot-two and 110 pounds) but strong, agile, and quick-thinking. A star at UC-Berkeley under coaches Steve Gladstone and Mike Livingston — who happened to be in that photo the doctor showed him when he was a boy — Zembsch traveled around the world and guided boats in some of the most notable regattas. Professors would stop him on campus just to compliment his performance in a race. Supermarket checkout clerks gave him discounts on food, as if were was the star quarterback. His hero status, Trant knew, would give the Dozen instant credibility from the start. And while he was likely headed to law school at summer's end, Zembsch would also be working with the U.S. national camp team in their Olympic preparations. His bona fides would more than suffice.
"I took my role as an ambassador to the sport," Zembsch told me. "I had no idea where this was going to end up for those guys individually, but I knew that opportunities to present rowing in a great light to folks that have this big of a dream was something I should take very seriously." Two days after a cold call from Trant, Zembsch was in his office at Consolidated Capital, hearing all about the tense meeting with Wolf.
"Julian said we needed three things to get started, but we'd never get the first, as no self-respecting coach would agree to coach us," Trant said, staring at Zembsch. "Now we just need a boathouse and a boat."
Zembsch worked his contacts and secured support from the Lake Merritt Rowing Club, where they'd first practice rowing a barge. They then graduated to an actual racing shell, but not first without an extensive tutorial from Zembsch, blank faces eventually turning to acceptance. And after about 10 practices on the water — interrupted only briefly at the start by Trant's untimely heart attack — Zembsch scheduled a "competitive practice," as he described it, against the easiest boat he could find in the immediate area. That team was the lightweight crew at nearby Saint Mary's College.
The Gaels destroyed the Dozen. "I loved their enthusiasm, but I did think it was important they get a tiny bit of perspective," Zembsch says. "It was a brutal eye-opening experience, but it was important."
After a few days down south to watch the San Diego Crew Classic (which they would race in a year later), Zembsch set up another race, this one up in Vallejo against the California Maritime Academy. This time, it was the Keelhaulers who embarrassed the Dozen. At the start of the race, Dell Turner accidentally split Kevin Dugan's head open when he missed a stroke, fell out of the back of his seat and whacked Dugan in the skull. "Things changed after that," Machutes says. "These young whippersnappers half our size kicked our ass."
The team's incremental improvement was steady, but Trant grew antsy about moving its digs to the Oakland Estuary. Only one location would do: The Ky Ebright Boathouse, home of the formidable UC-Berkeley crew team. The problem was that it was built in 1924 and showing every year of its age. The Cal crew team was looking for Trant to maybe donate a few bucks to its in-house renovation fund. Trant said some of his rowers — that being Brad Souza, Steve Rocconi, Steve Anderson and others with relevant construction experience — would remodel the place top to bottom and that he'd pay for the whole thing. When the renovation was completed some weeks later, the Dozen not only had full use of the structure but also the services of a new coach, a man revered for his rowing genius.
Mike Livingston, as the crew coach at UC-Berkeley, possessed a pedigree that was unequaled in the sport. After rowing at Harvard under legendary coach Harry Parker, he was a reserve on the 1968 Olympic team, won silver in the men's eights at Munich four years later, went to law school, served as counsel for the American Civil Liberties Union, then became the coach at UC-Berkeley. At 6-foot-3 and a shade under 200 pounds, Livingston possessed a steely focus and progressive attitude about athlete training that became the stuff of legend.
"The analytical side of [Livingston] was the Harvard-educated lawyer committed to causes that were not always popular," wrote David Halberstam in The Amateurs, his best-selling book that chronicled the 1984 U.S. Olympic rowing trials. "But the side of him that was the child of California and the 1960s was fascinated with the unknown limits of human experience, the secrets of the mind." (Halberstam also briefly noted in the book how Livingston had taken up coaching "a group of older men known as the Dirty Dozen who had never rowed before but who were going to make an Olympic challenge in the sweeps." The Dozen didn't merit any subsequent mentions.)
It was this mental and physical duality that made Livingston the most respected rowing coach of the early 1980s. "He was the Phil Jackson of his day," says Brad Alan Lewis, who was coached by Livingston to the Olympic gold medal in men's double sculls in 1984. "There aren't a lot of guys who are good rowers and good coaches. Like, none."
His training philosophy was that repetition would lead to refinement. It wasn't a particularly groundbreaking concept, and he fully acknowledges that in the book he later wrote that encapsulates his findings. "If this emphasis disappoints and discourages readers seeking a quick and easy path to skill or knowledge, so be it," he writes on the first page of his book, Mental Discipline: The Pursuit of Peak. "The fact is that to reach the summit, one must climb the mountain." From here, Livingston delves into 250 pages of new-age jargon, hardcore chemistry and the kind of sports psych theory that's become commonplace in many of today's locker rooms. But back in 1984, what Livingston thought about practice had not really been preached, and his progressive approach meshed well with such a quirky, unorthodox bunch as the Dozen.
The idea that you could come to the sport and develop the skills necessary to compete at the highest level in a relatively short period of time wasn't foreign or offensive to me.
— Mike Livingston
"The idea that you could come to the sport and develop the skills necessary to compete at the highest level in a relatively short period of time wasn't foreign or offensive to me," says Livingston, who himself hadn't held an oar until his freshman year at Harvard.
He pauses a moment to laugh. "But at the same time, realistically, the idea that these guys were going to come into the sport and within two years, were going to put together an eight that was going to challenge and defeat the U.S.' best and then represent the U.S. in the Olympics was, to me, naive," he adds. "But I didn't see my role in life as raining on other people's dreams."
The core component of Livingston's philosophy that pertained to the Dirty Dozen was using visualization techniques to help them "see" that it was within their control to row their physical best under any conditions. With Zembsch's time with the Dozen drawing to a close, as he prepared to restart his own training for the National Team, Livingston put off the inevitable no longer. He welcomed the gang to Cal's boathouse once renovations were complete and immediately took them out for an extended practice. He was heartened by what he saw and started gaming out new ways to connect with them.
After five months of training, first on Lake Merritt and then the Oakland Estuary, the Dirty Dozen was finally ready for its first regatta.
August 1983 was coming to a close and Mark Zembsch was getting frantic. He had said his goodbyes to the Dirty Dozen and was preparing for his first day of classes as a new student at the University of San Francisco's School of Law. Getting off to a good start was critical, since he was slated to travel in the springtime across Europe with the U.S. national team. Yes, he'd have to miss classes, but an impressive performance could determine whether he made the Olympics. What he didn't need was any unexpected distractions.
His apartment phone rang. Allen Trant was on the line. "You've got to come here now," he pleaded. "We need you, Mark." The team had arrived for the 101st Royal Canadian Henley Regatta, a quick 40-minute drive from Buffalo across the border. Yes, Trant wanted an experienced coxswain for the Dozen's first crack at international competition, but Zembsch's absence also bothered him on principle. Without him, the Dozen was incomplete.
Powerless to resist Trant's plea, Zembsch waited until after the first lecture of his first day of class and spoke to his law professor. "So," he started nervously, "I'm going to have to miss Wednesday through Friday."
The professor looked back. "Today's your first day of law school!"
Zembsch briefly explained his commitment to the Dozen. "I kinda have to wrap this up," was all he could muster.
The professor's reply cut hard: "You're not going to be successful if you don't have your priorities straight."
Zembsch flew out the next day and told Trant the whole tale when he arrived. "But how many of your fellow law students are in Canada right now?" he bellowed. "None of them have this opportunity! You're way ahead of them!"
With Trant's infectious enthusiasm leading the way, the Dozen were the toast of the Henley. As the oldest participant of the weekend, Trant alone drew coverage in the local papers, including the Toronto Globe & Mail. The hosts from St. Catharines Rowing Club (which won the overall title for the 23rd year in a row) were as gracious and hospitable as in just about any Canadian stereotype you could drum up.
Not all the racers there were as welcoming of the Dozen. One of the lightweights from Vesper Boat Club, based in Philadelphia, came up to the group unprovoked and started trash-talking them, calling the Dozen a joke and other unwise declarations, so Machutes did the one reasonable thing he could think of and threw the guy through a chain-link fence and almost beat the hell out of him. "They were a bunch of f****** douchebags," Turner says. "Bunch of jackasses. I guess all they did was just show their true colors."
Maybe the Philly contingent wasn't down with the Dozen, but the Canadian crowd ate it all up. Aside from hockey, Canadians are sports-mad about two things: rugby and rowing. (They also shared with the Dozen a deep and inseparable love of beer.) So when the Henley crowds heard about these dual-discipline entrants from the West, the Dozen became honorary canucks for the duration of their trip across the border. The recap in Rowing USA magazine even included a special mention of "the Dirty Dozen, an Oakland-based rugger squad which failed to win a race but quickly became favorites with both officials and spectators."
If only the Dozen's rowing prowess had been equal to their popularity. The team made the finals in a few events and even managed a finish as high as sixth in the junior eights, just behind teams such as Dartmouth, but it came in last in the junior fours and a roster snafu disqualified another entry. Its inexperience was evident, but the trip was far from a failure.
With actual regatta racing behind them, the Dozen made a quick trip back to Oakland for more conditioning. Their next big test was just two months out, at the most prestigious regatta in the United States: The Head of the Charles in Boston.
All of Boston knew the Dirty Dozen was coming. "The best way to appreciate the Head of the Charles Regatta," Jackie MacMullan wrote in The Boston Globe's race-day preview, "is to appreciate a group of rough 'n' tumble rugby players from San Francisco who decided one afternoon that they wanted to come to Cambridge and race in the largest single-day regatta in the world." MacMullan described Trant as "a wealthy West Coast entrepreneur" who financed the travel and bought a new racing shell that was awaiting "the rugby fellows" when they arrived.
Whether it was this preview or just the rabid nature of the Head's rowing fans, the Dirty Dozen arrived in Boston as celebrities. Livingston's Harvard connection gave them near-free reign of Newell Boathouse, the Crimson's posh headquarters. They ran upstairs and hung out the second-floor windows for a better view of the Charles River, looking more like frat brothers in their long-sleeved gold-and-black rugby club shirts.
The Dozen were turning heads from their first practice on the water. They wore sunglasses as they warmed up through the chilly river breeze, and Steve Anderson rigged up a portable sound system aboard the boat. As the Dozen's eight stroked down the Charles, the Rolling Stones blasting from speakers within the shell, they endeared themselves to throngs of fans who'd never seen anything like them in the sport.
Standard crew races traditionally clock in at 2,000 meters, but the Head of the Charles is more than twice the length, a grueling three-mile endurance test. The Dozen were fortunate enough to enlist the services of legendary Harvard coxswain Tom Tiffany — the only cox to ever be named Harvard team captain. It was another of Livingston's connections come to pass, as Tiffany had also recently been the coach of Cal's lightweight crew (in essence, the JV squad) for three years. Tiff, as they called him, fit in right away and provided leadership at a critical position.
Once again, as in Canada, disappointment came quick for the Dozen. In the men's club eights, they collided with another boat less than 200 yards into the race and locked oars. In rugby, you can take out your frustrations on someone else in any number of unspeakable ways, but that sort of physical retribution simply isn't done in the water. All the Dozen could do was start screaming like maniacs. Get the hell out of the way! They tried shoving them off with their oars and eventually were able to disentangle, but not in time to save the race. The Dozen cruised to a 13th-place finish, some 21 seconds off the lead. Considering the snafu cost them about 18 seconds, a second-place finish would not have been inconceivable under better circumstances.
But as in the Royal Canadian Henley, the Dirty Dozen moved through Boston like touring rock stars. As they glided under the six crowded bridges that hang over the course, fans leaned over and chanted Dir-ty Do-zen! Dir-ty Do-zen! The emotional support especially helped in the men's championship fours when Trant, as the boat's bowman — meaning he held the first position in the front of the boat — helped guide the Dozen to a 26th-place finish out of 41 teams. They finished a good two-plus minutes out of first but came out ahead of Oxford and the University of Washington. For a 58-year-old heart attack survivor who needed regular insulin shots, Trant had rowed, what Zembsch now considers, "the race of his life."
These performances caught the attention of none other than Harry Parker, the renowned Harvard coach who had produced Mike Livingston and dozens of other Olympians. After the day was done, Parker came over to the Dozen. "Gentlemen," he said, "take yourselves seriously because you guys can be good. Be proud of yourselves and keep working hard."
Somehow, the Dozen finished the Head of the Charles among the top 50 overall teams. They came in 45th, one spot ahead of a team whose members rowed with paper bags over their heads.
While the spectacle of the Head of the Charles played out in Boston, the U.S. Rowing Association was holding its annual weekend-long conference more than 2,600 miles away in Long Beach, Calif. A lavish awards banquet brought together the sport's elite to recognize those who had made noteworthy contributions over the past year. Among those being honored was Allen Trant, "for his remarkable generosity [and] the formation of the Dirty Dozen, surely one of the most unique groups of Olympic hopefuls in our history."
USRowing's executive committee met the next morning, on the conference's final day, to discuss some important matters. Leading off the proceedings was Julian Wolf, who submitted the Men's Olympic Rowing Committee's (MORC) report for the record. "A donor who prefers to remain anonymous has donated $100,000 to the MORC," the minutes noted. "This is a restricted donation to the men's Olympic rowing effort from the same individual who earlier donated $54,000."
The committee was more than happy to take Trant's money, but Trant still hadn't budged Wolf and the others an inch on opening up trials for the eights — and time was running out on his Olympic dream.
The Dirty Dozen's gritty performance at the Head of the Charles turned the men into media darlings almost immediately. Two days after Boston, an Associated Press reporter in the Bay Area named Steve Wilstein filed a few hundred words on the origins of the Dozen and what exactly Trant hoped to accomplish.
"Seven months after their first oarstrokes, these would-be Olympians show signs of accomplishing the near impossible," wrote Wilstein, who even quoted a rather complimentary Julian Wolf. "Now, after watching them Sunday, my feeling is they definitely have a chance to come through those trials," Wolf said. "I have the greatest admiration in the world for these men."
National attention snowballed from there. KTVU, an independent Oakland-based TV station at the time, sent Bob MacKenzie, its go-to reporter for local feel-good stories and quirky fare, to do a segment from UC-Berkeley's boathouse, replete with Blade Runner music bed. Then came the local CBS and NBC affiliates, which gave way to production crews from Good Morning America and CBS Evening News with Dan Rather.
The press wanted any piece of the Dozen it could snag, but with the offseason looming and a make-or-break series of races through Europe on the horizon, Livingston instituted an intense and focused wintertime regimen. He flew in from Hawaii to Southern California for 10-day camps once a month through the winter, and Trant ensured the team made its way south.
Livingston put the Dozen through rigors they didn't know they feared. Home base was a training center that sat on the edge of Newport Bay, near the boathouse that served UC-Irvine, but Livingston often took them far beyond these confines. He conducted two grueling workouts a day along the coastal terrain and inland, and the constant grind took a physical and mental toll on the men.
Ever the motivator, Livingston helped keep the team going by personally producing a 30-minute cassette tape he gave to each of the rowers. Intended as a pre-workout listen, the meditative mantras were written and narrated by Livingston himself. He even composed and performed the flute-violin-guitar-keyboard-drum machine soundtrack in Hawaii with the assistance of his wife, teenage daughter and one musically inclined friend from Guatemala. Ideally, the tape would prepare each man to push through pain and ignore obstacles both physical and mental.
With the sound of a heartbeat punctuating the silence, it starts off:
Good day. We are privileged to live another day in this magnificent world. Today, you will be tested. Today, you will confront your death with the power of your living. As a warrior, this is your practice.
"The most intense training I've ever done in my life," Machutes says. "There were times where I thought, I'm going to die here."
By March 1984 the winter training had concluded, and it was time for Livingston to head back to his residence in Hawaii full-time. More importantly, the Dirty Dozen had to find another head coach in time for its upcoming circuit of European races. The group would be going up against not only the U.S. "camp" team that USRowing was preparing for Los Angeles but also some of the finest national squads around the world. This would also be its only chance to race East Germany and the Soviet Union, which were boycotting Los Angeles. For those countries, these regattas were the Olympics.
For the Dozen, it would present the most formidable competition they could ever hope to face, surpassing even an Olympic final. Trant likely knew his dream of seeing the Dozen compete for the Olympics in the eights was all but dead, but the fours were still in play. He now needed a coach who understood the reality of their situation and who'd push them further than even they thought they could go.
Enter "Little Al."
Allen Rosenberg was, objectively speaking, one of the most successful coaches in the history of United States rowing. He was a former coxswain for Philadelphia's prestigious Vesper Boat Club in the 1950s and had coached the United States' men's eights to gold in the 1964 Summer Olympics, a world championship in 1974 and a silver medal in 1976, in addition to other accolades over the years. He was barely taller than 5 feet and his weight hardly cracked 100 pounds. In time, he'd given up coaching to become a judge in upstate New York.
But Rosenberg had two strikes against him from the get-go. The first was that he was not Mike Livingston, so beloved by the Dirty Dozen that the entire team threw him a going-away luau, everyone (Allen Trant included) sporting fake "bald" head caps as an homage to their follicularly challenged coach. The second issue was that what made Rosenberg the worst kind of coxswain also had made him, in some ways, the worst kind of coach: one with an insufferable Napolean complex.
Trant, using connections at USRowing, pulled Rosenberg out of retirement to coach the squad. He had been itching for years to get back into coaching and was zealous about making the most of this opportunity from the moment he met the men. Irascible and harsh, Rosenberg was not what you'd call a "player's coach," which is not to imply that Livingston in some way coddled the Dozen. Far from it, actually, but Rosenberg's style was divisive and, at times, outright reckless.
This rocky honeymoon period aside, the stresses of a year of training had started to show. The men's lives had essentially been put on hold. Tony Machutes, who had been on leave from Arroyo High School, had to formally give up his post as athletic director. Kevin Dugan's future as a fireman seemed in doubt if he couldn't be around to work. There was no time at all for outside relationships or potential job prospects. There was only the Dirty Dozen.
In May 1984, two months after Rosenberg was hired, they all flew first class to Paris to start the first of five scheduled legs on their European tour. The trip soured once they were airborne. Armed with copious amounts of free airplane booze, the rowers got progressively wilder and less clothed as they crossed the Atlantic. Rosenberg had a habit of scolding them for their drinking, boasting that he knew of oarsmen — that's the word he would most emphasize: oarsmen — who'd consume maybe one or two beers in an entire season. Some of the men tried to keep things light amid Rosenberg's constant nagging — jumping on beds to rouse late sleepers, that sort of thing — but the new coach had put everyone in a bad mental space.
Even those at the top of USRowing acknowledge that maybe the fit wasn't appropriate. "He was a strange dude, you know?" says Kris Korzeniowski, the U.S. men's national team coach at that time. "I don't know if [Rosenberg] was the best coach for them. I don't know if he was a good coach of novices or a good coach for elite rowers, but these were novices."
It was a totally different dynamic when Rosenberg showed up. He believed in a type of management and coaching that didn't fit well with us.
— Dell Turner
Novices or not, the Dozen openly despised him. Like Livingston, Rosenberg was not convinced the Dozen could learn the kind of grace, style and synchronicity needed to row a successful race, but his way of overcoming such lapses was to have them apply all-out strength, to get the Dozen to use their rugby-sculpted biceps to physically outrow other squads. It didn't produce any kind of positive results, and the situation rotted more with every passing day. "We were not oarsmen," Dell Turner says. "It was a totally different dynamic when Rosenberg showed up. He believed in a type of management and coaching that didn't fit well with us."
When out of earshot, the team derisively referred to him as Little Al. They gossiped about his divorce and how that had likely turned him into such a bitter person. Turner and Tom Drengacz started a group they called the Democratic Oarsmen Republic Committee (DORK), a wry message to Rosenberg that they'd had enough of his dictatorial style. When team management dropped off a letter saying the rental car was off-limits, the Dozen burned the letter and cruised the countryside AWOL, in style, for two days.
One of the first new measures Rosenberg implemented was replacing the lighter, more maneuverable composite oars with which they'd grown accustomed. Their first race, in Vichy, France, was a last-place meltdown, thanks to the mammoth wooden oars that weighed down the boat and didn't allow for the forward propulsion the team needed to compete. "Holy Christ," Machutes says, "you had to be a weightlifter to move these things."
After the loss at Vichy, the relationship between everyone grew more strained, a problem exacerbated by the fact that no one could eat enough to counteract the 5,000 calories burned every day. And the team only fractured more when Rosenberg, cognizant that the Dozen would only be entering fours in the Olympic trials, finally split the team up into two smaller, four-man boats.
The problem was that the "B" boat consistently beat the "A" in head-to-head races, the complete opposite result you want as coach. And the finishes weren't even that close. The B won these practices handily and Rosenberg, clueless as ever, was left reeling.
An already bad situation became worse when the team moved to a hotel near Lake Sarnen, Switzerland, so it could practice for the second circuit race an hour away in Zurich. Typically a pristine setting for any water sport, Lake Sarnen was windy and chilling, with a water temperature hovering around 45 degrees. Rosenberg, for whatever reason, considered it a fine time for a grueling routine wherein the eight would row 30 strokes a minute for 30 minutes.
It didn't go well. Their shell sprang a leak and started to slowly sink. Tiffany could tell immediately that they were in deep trouble and, as coxswain, took it upon himself to steer them to the delta of the stream that fed into the lake. The boat did sink … but in three feet of water. If they had gone down in the middle of the lake, they would've all died of hypothermia, if not drowned first. The men half-joked that Rosenberg had wanted to kill them. It was the only reasonable explanation they could produce for such an irresponsible decision to set them out under such conditions. "That's when we were like, 'This guy's f****** crazier than a loon,'" Turner says.
Trant's health kept him from traveling with the team for most of the trip, but he monitored the happenings from his Bay Area office. While maintaining the team's needs from afar, including subsidizing the $300 stipend each rower received in an envelope every week, Trant had refocused on his work at Consolidated Capital, trying to keep the profits high and the suits content. But heart issues and constant diabetic monitoring had ultimately kept him homebound against his will.
Trant finally felt well enough to rendezvous with the team thanks to assistance from his son, Jeff, who had been only a tenuous supporter of his father's unchecked financial support of the team. Several members of Trant's family had been more encouraging of this Olympic pursuit, but Jeff thought the whole charade somewhat silly. Some of the team saw some deep-seated father/son dynamics at play; many of them were the same age as Jeff, yet the elder Trant was spending far more time with them than his own son, the successful lawyer following his father's path. (When asked about his father and the Dirty Dozen, Jeff Trant declined to comment: "I have nothing to say about that.")
The two Trants met up with the team as it was strolling through Checkpoint Charlie — Allen's big cowboy hat so over-the-top American — and he watched them race against East Germany and other Eastern Bloc teams in the Berlin suburb of Grünau. "Trant looked like hell," Turner says. "It was really very troubling." Allen Trant and his son flew back to California after three days.
The Dozen's last-place finish in Grünau prompted Rosenberg to shake up the eight when they reached their next stop, the Yugoslav town of Bled, a most aptly named locale for the team's mental state at that time. With two elite national team rowers traveling in tandem with the Dozen — Chris Clark and George Livingston, Mike's brother — Rosenberg delivered a plea to the team to win one for Trant. He slotted Clark and Livingston into the eight, and the new and vastly more talented Dozen clocked their best result of the tour, a close second-place finish to the East Germans' 23-and-under team. Only a final stop in Lucerne remained before a long-awaited flight back to the States.
It's hard to say who had a worse time in Lucerne, the USRowing camp squad or the Dirty Dozen. The former ended up losing in the eights to Canada by the length of the ball on the end of a bow. (Canada's strategy was to attempt a "fly and die," whereby you row as fast as possible at the start and then basically hope you can hang on.) But the latter was informed it was out of money. Trant's traveling secretary, who'd normally hand the rowers their stipends in plain envelopes, broke the news to the Dozen. Toward the end of the trip, the team was pooling its remaining funds together just so it could go drinking. Tough times call for resourceful thinking and teamwork.
Cashflow issues aside, what few outside of the upper echelons of USRowing realized was that Trant himself had not only personally bankrolled the Dozen's tour through Europe but also footed the travel bill for the U.S. camp system rowers touring alongside them. Estimated cost: a quarter-million dollars. "I know that his generosity allowed us to go to Europe," Korzeniowski says.
With no cash and Olympic prospects fading, a couple of alternate paths appeared for the Dozen, and the team had to make some quick decisions regarding its future. One offer apparently came to Trant from the office of the sultan of Malaysia, who offered to assist in letting the Dirty Dozen row in Los Angeles under his nation's flag. That one didn't require much debate. The answer was a unanimous no.
The more tantalizing offer came from an even more unlikely source. The Soviet Union offered to supply the Dozen with visas and handsomely compensate them if they would travel around Mother Russia and compete against the country's top club teams. They would then row in the Henley Royal Regatta on the Thames in England that summer. But any shot at Los Angeles would be gone, due (but certainly not limited) to the fact that the Soviet Union was boycotting the Games.
This time, the blind vote was 7-3. The Dirty Dozen was coming home.
Mark Zembsch toured through Europe with the U.S. national team and was alongside the Dozen for much of their descent into disarray. In Zembsch's mind, hiring Little Al as coach was Allen Trant's biggest miscalculation of all.
"Allen Rosenberg treated them like a joke, and essentially he ripped them all off," Zembsch says. "It came at a time when he needed a job … but I knew that he had certainly used his résumé to change the conversation in a way that Trant wanted to hear. It really set the Dozen back."
Beaten up and exhausted, the Dirty Dozen came back to the United States in mid-June and had only two weeks to go until the Olympic Trials at Princeton. Rather than schlep all the way back to the West Coast, Brown University coach Steve Gladstone invited the Dozen to stay with his team and have full run of its boathouse. Gladstone had been the Cal crew coach from 1973 to 1980 and was more than sympathetic to the Dozen's travails.
The mood around the team also improved immeasurably when Trant fired Rosenberg the second he arrived back in the states. Mike Livingston was reinstalled as coach and put back in charge of the Dozen's Olympic team selection, and morale started to rebound in no time. The team did its twice-daily practices and then everyone would sneak off to Boston at night, a short 50-mile drive north in a borrowed van. Ballgames at Fenway, meeting women in bars, staying up at all hours — it was like old times again.
But happy as they were to be back stateside, the men were emotionally and physically drained from the European tour. Rosenberg had done some measure of irreparable damage — the fabric of their friendships had developed a rip that grew wider every day. Some guys stopped talking to others all together. They just wanted to finish the job and go home.
In his book Assault on Lake Casitas, Olympic gold medalist Brad Alan Lewis recalls a conversation he had with Livingston in the days leading up to the trials. Lewis found Livingston eating dinner in the hotel restaurant of the Ramada Inn where they were all staying, sat down at his table and asked him how the Dozen had come away from their experience overseas.
"Well, Brad, the Doz were racing over their heads," Livingston told him. "We hit every major international regatta, and in many, the Doz lined up against national teams — the fastest crews in the world. Not surprisingly, the Doz lost many of their races. For the first time, I think, the men understood just how fast the competition is at the summit. For some, that was a devastating realization."
Livingston divvied up the team into two boats, basing his selections on the results of a 12-minute ergonomic rowing test he administered to every rower. The team considered the machinery downright medieval, a modern-day instrument of torture, but it gave Livingston the intel he needed to gauge the Dozen's progress and how he might cobble together a competitive "A" boat for the Olympic fours.
Dell Turner, Tom Drengacz, Steve Rocconi and Kevin Dugan made the "A," but they first had to win their heat in order to advance to the finals, and that meant knocking out a U.S. camp team in the process. With an impressive and unexpected effort, they did just that and advanced to the finals, literally leaving one of Wolf's squads in their wake.
The men were in complete disbelief. As Drengacz told one newspaper at the time, "I even dream about rowing now. Every moment, that's all there is. Rowing." Surreal as it sounded, they were one win away from going to the Olympics.
The next day, the finals of the men's fours produced one of the more dramatic results of the entire trials. The sweep camp team was the heavy favorite, but it was edged out at the start by the boat from Philadelphia's Penn AC/Vesper, a team that included four men cut from the camp tryouts and one not even invited. Halfway through the race, Penn AC/Vesper was still in front and had a boat-length lead at 1,500 meters. It ended up winning by four seconds and became a major reason Brad Alan Lewis coined this day "Bloody Sunday," since no favored U.S. camp teams actually qualified for Los Angeles in open trials. Rowing USA, in a line that must've satisfied Allen Trant to no end, wrote that the widespread underachievement at the Olympic Trials had "opened another debate over the camp system, the timing of the Trials, and the timing and value of seasoning in European competition."
Even if USRowing was quickly lamenting its selection process, it was a revelation that came far too late for the Dirty Dozen, whose "A" boat in the fours came in last, 26 seconds behind the winner. That might as well be eons to a competitive rower, but all that ultimately separated the Dozen from a spot in the Summer Olympics was less time than it takes to heat up leftovers.
The men were disappointed but not really shocked. By that point, having seen their competition up close for so many months, more than a few didn't think they stood a chance. "We were trying to apply a methodology to a sport that wasn't going to work, the idea that brute strength was going to get us down there," says Turner, who rowed in that "A" boat. "It's like a six-cylinder engine. If it's not firing right, it rides rough. If it rides rough, it doesn't ride clean. If it doesn't ride clean, it doesn't ride fast. And that was our problem. … I had no preconceived idea that we were going to win that. You were tired, and you were exhausted."
On July 1, 1984, the Olympic dream officially died. The team left Princeton in despair, realizing that determination and will had not been enough to surmount the impossible. For once in Allen Trant's life, a big-time investment had come up short.
Sunken amid the sloping hills of Silicon Valley is a cozy bowl of a lake known as Lexington Reservoir. Back in 1952, Santa Clara County decided to flood the old towns of Lexington and Alma to create this 941-acre park and reservoir that now holds 6.2 billion gallons of water. It's a submerged time capsule from the past, as portions of old Highway 17 can be found under the water on one side. Throw in the two towns that were literally wiped from the map through its creation and you have a piece of land quite used to telling tales from the past.
One such notable event that occurred topside was the 1984 U.S. Rowing Association Men's National Championships. It was the 108th time the contest had been held but the first time it had ever journeyed all the way to the West Coast. And of all years, when the Dirty Dozen was looking for one final moment of redemption to end its journey, it only had to pile in a couple of vans and drive an hour south.
The team's minds had refreshed from the failure at the trials two weeks earlier, but 16 months of attrition and accumulating injuries had taken a physical toll — Roger Carroll was recovering from a neck injury and Tony Machutes' back was acting up, to name just a couple — so Vince Horpel, the lightweight coach at Cal and rowing coach of Berkeley High School, was called in as a ringer. Mark Knop, who had acted as something of a liaison between Rosenberg and the team while in Europe, was so sick of internal politicking that he distanced himself from the group. The remaining members of the Dozen pressed on, and Lexington Reservoir would be the site of their last stand. Trant entered them in every race possible.
Day 1 was mixed, as the Dozen secured second place in the intermediate fours — a mere two seconds out of first — and was victorious later in the seniors fours, with Tom Drengacz, Dell Turner, Kevin Dugan, and Steve Rocconi whupping Long Beach by more than 11 seconds.
The championships wrapped up the next day, on July 15, and the Dozen gave everything they had left. In the senior eights, Drengacz, Dugan, Turner, Rocconi, Horpel, Machutes, Brad Souza, and Steve Anderson, with Tom Tiffany coxing, beat Long Beach once again, this time by 12 seconds. The moment was the closest they'd ever come to winning an Olympic medal, and it was a thrashing. A third-place finish in the elite eights — the most prestigious race at Nationals — secured a fifth-place overall finish, just behind Stanford.
Two days later, Allen Trant filed Articles of Incorporation papers with the state of California, giving the Dirty Dozen Rowing Club a more formal legal standing going into its post-Olympic era. It would allow him to attract top rowing talent from across the country, but that also meant saying goodbye to the ragtag bunch of rugby players who'd given the club its original life. The upstart rowing team that had captured the attention of fans around the world was no more.
It only took 50 years, but Allen Trant finally reached the Olympics. The U.S. Rowing Association's Men's Olympic Committee, still under the stewardship of Julian Wolf, wrote Trant to express its desire to honor the Dirty Dozen's accomplishments during a public presentation not far from Lake Casitas, where Olympic rowing would commence on July 30, 1984.
"Especially since we are halfway through our West Coast training, which was made possible entirely by your generosity, I want to express my appreciation to you," Wolf wrote. "Whatever success we have in the final analysis will be due in great measure to the tremendous help you have given us. I will never forget you for what you have done." The ceremony was set for 11 a.m. on July 29 at the Oak View Community Center. Much like with their travels through just a few short weeks back, the group gathered into a couple of vans to shuttle the six hours south.
As Wolf started and then continued his speech, the room, sweating from the summer heat, sat in rapt silence. "There was someone who wanted to try out for the Olympic team," he said. "I eventually met with him, and I told him at that time — and I'll use the exact words — 'You have less than a zero chance of making the team.'"
Wolf continued on with his confessional. "These guys got all the way to the Olympic Trials. They didn't make it into the Olympic regatta, but they were responsible for an awful lot that brought this United States men's Olympic rowing team here. The name of the group is the Dirty Dozen. The Dirty Dozen from the San Francisco Bay Area, and their" — he let loose a smirk — "captain, Allen Trant. Without Allen Trant's assistance, our team would not have been able to make that very successful tour of Europe, and it would not have been able to have the West Coast training that has proven so very, very valuable to us."
When Wolf called for the team to step forward to the front of the room and be recognized, the nearly 300 people packed into that tiny hall rose to their feet and cheered as they filed forth, Trant practically bouncing his way toward the dais. For a man prone to smiling, even this moment was an all-time high.
Wolf presented certificates of appreciation to the nine Dirty Dozen members who had trekked on down. (Only Tom Drengacz didn't show.) One by one, as Wolf called them out, they stepped out of line, leaned in past Trant, who could barely contain his joy, and received their honor: Steve Anderson, Roger Carroll, Kevin Dugan, Mark Knop, Tony Machutes, Steve Rocconi, Brad Souza, and Dell Turner. The two stalwart coxswains, Mark Zembsch and Tom Tiffany, were also there.
Wolf wrapped up — "Allen, if it were not for you, we wouldn't be here today" — and called Trant up to say a few words.
To the surprise of everyone but himself, Trant reached into a white plastic bag and pulled out every medal the team had won. Then, with the bling dangling from his neck, Trant shook Wolf's hand, accepted his own award, stepped to the mic and began speaking.
"Julian didn't tell the whole story because 14 or 16 months ago, Big Tony, Mark Knop, and I went to see him and he said, 'No, you can't do it. And besides, we'll give you a thousand-meter head start in a 2,000-meter race and beat you going away,'" Trant said. "And that's the reason I put on all the medals that the guys won this year, so that Julian would realize that we didn't have thousand-meter head starts. We were beaten, but we got a few ribbons now and then." Trant turned, smiled at his old nemesis, and walked off.
Exactly one week later, the United States men's eight rowed a dramatic finals on Lake Casitas but ultimately lost the gold medal to Canada — in a virtual repeat of the debacle that spring in Lucerne — by not much more than the length of a bow ball.
For the four years following the '84 Summer Olympics, the Dirty Dozen became known as an "elite hit squad" around the rowing world, winning national championships and races as the rugby players were replaced by some of the most skilled rowers in the country. There had never been such a top-tier West Coast training program at the national level, and past and future Olympians flocked to be part of the movement. As Rowing USA wrote in 1985, "Dirty Dozen founder Allen Trant must know how to pick them."
Among others, Brad Alan Lewis, who won gold in Los Angeles, rowed under the banner of the Dirty Dozen, as did national champion and 1988 Olympian Kurt Bausback, who later married Jeanell Trant, Allen's youngest daughter.
After the Summer Olympics in Seoul, the Dirty Dozen petered out for a variety of reasons no one can quite agree upon. The consensus is that Trant, though appreciative of the success that came, may have missed the spirit fostered by the old ruggers. Whatever the ultimate reason, the California Secretary of State's office suspended the Dirty Dozen Rowing Club's status as a domestic corporation on Sept. 1, 1988. Its five-year run, and all it had accomplished, was over.
The original members of the Dozen all moved on. Mark Knop got his MBA and has owned various financial businesses in the Bay Area. Roger Carroll eventually closed the Rugger's Inn but stayed in the beer distribution business for a spell. He is now retired and living in the mountainous forests east of Sacramento.
I try to tell people the story and they just don't believe me.
— Kevin Dugan
Brad Souza, who led the team in rebuilding Trant's floating home, wasted no time starting his own Oakland-based company, Han's Construction, which is still in business after 30 years. Kevin Dugan, who recently retired from the Alameda County Fire Department after 30 years, still goes rowing with Souza out of Cal's Ebright Boathouse (the one they personally remodeled) maybe twice a month. "I try to tell people the story," Dugan says, "and they just don't believe me."
Steve Anderson has also made his career in construction and is a Bay Area-based superintendent for Swinerton Builders. Dell Turner has worked for a roofing company in Oregon for 25 years and goes fly fishing with Souza on occasion. Steve Rocconi married a Canadian team coxswain he'd met during the European tour in the spring of 1984 and they had a son. He later moved north, settled in a Seattle suburb across Puget Sound and now works in marketing for AT&T. Tom Drengacz has worked around the world as a pilot for more than 20 years.
Four members of the original Dozen (Drengacz, Turner, Dugan, and Knop) went back to Boston to row in the Head of the Charles in 1987 and came in second place in the club fours, less than three seconds from a win (and a course record). Knop hopes to get the same crew together and compete again in the fours this year, if everyone is game.
Tony Machutes, who gave up his job as athletic director and football coach of Arroyo High School to stay with the Dozen, started a new career there as an adaptive physical education teacher working with kids with disabilities. He used video equipment and rowing machines (donated by Allen Trant) to institute a new curriculum centered on increasing children's confidence through exercise. After 15 years, Machutes retired from teaching.
Michael Livingston passed the Hawaii bar exam in 1986 and has been consistently recognized as one of the state's top litigators, especially in the fields of medical malpractice and protecting civil liberties. He has been a partner at Davis Levin Livingston since 1990. Tom Tiffany became MIT's director or rowing in 1986, has coached at several prep academies in eastern Massachusetts and is now a social studies teacher and crew coach at the Newman School in Boston.
Mark Zembsch won a national championship in 1985 coxing the Dirty Dozen's boat in the elite eights. Despite the warning from his first professor, he graduated from University of San Francisco's School of Law in 1986. He then coxed the U.S. eights in the 1988 Summer Olympics in Seoul, practiced law in the Bay Area and became the crew coach at Cal. He has been the deputy attorney for the city of Berkeley since 2002. His daughter, Tela, now a junior at the University of Wisconsin, was a member of the women's crew team for two years — a coxswain, like her dad.
Allen Rosenberg died at his Maryland home on Dec. 7, 2013, at the age of 82. The third paragraph of his New York Times obituary cited his small stature and how it "did not stop him from mentoring athletes who were twice his size and, during a couple of decades, spurring them to victory in myriad international competitions with his intellect and shrewd motivational skill." His tenure with the Dirty Dozen was not cited.
Julian Wolf died of pancreatitis while on vacation in Australia on March 7, 2013, at age 89. "There are some people that have made our sport better because of their involvement," said USRowing CEO Glenn Merry in a statement. "Julian Wolf was one of those people."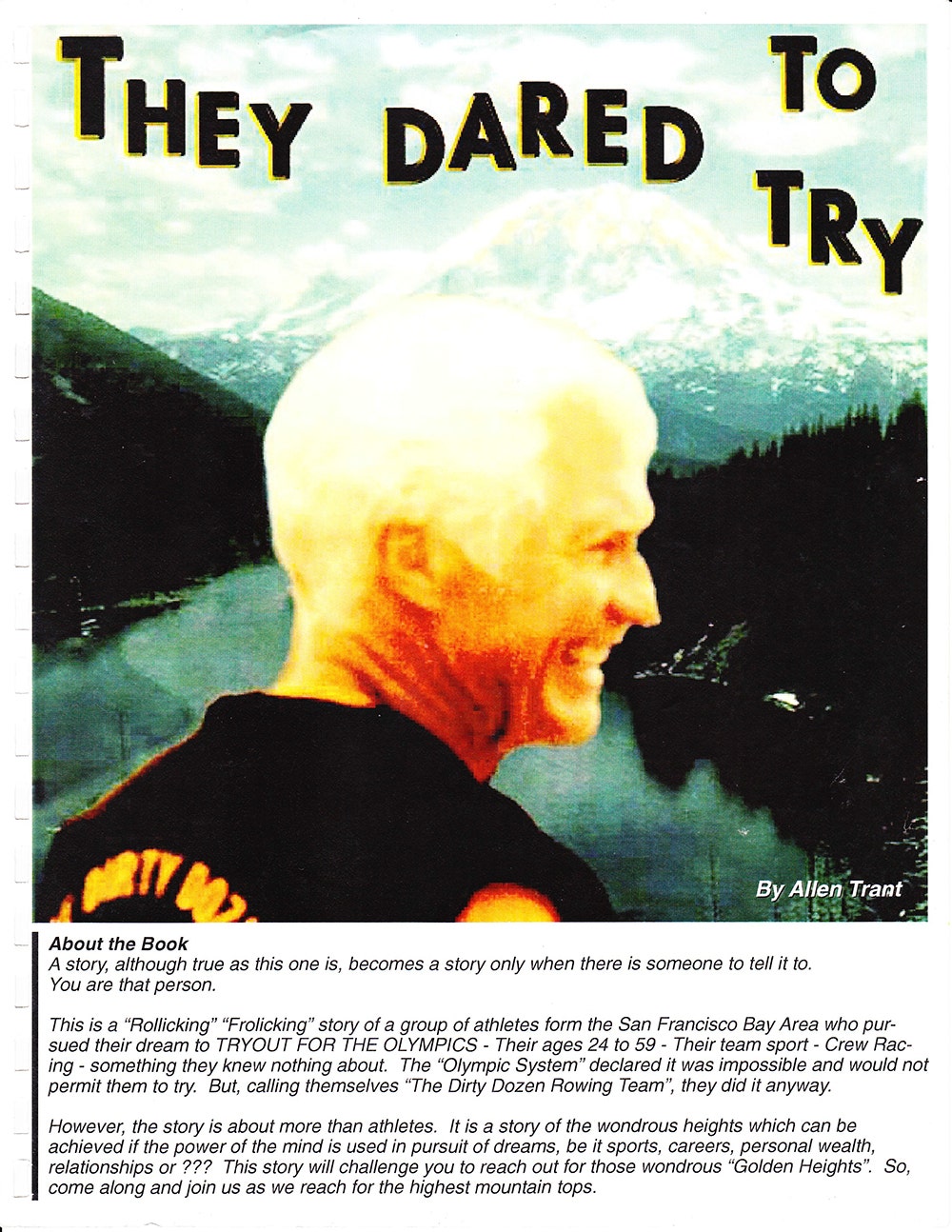 After battling a variety of health problems for decades, including diabetes, heart disease, and, later, leukemia, Allen Trant died on the night of June 14, 2001, at age 76. Knop and Souza visited him in hospice care in Palo Alto just hours before he succumbed. Knop spread the word to the Dozen as best he could, though some didn't find out for weeks because none of the rowers were invited to the funeral service.
The last time the entire Dirty Dozen came together was in the summer of 1998, when they convened on a vacation property adjacent to Frog Lake, a short drive north of Lake Tahoe. It served as a quasi-15th anniversary celebration for the group's creation, but Trant's primary motivation was to compile stories and photos for a history of the Dirty Dozen. He finally finished it — all 600 or so pages — and gave a bound copy to each team member.
The title was They Dared to Try, his life's work put to paper. Trant hoped to see the manuscript picked up by some enterprising publisher or movie producer, but no one ever bit.
The remaining members of the Dirty Dozen still gather every once in a while. Several of them convened at a local Hooters last January to watch the NFC Championship. Only Rocconi in his Seahawks hoodie stood out in a wave of 49ers crimson and gold.
Tony Machutes' hair has long gone gray, but his trademark glasses remained and, at 72, he still commanded the room, ambling here and there with a pitcher should anyone's glass get a little too light. He'd stop every once in a while to shuffle through old photocopies of UC-Berkeley and Nebraska football programs spread across a table to catch a glimpse of a youthful Allen Trant smiling back at him. "What a handsome devil he was!" he yelled out.
Roger Carroll made his way around the room with assistance from his worn, wooden cane. Brad Souza hadn't seen him in a decade or more, so he could barely contain a smile when he turned and saw his old mate grinning from atop a stool. Meanwhile, Mark Knop, Steve Anderson, and Kevin Dugan — all local guys, still — chatted about this and that while chugging down Bud Lights, as if time has changed nothing.
Machutes emailed me that night. "Thanks for joining our reunion today," he wrote. "I hope you could see how close we are after all these years. It's a bond that will never be broken."
To this day, the last remnant of Allen Trant's legacy still floats in an Alameda marina. It has been sold twice since he died. The last time it went on the market in 2011, the sales agent opted against subtlety.
"A masterpiece on the water!" the listing promised. "The builder/owner loved fine woods and he used the most exotic ones he could find … Once you step aboard, you will be enchanted … This exquisite home is functional as well as spectacular." At a list price of $350,000, the agent promised that "once you see this home, you will surely know that … your ship has come in!"
The floating home sold to Bob and Lily Houlihan for a shade under $300,000. They are the perfect people to own this property. Empty-nesters from nearby Fremont, they use it maybe twice a week. They've made few, if any, changes from Souza's extensive remodel. The magnificent wood paneling, trademark sea-blue exterior and unobstructed rooftop views of Oakland all remain as they did 30 years ago. The Houlihans knew something of Trant and the Dirty Dozen but not the full history of how a rugby team once attempted the Olympic impossible, or that many of them are still in the Bay Area.
It's late on a Sunday night as the sun sets over a slightly foggy bay. They offer to have the Dirty Dozen back any time for a reunion. Just name the date! They are warm, friendly people and, it should be said, roughly the same age Allen Trant was when he had the crazy idea to start his own rowing team.
* * *
A special thanks to the surviving members of the Dirty Dozen — especially Steven Rocconi, whose photo albums and personal copy of They Dared to Try proved invaluable in telling this tale, and Tony Machutes, who supplied the archived news segments. You can follow Erik Malinowski, who is eternally grateful that you made it all the way to the end of this behemoth of a story, on Twitter at @erikmal and email him at erikmalinowski@gmail.com.