When it comes to the draft, take a deep breath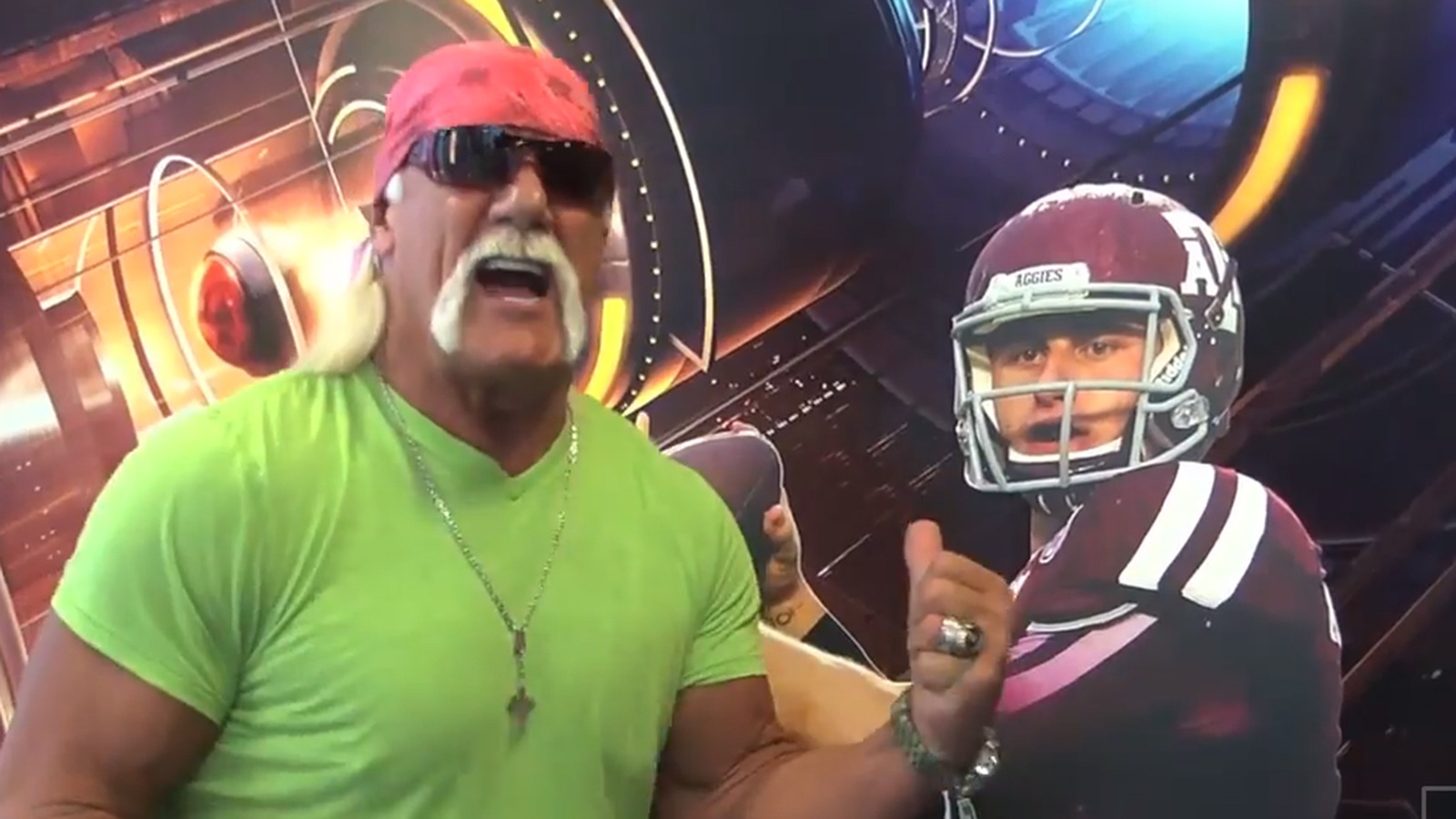 I was alerted via text message that WrestleMania 30 is tonight at about the same time I sat down and started hacking at this, which got me thinking.
Me thinking, as you may know, is always a dangerous thing.
I grew up loving professional wrestling — loving is actually not a strong enough word — and the primary reason I'll stop myself from telling a couple specific stories about going to the Richfield Coliseum and Canton Civic Center to see Hulk Hogan, The Big Bossman and a bunch of other larger than life wrestlers up close and in person is that a couple stories will certainly turn into 12 more.
At least 12.
I don't watch wrestling anymore. By no means am I above watching terrible television; it's just that somewhere along the way I lost interest. And gained other interests. And started being able to see that the ol' referee-gets-knocked-out move was coming, that the good guy was going to win, that the most popular guy was coming to the ring at the top of the hour, that the wrong Conquistador was pinned.
Fool me once and I'm hooked. Fool me six or seven times and I start to get skeptical.
Anyway, a few of my friends still watch wrestling, and though I don't like to admit or act like it I'm also at the age that many of my friends have young sons who still get the big eyes and nervous feelings before big matches like we used to. I can tell you where I watched Hulk Hogan vs. Ultimate Warrior at WrestleMania 6, who I watched it with and the pure joy I felt when the Ultimate Warrior won.
From what I gather now, wrestling is much more about fireworks and flash and the buildup than it used to be. Maybe it was always that way and I was just too excited for the big "fights" to know or care. Once I got into high school and something called the Internet was invented I started logging on to all the wrestling sites looking for "spoilers" and strategies and long-term plans. I didn't just want to be a wrestling dork; I wanted to be the all-knowing wrestling dork.
These days, I know I can simply drive over to my lifelong friend Richie's house on a big pay-per-view night if I ever want to rediscover the WWF (I know it's WWE now but I'll always call it that; now get the hell off my lawn). He has a young son, and I'd be willing to wager Richie was first in line to sign up the day Vince McMahon launched the WWE Network, which seems to be a brilliant business plan, by the way. If Mr. McMahon is catering to/targeting anyone, it's Richie.
I feel like the everyday, every-hour buildup to the NFL Draft has become my own WrestleMania. I more than get my fix just about every day of muscled-up heroes, ever-changing storylines, fabricated drama and high suspense.
And that's just on the average daily sportstalk radio show.
The draft has become not just an event all its own but a season all its own. Especially here in Northeast Ohio, it's become a game both inside and away from the actual game. Few have actual hopes for the Browns anymore, but many have thoughts on what the Browns will do, should do, might do and have to do starting May 8. Those folks have opinions, too. Strong ones.
Never have I seen so much effort put forth in trying to predict and analyze something that's completely unpredictable. That's not to knock draftniks (there are a lot of very good, very smart people in the "draft" business) or others who do extensive research, or even the process itself. It's just that Overreaction Season is longer than ever, it's drifting into overkill and the draft is still a full month away.
The Browns haven't been going to scripted pro days! Outrage! Forget that they employ almost 20 people in the personnel department, many of whom were on campuses every day from last August to November! This is ProDayMania!
Fireworks! Half-zombie vs. True American Hero (actually two-time felon)! Match of the century…and it's right after a word from our sponsors!
It's different (and worse) this year not just because the NFL calendar change adds two weeks to the pre-draft hype period, but because nobody seems to have a feel for which direction the Houston Texans will go with the No. 1 overall pick. That means the St. Louis Rams can't yet get a true feel of the trade market for the No. 2 pick, which means the Jacksonville Jaguars at No. 3 and the Browns at No. 4 can't make any final decisions.
The Browns themselves aren't saying anything and won't. For the rest of us without access to the draft room, it's OK to take a deep breath and not know what's going to happen at 8:30 p.m. on May 8.
Those with access to the room don't, either. Really. So the talking heads who watched two college football games all year really don't know. Keep that in mind is all I'm asking.
Just like I remember sitting with my friends Curt and Joe watching WrestleMania 6 in that yellow house on Yager Road, I remember being in the Browns draft room in 2007 when the selection of Brady Quinn shut down ClevelandBrowns.com. Zapped it for hours, overwhelmed by more traffic than the servers could handle. The Browns came into that draft looking to make a trade to get another first-round pick, but in no pre-planned scenario did anyone involved see Quinn dropping past No. 20 and Jerry Jones and the Cowboys being the trade partner.
Sometimes, things just happen. Like the plans for that Quinn-led Super Bowl parade down Euclid Ave. getting scrapped.
I honestly don't know who's headlining WrestleMania tonight, but I'd bet the honor was earned not just by hard work and dedication but by physique, camera savvy and popularity with the fans, among other things. Vince McMahon is always looking for guys who are built and move like Jadeveon Clowney and Sammy Watkins. Guys like Khalil Mack and Teddy Bridgewater might be undercarders because of their personalities, but that doesn't mean their work level or their ceiling is any lower than anybody elses's when the lights come on.
Sexy sells. Smart wins — in football. At WrestleMania, the bosses decide who wins.
Don't buy the hype. Nobody in any draft room — any smart one, anyway — cares one bit about an TV analyst's pro day impression, Rusty from the mail room's mock draft or that Terry the bartender heard the Jaguars are sour on Bridgewater. Information is valuable. Opinions are like favorite WrestleMania moments; everybody has one (the ladder match!).
Here's what I know about wrestling today and Wrestlemania tonight: The Undertaker is going to win because he always does — he must film the other guys' pre-WrestleMania walkthroughs — and Brock Lesnar, his opponent, used to be in real UFC fights. I know Brock Lesnar once went to an NFL training camp, and that he and I do not get the same results from the Jimmy John's diet.
I don't know much else, just like I don't know the Browns draft board, the plans for the second round, if the Rams are taking serious calls about No. 2 or if the Jaguars or Texans want a first-round quarterback. I don't have any team's true evaluation of Johhny Manziel or even Johnny Smith from Mount Union. I don't know what Browns GM Ray Farmer really thought of that Alabama-Texas A&M game last September or the Senior Bowl practices in January.
On St. Patrick's Day 1988, my mom took me to see Hulk Hogan in a steel cage match. It. Was. Awesome. I was then a true believer, taking my vitamins and saying my prayers and living fully convinced that Hulkamania was running wild and would be able to overcome anything any type of evil might throw in the way.
In retrospect, I don't know if Hulk's pythons really could have saved democracy, but there was a point I would have been willing to find out. That's also why I'd have a draft card with Johnny Manziel's name already filled out if I was Ray Farmer, but in reality I'm just a guy in sweatpants who might watch Wrestlemania tonight.
Yes, I might. A couple things on my schedule got rearranged, and I got a couple things done, and I don't have to be anywhere until Monday afternoon. Yes, I'm thinking about going and watching professional wrestling tonight, and at this moment there's only one problem with me getting things in order and sneaking over to Richie's house to watch WrestleMania tonight.
The second it ends, he's going to want to talk about who the Browns are going to draft.