Syracuse coach backtracks on tweet
It's been quite a week for weather — and for college football coaches tweeting about the weather.
On Wednesday, Syracuse head coach Scott Shafer tweeted his displeasure with the winter storm that's shut down Atlanta and surrounding areas. Shaffer, who's been known to tag his tweets with #hardnosed, took the opposite route with a tweet at 2:18 Wednesday afternoon.
His tweet read: "2 inches of snow, city and airport shutdown ATL #softnosed."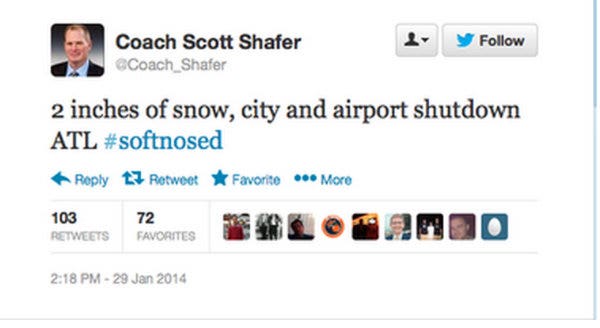 It didn't go over well, and Shafer later deleted it. His mentions @Coach_Shafer were still taking a beating long after it was deleted.
@Coach_Shafer congratulations, this is the most media coverage for Syracuse football since McNabb was there. #softnosed

— Joseph Lesso (@Lesso_247) January 29, 2014
Love that @Coach_Shafer was calling the south #softnosed, while presumably there to recruit.

— JP (@Joey_Powell) January 29, 2014
Shafer's team visited Atlanta last October and lost to Georgia Tech, 56-0.
Shafer, 47, is a graduate of Painesville Riverside High School, east of Cleveland. He took over last January when Doug Marrone left to become head coach of the Buffalo Bills.
On Tuesday, Ohio State offensive coordinator Tom Herman tweeted through his 17-hour journey around Atlanta while battling the ice and gridlock. Herman ditched his rental car on the higway and walked to the airport.