Smart incident a teaching point for high school coaches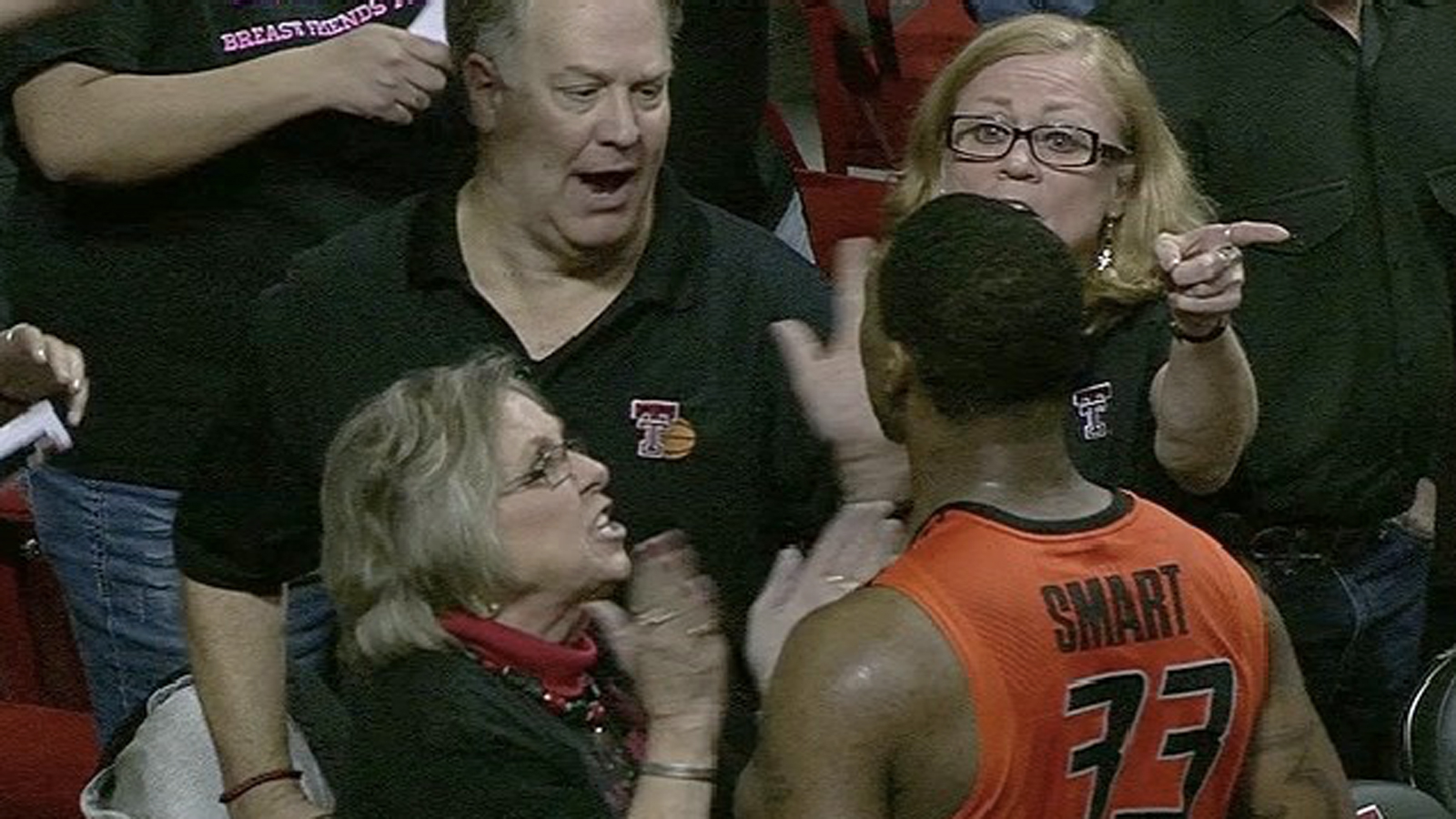 Late Saturday night, Oklahoma State star Marcus Smart shoved a fan at Texas Tech in the final seconds. Smart and the fan exchanged words after Smart fell into the crowd, and Smart then went up two rows, lunged at the fan and shoved him with two hands.
It has been replayed thousands of times on various networks since and become a discussion point for basketball fans and non-fans alike.
For high school coaches, it has become a teaching point.
"No question we will talk about it as a team," Akron Buchtel coach Steve White said. "This is something that can happen easily but something you never want to see. As coaches, it's something you'd better talk about. Players can't go in the stands and assault somebody regardless of what was said.
"We have to make sure guys are focused on what's happening on the court. When fans are talking or it's a tense moment in the game, you have to lock in. You are always asking players for poise and for good decisions."
On Sunday, the Big 12 Conference announced a three-game suspension for Smart, who issued a formal apology to his teammates, coaches, the conference and the fan involved in the incident, Jeff Orr.
"It's something you have to talk about because it's been on TV 24-7 since it happened and all over the Internet, too," Chippewa coach Tim Lucey said. "When we do talk about it, it will be reinforcing what we always say, that you have to walk away. And if what's being said is that frustrating or that offensive, please get the officials or (security) involved. There's so much bad that can happen with a player going in the stands that could trigger something worse.
"I'd like to think that in high school sports, the officials or school administrators would be faster to act to eject someone or take action. We play in some packed gyms with big crowds, high emotions, and this can happen. You try to be proactive with your kids in hoping that it doesn't."
Orr released a statement on Sunday expressing regret for the incident while denying he used a racial slur while taunting Smart. Orr claimed he called Smart "a piece of crap."
"Where's the line? To me, it's before what the guy said (to Smart)," White said. "It's unfortunate. In retrospect, Marcus should have walked away. Someone maybe should have stepped in before it got to that point."
Video of the incident appears to show Smart telling Orr "you know what you said" after Smart shoved Orr and while he's being pulled away by teammates.
"Just from the reaction, from seeing (Smart's) face and the way he went up there, I believe that fan said something pretty offensive," Canton Timken coach Rick Hairston said. "But I just know as a player, you have to control your emotions. That fan had no part of the outcome of that game. (Smart) should have walked way."
Hairston coaches an all African-American team that plays in a mostly white conference. He said his discussions this week with his players won't be the first or last time he's addressed how to handle both harassment and the spotlight and what he called "a no-win situation" for a player who's the subject of taunts or attacks.
"It's definitely something we've seen and dealt with," Hairston said. "After a game this season, I had a player approach me and repeat what was said to him by an adult fan. It was disgusting. I told (the player) that unfortunately African-American men have been hearing those things for 100 years.
"There's no place for that in life or in the game, but it's there. I told our players we can't stop that but we can control how we react. I was proud of that player for keeping his cool and for waiting to react to it until after the game. I was glad that he told me.
"There are good fans. We play in loud gyms all year long, in front of people that want their team to beat us. Displaying emotion…all that is fun. This week, we're going to talk specifically about Marcus Smart and what happened. We're going to talk about handling things unselfishly, maturely and with the the team's best interest in mind."
Akron St. Vincent-St. Mary coach Dru Joyce hadn't seen the video of the incident on Sunday afternoon but said he had heard from multiple people about it — "and that tells me it's certainly something we'll have to talk about as a team," Joyce said. "It's not a new thing, but it is something you talk about. You want players to play hard between the lines and keep their attention between the lines. I tell them that anything outside those lines isn't their business.
"Back when LeBron (James) played for us, there were lots of situations where a game provided a chance for somebody to make a name for themselves — (opposing) players and students or fans or whoever. There were cheap shots. There were things said. As a coach, you hope a mature team will handle the situation on the floor. You want everything to be on the floor. You want both teams to play hard and hope the fans are there to enjoy that, not to instigate something or make it personal."
Lucey said his team encountered a situation after a game earlier this season in which an adult spectator confronted the team on its way to the locker room and threatened a specific player.
"The player couldn't have handled it any better — he just kept walking," Lucey said. "Right now, we have an issue in that people pay their $6 to get in and they feel like they can say what they want, do what they want. We're not immune to it at the high school level, but we'll absolutely talk about it again. The rule on our team is you walk away, don't get caught up in it."