Reliving Manziel's whirlwind weekend
BEREA, Ohio – Next weekend, the Cleveland Browns will hold a formal rookie minicamp.
Johnny Football will then play some actual football. As the Browns now know, lots and lots of people will be watching — at least as much they can. The camp is closed to the public.
Rookie minicamps are generally about as eventful as an average Saturday afternoon cutting the grass, but Manziel's first 48 hours as an NFL player reaffirmed to all involved that until further notice, everything he does becomes an event.
"He's Elvis Presley," Dallas Cowboys owner Jerry Jones said of Manziel.
That's another team's owner talking about a guy he didn't take. Here's what Manziel Mania has been like for Browns and Elvis — er, Johnny — so far…
THE WAIT
Manziel waited with his family in the green room at Radio City Music Hall. And waited, and waited. Quarterback Blake Bortles went to Jacksonville at No. 3. Then, at least four teams from pick Nos. 4-9 with perceived quarterback needs passed.
TV cameras, of course, focused on Manziel.
"It was a little nerve racking," Manziel admitted later.
Two days later, Browns general manager Ray Farmer would admit the Browns discussed a trade with the Tennessee Titans at No. 11. Farmer said the Browns had a lot of discussions, and he didn't directly say they centered around Manziel. But when that trade didn't happen, much attention focused on Dallas and Jones at No. 16.
The Cowboys took Notre Dame offensive lineman Zack Martin at No. 16. A night later, Jones admitted that Manziel was the highest-rated player on the Dallas draft board but that the team had too much invested in Tony Romo to take a "celebrity" quarterback (and a native Texan) to sit behind him.
"It was too significant for him to be an insurance policy," Jones said. "There's just too much dynamic here for him, for the franchise, for everybody. That's just too much for insurance, and it's not the usual development guy behind an accomplished quarterback."
The Browns eventually gave up a third-round pick to move up four slots and take Manziel at No. 22.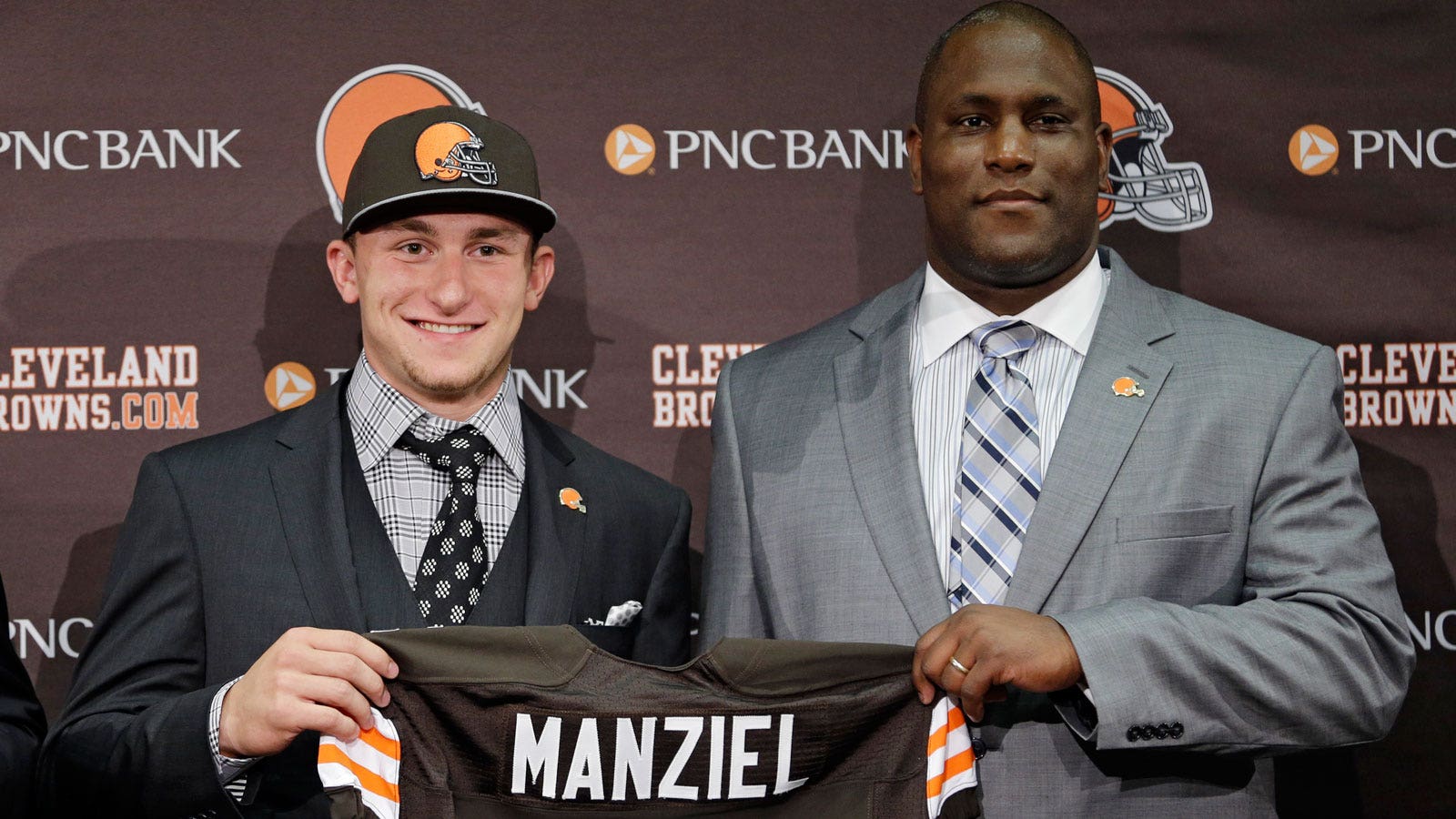 Manziel walked across the stage in New York and made what's become his signature two-handed gesture he said dates back to practice at Texas A&M and he said it has "taken off" since rapper Drake, a friend of Manziel's, has begun making what appears to be a cash-rubbing gesture.
Get that cash. The Browns immediately started selling Manziel jerseys, reported an immediate spike in season ticket sales and are making plans to handle what will almost certainly be record training camp crowds.
Meanwhile, Manziel remains, in his own words, "the low man on the totem pole." In the weeks leading up to the draft, new Browns coach Mike Pettine said he didn't believe any rookie quarterback the Browns added would be able to beat out Brian Hoyer this spring and summer.
"There's a gap that needs to be bridged, a learning curve that I need to adapt to," Manziel said. "These guys are my teammates now moving forward, and I'm very eager to be interacting with them and learning from them."
Hoyer just happens to be a Cleveland native who won all three of his starts last season before suffering a torn ACL. After the Manziel selection, Browns general manager Ray Farmer said he texted with Hoyer and that Hoyer wrote something to the effect of, "Bring him on."
Said Manziel: "I wouldn't expect anything less."
THE PARTY
By the time Thursday night turned into Friday morning, pictures started popping up on the Internet of Manziel drinking champagne at a New York City club. He showed up in Instagram photos alongside Drake, too.
Of course there were pictures. Manziel is Elvis Presley, remember?
The party went on in College Station, too, where Manziel had reportedly made previous arrangements at his favorite bar (Chimy's Cerveceria) near Texas A&M to buy everyone watching the draft a shot and a beer after he'd been selected. The reports said that tab was in the neighborhood of $2,000 for a crowd of approximately 250.
Manziel can afford it. Though he kept a (relatively) low public profile through most of the pre-draft process, he hired LRMR — that's LeBron James' agency, and it's still based in Northeast Ohio — to handle his marketing opportunities and has already made a brief appearance alongside James in a McDonald's commercial. Maverick Carter, James' high school teammate and business partner, was a part of Manziel's traveling party for the draft and the subsequent trip to the Browns Berea headquarters.
THE ARRIVAL
When Manziel and Justin Gilbert — the cornerback selected by the Browns 14 spots before Manziel was selected — arrived at team headquarters from nearby Hopkins Airport on Friday, dozens of fans waited outside the gates for a glimpse.
They chanted "Super Bowl."
Cameras rolled as Gilbert and Manziel entered the building, shook hands with coaches and team personnel, saw their jerseys for the first time and started a busy afternoon. At 2 p.m., they were formally introduced to the media, and Manziel answered a lot of questions about drinking.
And being a celebrity. And having celebrity friends. And being the draft's most polarizing player. He was even asked if he could talk James into returning to Cleveland.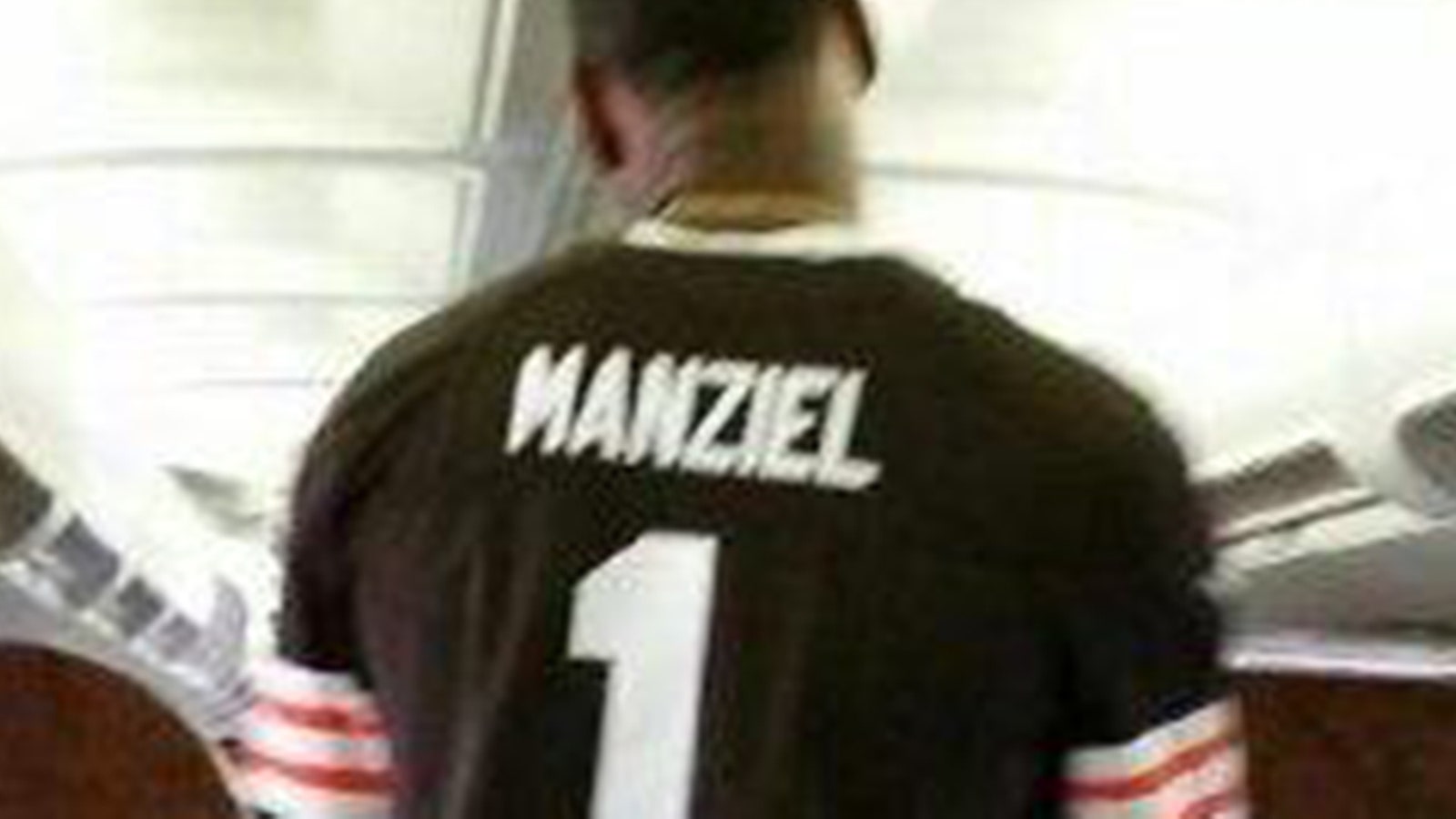 In the back of the crowded media room, Carter barely flinched.
The press conference was Manziel heavy, and a smiling Gilbert sat next to Manziel and said he was fine with that. Gilbert told the story of being on his way from Radio City Music Hall back to his hotel Thursday night when the Browns selected Manziel.
Said Gilbert: "I stuck my head out the window and screamed, 'Cleveland Browns. Cleveland Browns. We're here.' I'm excited to be on this team, and expect nothing but the best from him."
Later Friday, pictures surfaced of James wearing a Manziel No. 1 jersey — he'll actually wear No. 2 — on the Miami Heat's team flight to Brooklyn for the continuation of the Heat-Nets NBA playoff series.
"He's been in pressure situations for a long time and (he) shouldn'€™t change now just because he's starting his NFL campaign," James said on Saturday. "Johnny is a great football player, he's a smart kid and he relishes the opportunity to hopefully bring some great moments back to Cleveland as far as the football team."
THE NEAR FUTURE
By the time Manziel led the 6 p.m. newscasts across Ohio, an ESPN report that the Browns could be facing a future without 2013 NFL receiving champion Josh Gordon had made its rounds. Gordon has reportedly failed another drug test; Farmer didn't say much, and the NFL's drug-testing program is supposed to be 100 percent confidential.
The Browns went from adding two first-rounders, a possible face of the franchise and a 2015 first-round pick from the Buffalo Bills on Thursday night to that news on Friday night.
What happens remains to be seen. What's clear, though, is that life has changed for the Browns. The team's public profile has been raised. Hopes are high for Manziel and the Browns; Gordon playing could certainly help that.
Manziel hasn't been made available for comment since the Gordon reports broke.
Among the many Manziel-related national reports coming out of Berea over the course of the draft was team owner Jimmy Haslam revealing that he was stopped by a homeless person recently while coming out of a Cleveland restaurant. That man, as the story goes, recognized Haslam and asked him to draft Manziel.
The Browns have tried awfully hard to convey the message that Haslam didn't make the pick. Zero actual draft-room details have emerged, so we don't know for sure — and probably never will.
"I can tell you with 100 percent certainty that Jimmy Haslam at no point demanded, requested or tried to influence the process in any way," Farmer said. "He definitely asked questions. He'll definitely give his opinion of what he thinks and all of those things are fine, but at the end of the day he trusted the football staff to make the decisions that we thought were the right decisions for this football team."
As for what Manziel brings — and Farmer certainly has already noticed the extra lights and cameras — with him to his new job and to the Browns franchice, the first-year, first-time GM said Manziel "does have celebrity. He'€™s a polarizing type of personality to some degree — or the legend of Johnny Football, if you will. People have created this swell around him, and part of our job is going to be to help him deal with that in a professional manner."
"I've had conversations with him. I know others have had conversations with him. He's maturing in a way that, hopefully, he's going to learn how to deal with these things on his own, and he won't need anyone to help him guide the ship. Nonetheless, I think that's part of my role, that's part of our role as an organization is to help these guys truly become pros. None of them have been pros, and now it's not just our job for Johnny but for every person on this team to develop professionalism on how they approach the game, how they approach their work habits, how they come in here every day and demonstrate their talents."
Manziel is a draft pick like no other. Long before he ever plays an NFL game, he's a football celebrity like few others. People are watching and watching closely — from College Station to the streets (literally, the streets) to Cleveland and points in between.
The buzz is real.
The real work begins soon.