Latos sharp in Louisville rehab start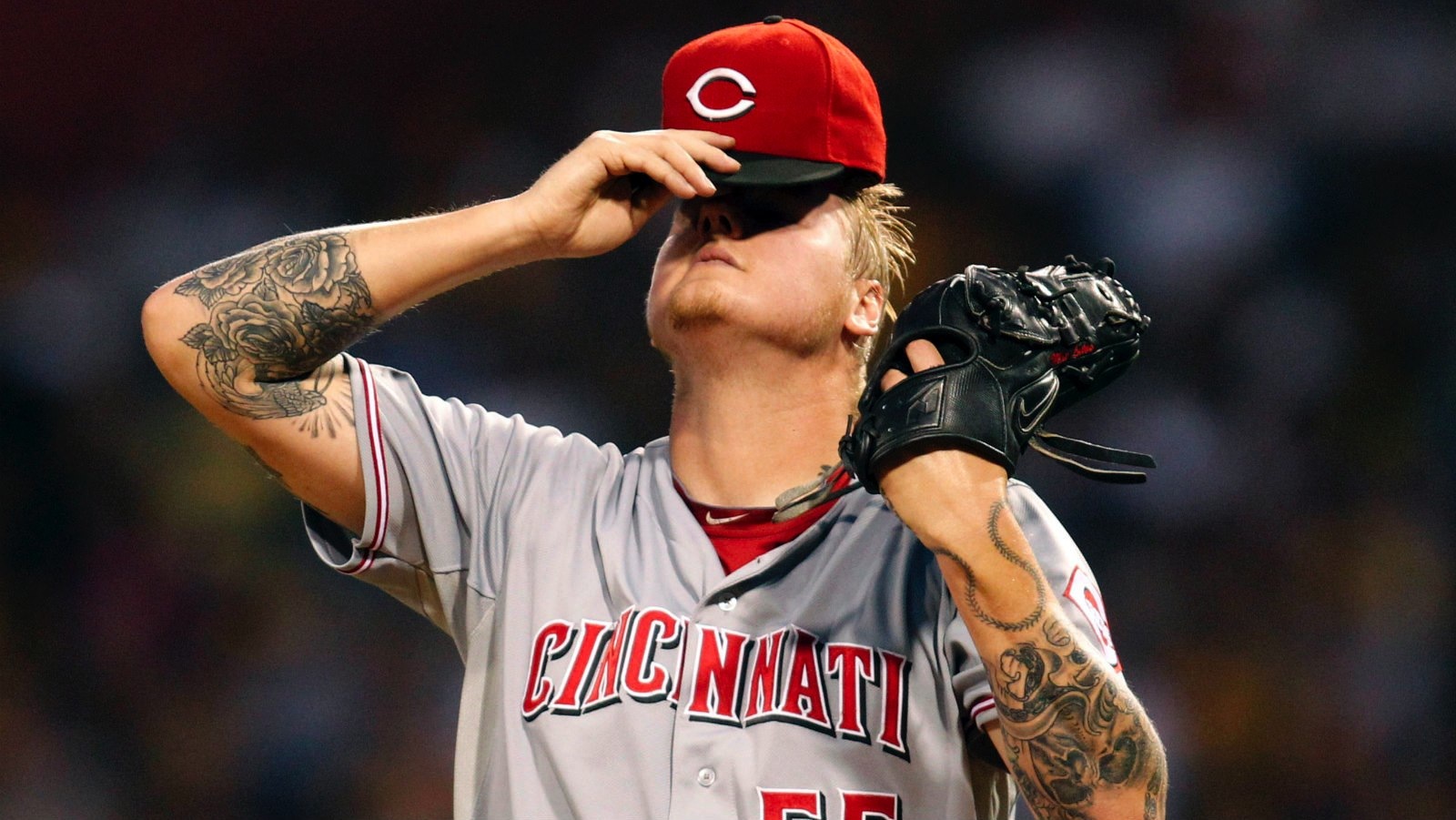 LOUISVILLE, Ky. — Mat Latos isn'€™t always the most patient of patients. He's had to learn some patience this year.
The Reds right-hander pitched in an actual game Sunday night for the first time since the first week of April, going four innings in a rehab start for Triple-A Louisville against Buffalo at Louisville Slugger Field. Latos gave up three hits and two runs, one unearned, while throwing 49 pitches for the Bats. After dealing with elbow, knee and forearm issues since last September, getting back on the mound was the best medicine Latos could've received.
"I'm a man who likes to eat," said Latos, conjuring an image for comparison of his year. "It's like having a nice steak in front of you and you're not allowed to touch it. It sucks to be sitting in the dugout and watching your teammates play, watch them go through the struggles, watch them grind on a day-to-day basis and basically only going over and patting them on the leg, on the thigh, and telling them 'go get 'em next time' and not being able to go through it with them."
"It sucks."
Latos said he was pleased with his command overall, particularly with his curveball, although he wasn't as pleased with his slider. Of his 49 pitches, 32 of them were strikes. He struck out three batters and walked one. Latos also induced a couple of double plays. Latos was sharp in the first inning, needing just nine pitches to retire the Bisons in order. He got designated hitter Jared Goedert to swing and miss on a 96 mph fastball to end the inning.
"It felt good," said Latos. "I've been down this road before where everything felt fine and then all of a sudden had the setback but hopefully this time it's different."
Latos was not on the Reds' roster for last season's NL Wild Card game at Pittsburgh and underwent surgery to remove bone spurs from his right elbow shortly after the season ended. He recovered from that in time to report to spring training in Arizona but had knee surgery on Feb. 14 that interrupted his start to the season.
He made a couple of minor league appearances during spring training and began the regular season on the disabled list.
Latos made one previous rehab start this season, on April 3 at Double-A Pensacola, in which he gave up seven hits and five runs (three earned). He was scheduled to make a start for Louisville on April 8 at Columbus but was scratched. A MRI scan later revealed the strained flexor mass in his forearm.
Latos has won 14 games each of his two seasons with the Reds and set career highs in innings pitched both seasons, throwing 209 1/3 innings in 2012 and 210 2/3 last season.
If all goes well, Latos is expected to make his next start for Louisville on Friday at Columbus. How quickly Latos can make it back to the Reds is dependent upon how his remaining rehab starts go. Reds manager Bryan Price said on Saturday there is not a specific timetable and that each start will be evaluated individually.
"There's certain things that we want Mat to do," said Price. "We would love to see him pitch six innings and be in the neighborhood of 90 to 100 pitches. If he can do that in three games, then I think he'll be close to activation."
Latos had a pair of 1-2-3 innings on Sunday and twice had to work with runners on base. He got out of a two-on, none out situation in the second inning with a double play and a fly ball. He gave up a lead-off double to Ryan Goins and a run-scoring single to Dan Johnson after an error by third baseman Neftali Soto in the fourth inning but got another double play ground ball and a groundout to limit the damage to two runs.
That was the end of what he considered a successful evening for more reasons than what might show up on a stat sheet.
"We're a family of 25-plus (players) so when somebody is down, somebody is struggling you're the same way, you feel the same way because it's a family," said Latos. "As stupid as it sounds, to be able to go out there and get the crap kicked out of me every now and then, or have a little bit of struggle here and there like everybody else, I wish I was out there competing with them day-in and day-out. It's terrible just sitting on the bench just watching it."