Justin Gilbert flashing signs of why the Browns picked him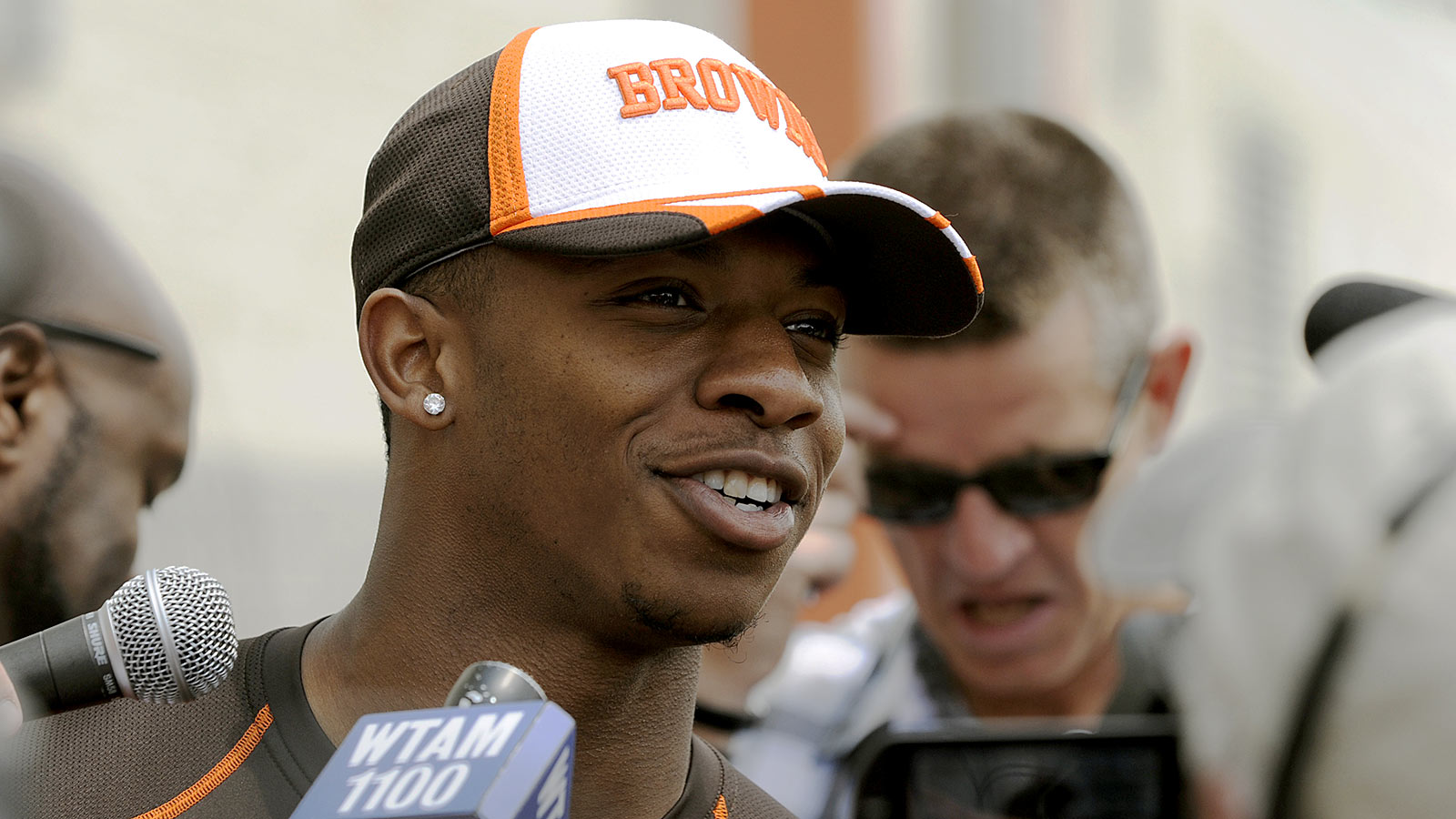 BEREA, Ohio –Top draft choice Justin Gilbert is starting to show why the Browns traded up to get him.
Gilbert showed some of his athleticism as he wrestled the ball away from Andrew Hawkins on a pass during passing drills.
Gilbert hopes to do a lot more of that as time goes on.
"I'm looking to grab more each day," he said.
Mike Pettine didn't see the play in question, but he sure heard it.
"I heard he made a heckuva play and wondered what the crowd reaction was," Pettine said. "No, he's flashed. He's got a lot of things to work on but he's flashed some of the things we saw coming out of college. He's flashed the ability and that's one of the reasons we took him where we took him."
Pettine tempered the enthusiasm for Gilbert when he was asked how the competition between Gilbert and incumbent Buster Skrine was going after Monday's practice.
"It's still early," he said. "We're going to keep rotating (them). Both have been solid since day one. We'll put more weight on the live work. That will carry more weight than just the practice reps."
Gilbert said he's ready to be used however the coaches deem to use him.
"Whether it's me or Buster, whatever I can do for the defense to win games, that's what I want to do."
Skrine started 15 games last year opposite of Joe Haden and led the team with 23 passes broken up.
"I just feel like I'm coming out here and competing with myself," Skrine said. "Just trying to get better every play.
Zone Read: Glimpses of the zone read were seen during the scrimmage portion of practice with QB Johnny Manziel in the backfield. Manziel sprinted to the right and took off for a sizeable gain after faking a hand off to RB Terrance West on one play.
"It's the install," Pettine said. "In Kyle (Shanahan's) offense in Washington it was a combination of it and it was something he wanted to get in early and you saw some elements of it today. When you have a guy who is more mobile when you're calling plays for him in live situations you're going to lean toward an inventory of plays that suit his skill set. I just think at the end of the day you'll see more of that with Johnny than we will with Brian."
Benjamin, Johnson Rest: WRs Travis Benjamin and Charles Johnson were kept out of drills on Monday, spending their time on the stationary bikes. Pettine said it was planned after the pair have returned to practice full time until now after coming off ACL surgeries.
"We wanted to keep reps limited after practicing its just their fifth day of work," Pettine said. "We wanted to force a day off. Sometimes, they are their own worst enemy. We just want to keep an eye during practice to back them off. With receivers the amount they run we want to be cautious."
Tank's Back: LB Tank Carder returned to practice after being on the Active/non-football injury list. OL John Greco, TE Gary Barnidge, DL Billy Winn and DL Phil Taylor remain on the list.
Faulk Cut: OL Chris Faulk was released by the team. Faulk was signed as an undrafted rookie free agent last season from LSU. He had a severe knee injury and sat out the season on the Reserve/non-football list.
First Hits: Pettine was happy for the most part with the way the Browns practiced for the first time in pads. They allowed what he termed 'thud', but said the plan is to go live tackling in parts of Thursday's practice and at the scrimmage in Akron on Saturday.
"For the first time in pads I thought our guys were solid," he said. "We still don't want to go to the ground or cut guys. We always teach to be a good teammate good start to our padded work."
DB Johnson Bademosi hit WR Nate Burleson on a reception and Pettine didn't approve.
"That kind of stuff won't help you make the team."
Pettine said the team will hit some Thursday.
"We will be live for certain periods of practice on Thursday and at the scrimmage (on Saturday)."
Real Pettine: Mike Pettine's father, Mike Pettine Sr. was at practice. Pettine said Jets' head coach Rex Ryan calls Pettine's father, the legendary Pennsylvania High School coach, "the real coach Pettine."