Marketing force: Manziel gushes over LeBron as stars align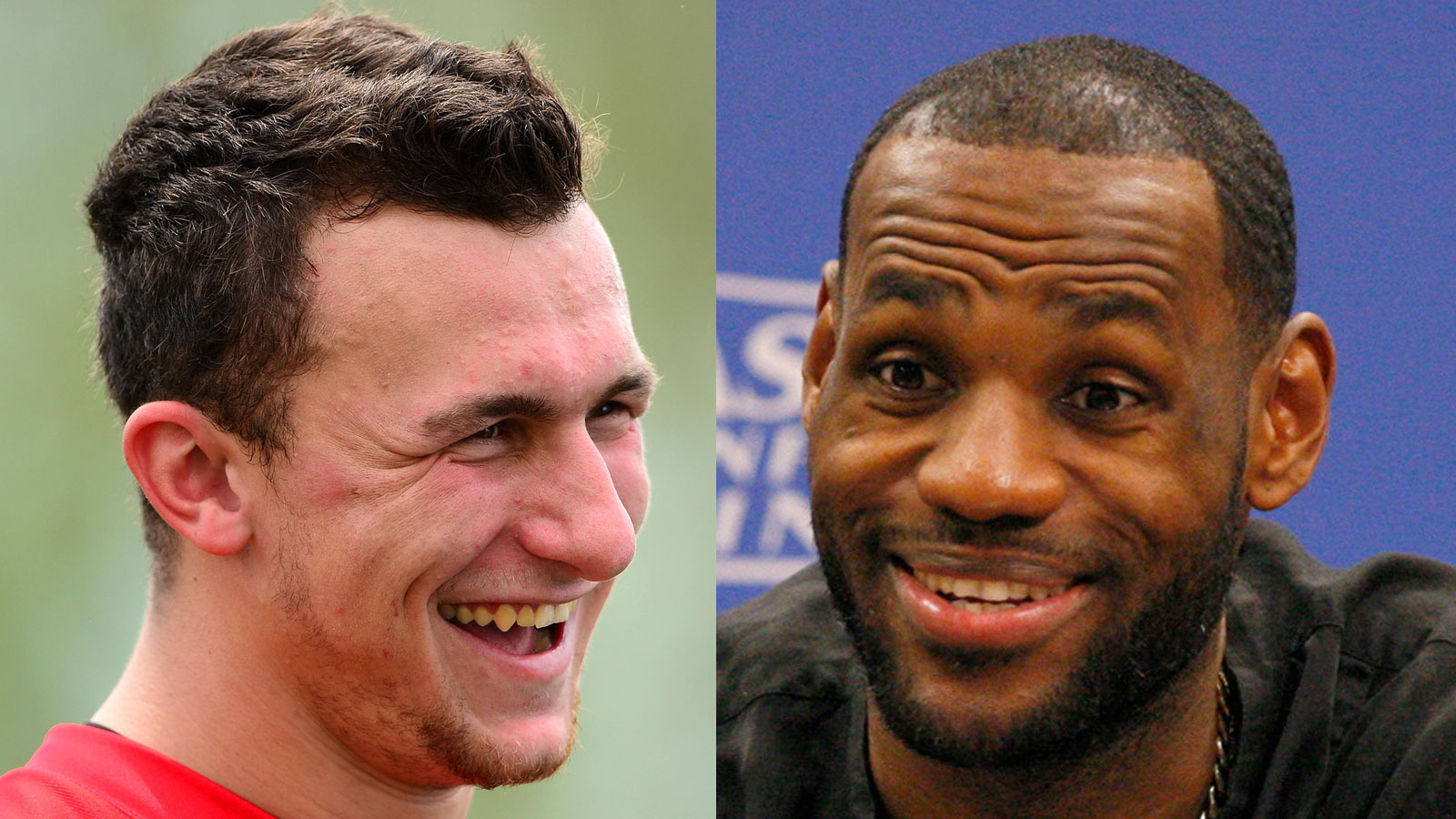 What happens when two of sports' most-hyped athletes come together under the same marketing umbrella? Cross-promotion — and plenty of it. With Miami Heat star LeBron James and Cleveland Browns quarterback Johnny Manziel, this is probably only just the beginning.
In January, Manziel signed with LRMR, the management group headed by James' close friend Maverick Carter that also represents James. "A bond formed in grade school, a partnership forged from loyalty," reads the splash page of the management firm's website, Carter and James plastered beside each other in flashy suits.
Have no doubts these guys know how to garner attention. LRMR was behind the much-ballyhooed "The Decision" special in which James infamously announced he was "taking his talents to South Beach."
LRMR works side-by-side with James' charity arm, the LeBron James Family Foundation, and has helped grow James' personal brand that now includes a Samsung app.
When you have a mobile sphere related solely to following your every move, you've made it pretty big.
Manziel doesn't have his own app (yet) but that isn't stopping anyone and everyone from following his every move. The 21-year-old can't avoid scrutiny and has been in the limelight over everything from allegedly signing autographs for money while at Texas A&M to his "wild" weekend in Vegas during NFL OTAs season.
The bond formed between Manziel and James doesn't date back to childhood, as is the case for Carter and James, but was reportedly forged throughout Manziel's sophomore season at Texas A&M.
Now — if they weren't marketing partners — you'd call their relationship a "bromance."
Mutual admiration between the two is doled out in heaping helpings these days across multiple platforms. Look no further than Wednesday for a prime example of their symbiotic relationship.
When asked about James after Browns OTAs, Manziel said: "When you look at who the best player in the NBA is right now, you look at LeBron and somebody who is at the top of his game and does so much marketing-wise."
His "decision" (non-televised, of course) to accept Carter's offer? A "no-brainer," Manziel said.
That same night, James put forth his wattage in the name of Johnny Football, doing Manziel's signature handshake while wearing Nike's new "Money Manziel" T-shirt in a photo, which Manziel sent out via his Instagram account.
James has a major endorsement deal with Nike. Manziel signed a multi-year agreement with the "swoosh" in March. These paths are not coincidentally coalescing. The two have already appeared together in a McDonald's commercial and James was one of the first to be spotted sporting Manziel's No. 2 — Nike — Browns jersey.
To reach James' level of superstardom and brand power, Manziel will have to perform on the field when he eventually gets that chance (he's the backup quarterback right now, remember?).
However, the construction of the Johnny Football brand is a case study in Marketing 101, not so subtly playing out before our eyes before the quarterback even takes a snap — or gets his own app.